There Will Be #JusticeForBarb In 'Stranger Things' Season 2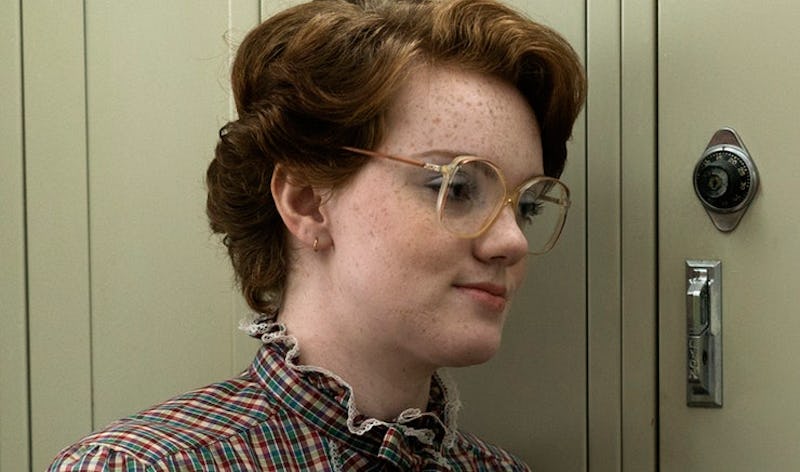 Curtis Baker/Netflix
This is one of those good news, bad news situations. Ready, Netflix fans? OK, let's start with the latter: Barb won't be in Stranger Things Season 2, according to the show's Comic-Con panel on Saturday. As disappointing as that may be, don't worry — justice will still be served. In what sounds like a hilarious moment, Sharon Purser, who actually plays Barb, posed a question during the cast's audience Q&A. Purser asked if Barb would appear in Season 2.
Since she plays the character, she surely already knew the answer. Still, Millie Bobby Brown (aka Eleven) mouthed, "no," into her microphone. Meanwhile, David Harbour (who plays Hopper) clarified, "I can answer that, no. But there will be justice for Barb."
Intriguing, huh? As fans already know, Barb went missing in Season 1, and ultimately didn't make it, because of that villainous Demogorgon. The loss of the character even spurred a hashtag: #JusticeForBarb. While the high schooler won't be in the show this time around, at least Hopper's comment means she'll be remembered in some capacity. How exactly the characters will avenge Barb's death remains to be seen, but at least it gives fans something else to ponder before the show returns in October. Again, another silver lining — more fan theories.
As for what exactly will go down this season, a new Stranger Things trailer dropped at that same Comic-Con panel that's filled with clues. Though it's Barb-less, it still will captivate your attention for nearly 3 minutes and pose plenty of new questions.
Sure, there's no denying that Barb will be missed. But if it's any consolation, Purser is nominated for an Emmy for her Season 1 role, so in the very least, that's another dose of justice.
Reporting by Sam Rullo.