Becca Is Ready To "Do The Damn Thing" As The New Bachelorette & Fans Are Here For It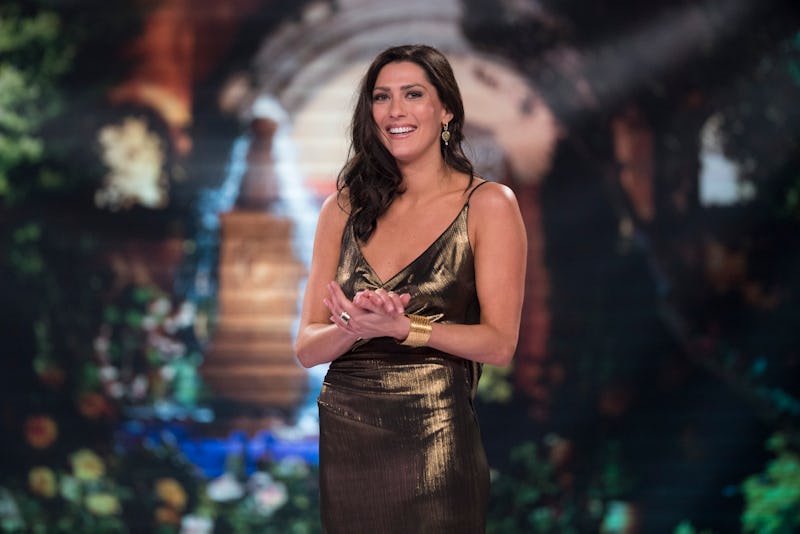 ABC/Paul Hebert
It was hard to spot in the midst of all of the hype, but it turns out there's a silver lining in Becca and Arie's dramatic breakup. The Minnesota native is beginning her journey as the franchise's new Bachelorette, and Becca's Bachelor catchphrase seems as though it's going to be an integral part of that process. As she said throughout the show, "Let's do this damn thing."
The announcement was made toward the end of Tuesday night's After the Final Rose finale episode, and everyone seems to be pretty stoked about Becca helming the next season of the franchise. The 27-year-old publicist even had to chance to meet a few of her upcoming suitors, and spoiler alert: They're all going to be scene stealers.
According to Chris Harrison, Bachelorette Season 14 is slated for a May 28 premiere. While celebrating her new role, Becca took to Instagram to thank fans for their support through everything, and to talk about how much she's looking forward to finding her Mr. Right. She wrote,
"Words can't express everything I'm feeling tonight, but I'm so beyond grateful for the love, support and well-wishes," Becca said of the Bachelorette announcement. "I'm beyond excited for this next chapter of my journey and to have shared the start of that all with you tonight."
"Now we're doing the damn thing," she closed the hopeful message. And fans should totally look forward to hearing that very catchphrase sometime soon, because it looks like it's going to be a common theme throughout her Bachelorette season.
Becca has been through a lot over the past few months. From getting engaged to Arie, to having her heart broken by the Bachelor Season 22 star on national television, she's definitely deserving of a win. Hearing that the new franchise's star is still passionate about finding love is exciting to say the least, but sensing that her Bachelorette journey is going to be accented by her "let's do the damn thing" mantra sets Becca up to being a true inspiration to many. There's still hope after losing love and Becca is proof.
So far, it seems as though Becca lets the mantra rip each time she's about tackle something major — like, when meeting Arie's parents during the final stages of the Bachelor competition. And during Tuesday night's After the Final Rose episode, Becca used the inspirational tag at least twice throughout. By now, fans should know that when Becca says "let's do the damn thing," she's approaching whatever is coming next with a load of confidence. Hey, even the show's host Harrison seemed impressed by the amount of gumption the new leading lady had for taking on the Bachelorette role.
Taking things a step further, Becca also laced her Instagram bio with the mantra, showing just how confident she is to try her hand at finding love again. It's unclear when exactly she updated her page, but it was there on Wednesday afternoon.
But, Becca isn't the only one going full throttle with the tag. Fans of the franchise are not only basking in Becca's confident nature, they've also already christened it as the official sign off for a tweet about anything Becca K. related. And with that said, get ready to see "let's do the damn thing" everywhere for the next few months.
It goes without saying that choosing Becca to be the next Bachelorette was an amazing decision on the show's part. As if her stunning personality weren't enough to sway their choice, taking the high road and forgiving Arie for the shocking Bachelor switch-a-roo, and after, walking confidently into her next phase of life totally should have.
Becca is on her way to stealing more hearts across the country, and there's no doubt that she won't make everyone watching proud while doing so.