'Bachelorette' Fans Are Ready For Becca To Stop Mentioning This One Conversation Topic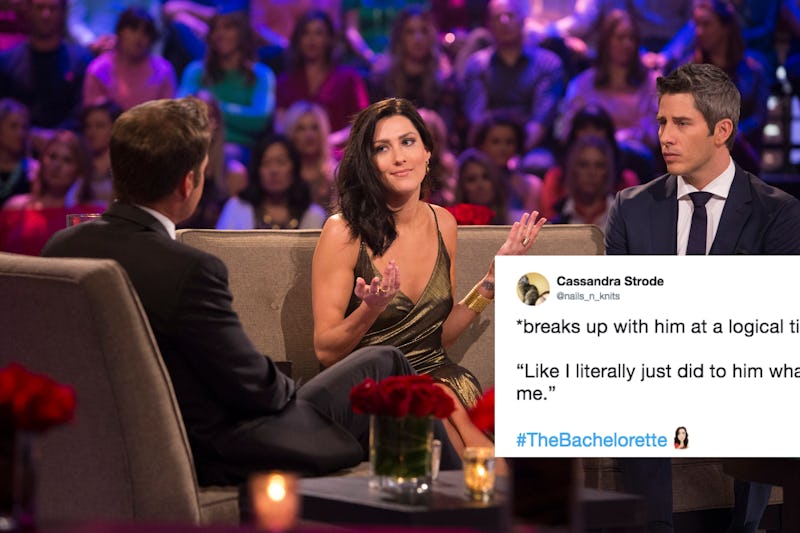 ABC/Paul Hebert; nails_n_knits/Twitter
Monday night's episode of The Bachelorette was intense. There were lots of tears, mainly from the Bachelorette herself. Of course, this is a stressful position to be in, but Bachelorette viewers have had enough of Becca referencing Arie. It's impossible to watch this show and not root for Becca. She is a total class act and any man would be lucky to date her. So, why is she being so hard on herself? In what world is she at all comparable to Arie?
During her one-on-one date with Jason, she was hysterically sobbing while she said, "I literally just did the same thing to him that Arie did to me." Really, Becca? That is not at all what happened. Becca has been very thoughtful throughout this entire journey. She's admitted on camera that she was in love with Garrett and Blake, but purposely bit her tongue in her conversations with them so she wouldn't lead them on. In contrast, Arie told both Becca and Lauren that he loved them during the fantasy suite dates.
As soon as Becca realized that Jason wasn't the one, she sent him home instead of carrying on with the overnight date. On The Bachelor, Arie told Kendall that he was "falling for her" instead of saying he was "in love with her," yet he carried on with their overnight date. In no way, shape, or form did Becca "pull an Arie."
Arie proposed to Becca during the last season of The Bachelor and blindsided her with a breakup (in front of a camera crew) so he could date his runner-up, Lauren. What did Becca do that was remotely comparable to that? Obviously she was going to break some hearts this season. She's a catch, and it makes sense that these guys would be very interested in her. Nevertheless, she's been nothing but conscientious and sincere.
Becca is about to get engaged and she just needs to let herself move forward from the Arie trauma. She's definitely not an Arie 2.0, and she couldn't be that if she tried. The only names that should be mentioned from now on are Garrett and Blake. The fans have had enough of the Arie references, and they're more than ready to see Becca truly move on and be happy with someone better suited for her.