Bey's Performances While Pregnant Are Iconic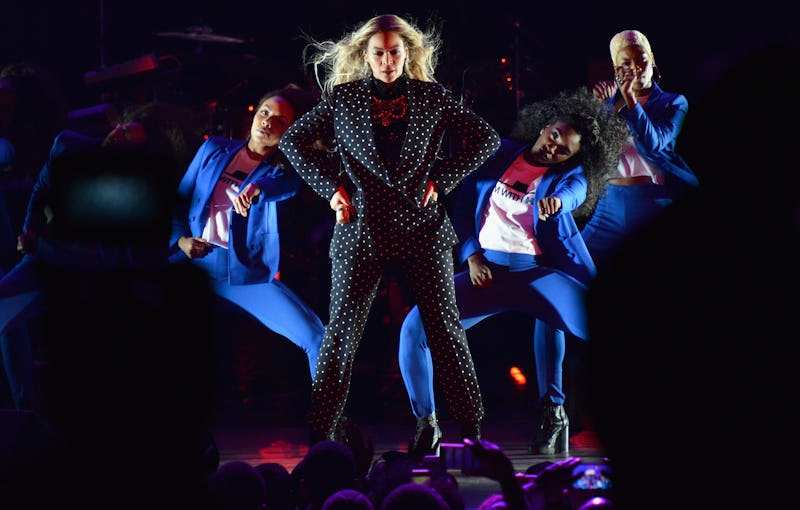 Duane Prokop/Getty Images Entertainment/Getty Images
Now that the world knows Beyoncé and Jay Z are expecting twins, it is time to admire Queen Bey's ferocity even more. The singer is known for her amazing performances, and some of Beyoncé's best performances happened while she was pregnant with her daughter Blue Ivy. Getting up on stage and offering an empowering, entertaining performance, while also being pregnant, is not something most women have to do, but every single time Queen Bey performs she breaks down stereotypes about working pregnant moms. Having a career and making a new human are two things that can totally happen at the same time, and no one knows that better than a superstar like Beyoncé.
Remember the moment she told the crowd at the 2011 MTV VMAs she was expecting? It led to one of her most iconic performances ever. Queen Bey's love for her family and creating new music are her two biggest passions in life, and seeing her bring them together is always special. While there is no way to know how many times she has performed since finding out she was expecting twins, the performances she gave after announcing she was expecting Blue Ivy prove Beyoncé is nothing short of unstoppable.
While it is likely the pop sensation performed a number of times in 2011 while she was expecting before announcing her pregnancy, I want to focus on her VMA performance and the four night intimate concert series she staged in lieu of a full blown tour. Bey was careful to take care of herself, while still going up on stage and doing what she loved while she was awaiting the arrival of her daughter.
"I want you to feel the love that is growing inside of me," Bey told the crowd as she confirmed her pregnancy on the stage of the MTV VMAs. She then proceeded to give a classic, upbeat R&B performance that had Adele singing along in the audience. Everything about the execution of the song — from the choreography to Bey's amazing purple tux — created a show-stopping experience.
It wasn't just her announcement that had the crowd enraptured, it was her presence and commitment as an artist. Bey rocked out with confidence and swagger — and turned "Love on Top" into one of her most recognizable songs in the process. Once you have seen her powerful turn on the stage of the 20011 VMAs, it is impossible to forget it.
By far, the most amazing string of performances Queen Bey gave while pregnant came in August 2011, when Bey did a non-consecutive four night show in New York City. Rather than go on tour to promote her then new album 4 while pregnant, Beyoncé staged a special four night event where fans could get up close and personal with their favorite artist. Held at the Roseland Ballroom, the venue only held around 3,200 fans at a time, making the series as intimate as possible.
Each night proved to be a special event where Bey wowed the sold out crowds with songs from her album 4 and other hits. Even though she was expecting at the time, Beyoncé delivered four nights of soulful, goosebump-inducing renditions of her songs. The series was later released to the public so the whole world had the opportunity to see how Queen Bey pulled off four nights of flawless choreography, light banter with the crowd, and the kind of stripped down performances designed to show off her larger than life talent.
And she did it all while pregnant. If anything, Beyoncé's small scale concert experience became more meaningful because it occurred at such a special moment in her life. She was up on stage giving her fans everything she had, even as she was preparing to become a mother.
No matter what she is going through in life, Beyoncé is always present in her music. Her performances while pregnant just highlight how amazing she is as an artist, mother, and woman. If anything, the news of her second pregnancy is only going to accompany more incredible musical moments in 2017, and make you fall for Bey even more. (Yes, it's possible.)