The Powerful Meaning Behind Beyonce's Grammys Look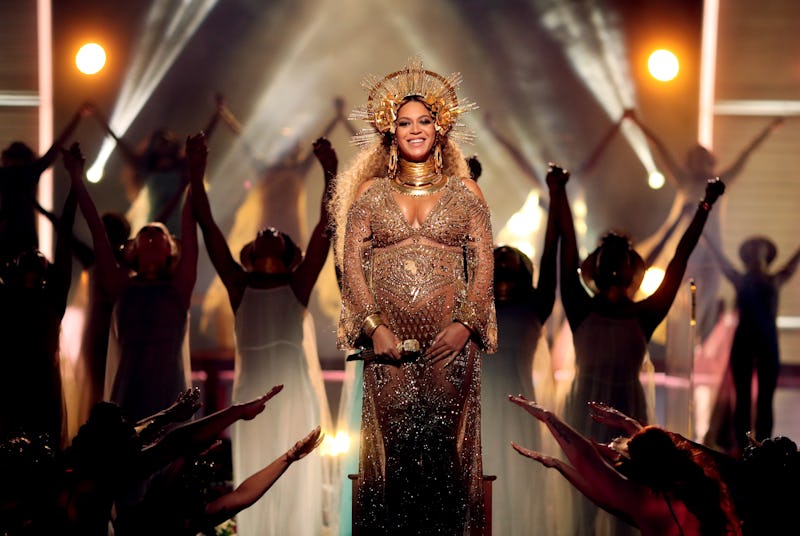 Christopher Polk/Getty Images Entertainment/Getty Images
Beyoncé broke new ground with her 2017 Grammys performance on Feb. 13: Not only did she sing two songs she never performed live before , but she also centered her Black womanhood, her deep Southern roots, and ancestral religions and figures with her garments.
The golden headdress adorning Beyoncé's head could have a meaning outside of simply making her appear regal. Her golden halo appears to reference the Virgin Mary or the Madonna. The "Blessed Mother" is often depicted as a white woman with extraordinary patience and humility. It's an ideal that isn't often associated with Black women, who are more routinely depicted as angry and unworthy.
There's also another piece of symbolism in her performance that could reveal her devotion to recognizing the feminine as divine. In the huge background projections that culminated with Beyoncé sitting beside her mother, Tina Lawson, and her daughter, Blue Ivy Carter, all three were deliberately dressed in yellow.
The color is likely a nod to West African deities like Oshun, also known as Osun, Oxúm, and Ochún. Oshun, a goddess in the Yoruba religion, is closely associated with "female sensuality, love, and fertility," according to PBS. Oshun is most recognizable through her yellow dress and headdress, which appeared in Beyoncé's performance as well as her video for "Hold Up" and her recent maternity photos. In fact, Beyoncé referred to Oshun by name in the "I Have Three Hearts" poem attached to her pregnancy photos: "in the dream I am crowning/Osun, Nefertiti, and Yemoja pray around my bed."
Even the flowers on stage, which were also prominent in her maternity shoot, seem to reference Venus, a Roman goddess associated with love, beauty, and fertility.
Together, all of the styling choices and imagery seem to tie back into Beyoncé's exaltation of motherhood, especially for Black women. It wasn't simply a daring fashion choice for her to grace the stage cloaked in a gold headdress, bangles, and little else. Instead, she allowed her protruding pregnant belly to become her most important accessory. Putting pregnancy on full display feels like a political statement in a culture that's still grappling with motherhood — seeing as paid maternity leave is still a privilege rather than a guaranteed right.
None of this is accidental, because everything Beyonce does feels like it comes with intention. All of the symbolism and imagery linked through Beyoncé's Lemonade era seem to speak to the importance of the feminine divine. It recalls the stereotypes of Black women that have so often precluded us from being considered worthy of deification. It's the very act of using body politics and fashion as resistance, and by doing so, Beyonce placed Black women at the center of it all.