These Candles Are Based On Your Fave '90s Witches — Including Hermione, Willow, & Sabrina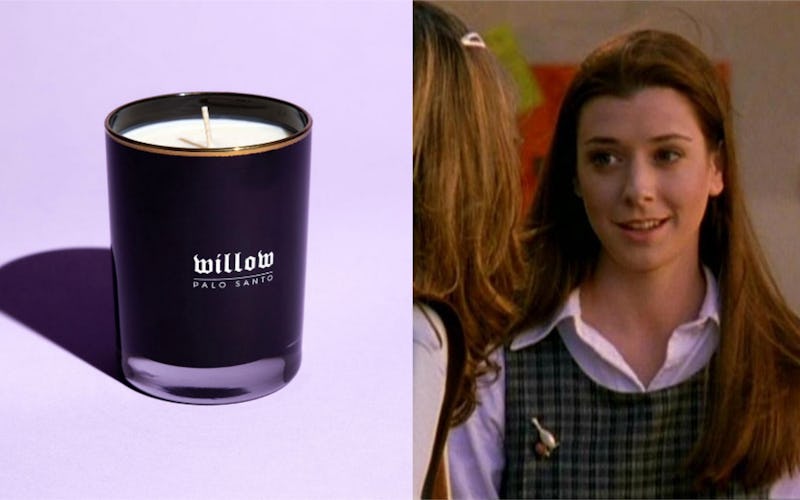 Bijou; the WB
Some people are candle people. I am not, generally — but I might be about to become one: Bijou Candles has just released a "Candle Coven Trio" of candles inspired by famous pop culture witches, and, uh… let's just say that I am feeling incredibly Seen right now. You see, we're not talking about just any pop culture witches — we're talking about a trio of witches who were incredibly influential to me in my youth. I'm sure the same is true for a lot of folks who were teens in the '90s.
Founded by married couple Jocelyn and Alaina Drew in 2012, Bijou's goal is to make luxury candles affordable for those of us who don't live on luxury budgets. Made in small batches with sustainable, vegan ingredients, the company's soy candles come in a wide number of scents ranging from the gourmand (like Greta, a bourbon and vanilla dream) to the woodsy (try Ingrid, a refreshing pine balsam scent) — they won't break the bank, either.
Here's what I mean: Consider Diptyque, one of the leading brands of luxury candles on the market today. Whereas a 2.4-ounce candle from Diptyque will set you back around $35, a three-ounce Bijou candle with a burn time of 25 hours costs $9. Similarly, Diptyque's large option, a 6.5-ounce candle, retails for a whopping $65, while Bijou's large size, a 10.5-ounce option with a 70-hour burn time, costs $29 — less, even, than Diptyque's 2.4-ounce candle.
That's a pretty big price difference — and for a lot of folks who love candles, it's the difference between being able to treat yourself within your narrow budget and feeling for the umpteenth time that nice things are only for the very wealthy.
(I mean, don't get me wrong; Diptyque candles are gorgeous. I just, um, hesitate to shell out $65 for something I'm literally going to light on fire.)
Anyway, to make a good thing even better, Bijou has just announced their fall scents — and although I'm sure the scents themselves are terrific (they do sound delightful!), what I'm really excited about are the inspirations behind them. The Candle Coven Trio consists of three candles of differing scents, all housed in dark glass votive holders with their namesakes and primary notes written in white, gothic lettering across the front — and they're named for Willow Rosenberg, Sabrina Spellman, and Hermione Granger.
Inspired by Buffy the Vampire Slayer's resident computer and magic expert, the Willow candle's scent features Palo Santo wood, a variety of wood known for its bright, citrusy notes. Labdanum and birch tar bring it back down to earth a bit, with vanilla bean and cedar forming a warm base in which the whole scent grounds itself.
Meanwhile, the Teenage Witch of Greendale lends her name to a candle heavy with the scent of patchouli and bergamot. Blood orange, lemongrass, sandalwood, black pepper, and vanilla bean round out the notes, making for a complex incense-like experience.
And lastly, the Hogwarts prefect and eventual Minister of Magic's candle consists of fresh, woody notes like cedar, sandalwood, and pine. Thyme and eucalyptus add an herbal punch, while a bit of patchouli lurks underneath.
Actual footage of me right now:
As a teen in the '90s and early 2000s, I spent a lot of my free time losing myself in the worlds these fictional witches called home. Beyond the fact that these worlds provided an escape from the mundanity of, y'know, regular-person life, they also highlighted the extraordinary, even when times were difficult or downright dark. And their witchy inhabitants were often sources of inspiration: They were powerful; they were smart; and although they were no means perfect — indeed, they were far, far from it — they strove to do what was right, rather than what was easy.
Clearly these are lessons of which we could all use regular reminders — especially in our current climate.
I find it interesting, by the way, that not only did all three of these witches factor prominently in '90s pop culture, but also, they've all seen at least the glimmers of different takes arise in recent years: When Harry Potter and the Cursed Child debuted on both the stage and the page in 2016, we got to see grown-up Hermione in action; Sabrina the Teenage Witch — the Melissa Joan Hart version of which was already a reimagining of a classic comic book character — is set to reemerge on Netflix as The Chilling Adventures of Sabrina, a gritty, Riverdale-style reboot, in October; and a reboot of Buffy the Vampire Slayer is apparently in the works, as well.
Yes, I know; I have complicated feelings about the Buffy reboot, too. But the fact of the matter is, it's happening, and I think that alone is significant — as is the fact that Charmed, which isn't represented in Bijou's collection, but which still remains significant, will see a reboot in the near future, as well. It's clear that these characters still loom large in our imaginations — and I think the reasons why matter.
Anyway, all of this is to say that, when it comes to gorgeous scented candles named for some of my favorite witchy characters, I am Here For It. Head on over to Bijou Candles' website to check them out. Heck, and yes.