Cosby's First Tweet After The Mistrial Is A Statement From His Wife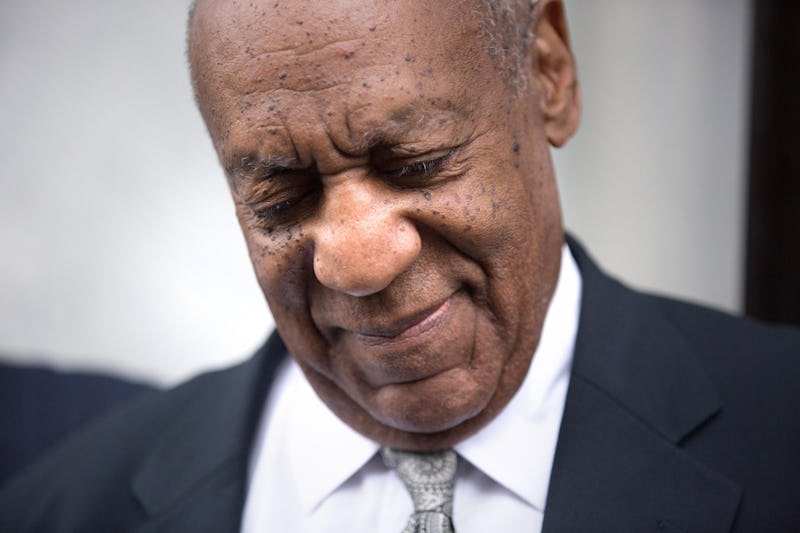 Kevin Hagen/Getty Images News/Getty Images
In his first tweet since his sexual assault case ended in a mistrial Saturday, once-beloved TV dad Bill Cosby is letting his wife do all the talking. Shortly after a Pennsylvania judge declared the mistrial, Cosby shared his wife Camille's statement on Twitter. In it, she calls the mistrial decision a "manifestation of justice, based on facts, not lies."
In an impassioned statement — which earlier that morning was read aloud by a member of Cosby's media team outside the courthouse — Camille railed against the media; the judge overseeing the case; the attorneys representing the women accusing her husband of sexual assault (allegations Cosby has vehemently denied); and the Montgomery County district attorney who had charged her husband with three counts of aggravated indecent assault.
Camille described Montgomery County District Attorney Kevin Steele as "heinously and exploitively [sic] ambitious" and alleged that Judge Steven O'Neill was "overtly arrogant in collaborating with the district attorney." Cosby's wife went on to accuse the legal teams representing her husbands accusers of being "totally unethical." She also painted many within the general media as being "blatantly vicious entities" who greedily sell sensationalism "at the expense of a human life."
"Historically, people have challenged injustices," Camille's statement continued. "As a very special friend once stated, 'truth can be subdued, but not destroyed.'"
Overall Camille appeared to be satisfied with the mistrial verdict, expressing her gratitude to jurors who spent six days in deliberations before announcing they were "hopelessly deadlocked" and unable to come to a consensus regarding a verdict. "I am grateful to any of the jurors who tenaciously fought to review the evidence, which is the rightful way to make a sound decision," Camille said in her statement. "Ultimately, that is the manifestation of justice, based on facts, not lies."
She also thanked her husband's lawyers and public relations team as well as supporters and family members "who never gave up on us."
Cosby accuser Kristina Ruehli, however, pushed back on Camille's statement. "I am particularly nauseated by the statement by Camille Cosby," Ruehli reportedly said in a statement to CNN. "The vitriol in it to me was over the top considering that 60 accusers came forward and Cosby was not found innocent."
While Camille attended only one day of her husband's trial, she has repeatedly defended Cosby against allegations of sexual assault brought forth by nearly 60 women. "The man I met, and fell in love with, and whom I continue to love, is the man you all knew through his work," she said in a statement released when allegations first began to mount against the entertainer in 2014. "He is a kind man, a generous man, a funny man, and a wonderful husband, father and friend. He is the man you thought you knew."
Although nearly 60 women have publicly accused Cosby of sexual assault – charges his legal team has vehemently denied – only the allegations of Andrea Constand have led to criminal charges. Constand alleges Cosby gave her drugs and then sexually assaulted her in his home in 2004. Cosby, however, has maintained he only gave Constand Benadryl, that their sexual relations were consensual, and that Constand never said "no."
Prosecutors announced Saturday they would prepare to retry the case.
Read more about the Bill Cosby mistrial
Andrea Constand Comforted Other Women As The Bill Cosby Mistrial Was Declared
Bill Cosby's Team Declares "Justice Is Real" After The Mistrial
Gloria Allred Warns Bill Cosby It's "Too Early To Celebrate" The Mistrial
The Bill Cosby Mistrial Is Exactly Why Women Rarely Report Their Sexual Assault
What The Bill Cosby Mistrial Can Teach Us About Rape Culture In America
Bill Cosby's Accusers Remain Hopeful Despite The Mistrial
Why The Bill Cosby Mistrial Was Not At All Surprising To Women