What The Bill Cosby Mistrial Can Teach Us About Rape Culture In America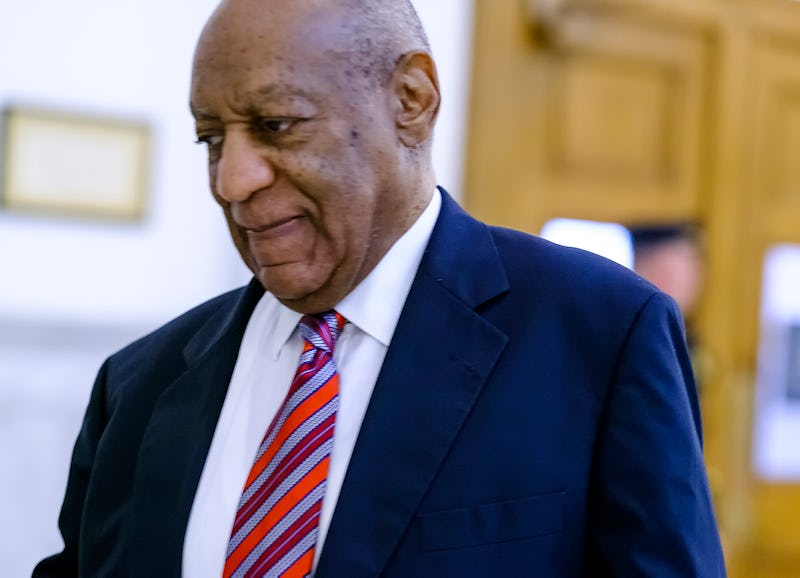 Pool/Getty Images News/Getty Images
The hung jury in the Bill Cosby sexual assault case — declared after jurors were unable to render a unanimous verdict following six days of deliberation — is sparking an important dialogue about what we can learn from the Cosby mistrial, and the prevalence of rape culture that some say contributed to the deadlock. Attorney Gloria Allred, who represents dozens of women who have accused the comedian of sexually assaulting them over the years (accusations he vehemently denies), held a press conference where she warned, "It's too early to celebrate, Mr. Cosby."
Both sides made statements outside the courtroom, including one accuser who vowed that the Cosby mistrial will not deter the women seeking justice.
Linda Kirkpatrick , who alleged Cosby sexually assaulted her, addressed members of the press:
He thought he could bury us. He didn't know we were seeds. We are sprouting up. We are looking for reform, uncovering the rape culture in this country where victims are blamed and shamed.
While the mistrial is a setback for the women seeking to hold Cosby accountable, it's far from a defeat. Originally, 13 women were poised to testify as "bad act witnesses" to provide context for Andrea Constand's accusations against Cosby, but the court only allowed one such witness to testify. Allred said during the press conference that she is hopeful that the prosecution will allow more witnesses to testify against Cosby during the new trial.
How Our Society Perpetuates Rape Culture
Some have pointed to the mistrial as an example of how our society dismisses the bad behavior of powerful, famous men, and shames sexual assault victims. Statistics from the Rape, Abuse and Incest National Network (RAINN) stated that sexual assault is grossly underreported with only 310 reports for every 1,000 rapes. Reasons many women do not come forward include fear, shame, worrying they won't be believed, and having to relive the trauma while it's played out in court.
The consistency in the nature of the accusations against Cosby among women who did not know one another makes it unlikely that the claims don't hold at least some truth. According to the National Sexual Violence Resource Center, false reports are rare and account for only 2-10 percent of reported rape cases. What's more is that many women delay reporting for several reasons.
"Sexual assault victims commonly struggle with a range of emotions that make it difficult for them to report or disclose abuse," the NSVRC noted in a report. "Often, victims who do report will delay doing so for a variety of reasons that are connected to neurobiological and psychological responses to their assault."
The report went on to say that victims may fear judgment from their communities, or fear retribution for making a report. It also stated that recognizing the complexities of the post-assault behavior of victims is crucial to changing the landscape: "Understanding victim behavior and its social context is critical to understanding the obstacles victims face in reporting. Incorrect ideas about rape, known as rape myths, are culturally ingrained."
Additionally, victims often face obstacles from law enforcement when reporting their assaults because not all law enforcement officials are properly trained to handle sexual assaults, according to the NSVRC.
"When survivors come forward, many face scrutiny or encounter barriers. For example, when an assault is reported, survivors may feel that their victimization has been redefined and even distorted by those who investigate, process, and categorize cases," the report stated.
Giving Powerful Men A Pass Send A Dangerous Message
The list of male celebrities who have been accused of domestic violence or sexual assault is long:
President Donald Trump, who called his comments about grabbing women by the pussy "locker-room banter."
O.J. Simpson, who pleaded not guilty of murdering his wife Nicole Brown, and was acquitted of the crime.
Johnny Depp, who denied allegedly abusing ex-wife Amber Heard.
Roman Polanski, who fled the country to avoid prosecution of allegedly raping a 13-year-old girl, which he later admitted to doing.
Chris Brown, who acknowledged and apologized for the alleged assault against former girlfriend, pop star Rhianna.
Mike Tyson, who pleaded not guilty to raping a Miss America Contestant but was convicted of the crime, and stated in his memoir that former wife Robin Givens, whom alleged domestic violence, was after money.
Mel Gibson, who admitted slapping his ex-wife, and pleaded no contest to domestic violence.
Woody Allen, who married his stepdaughter, and denied allegations that he abused his daughter Dylan.
Casey Affleck, who denied allegations of sexual harassing female film-crew workers.
Dr. Dre, who told Rolling Stone that some of the claims against him were true, he'd made mistakes that he's paid for, and is no longer that person.
Sean Penn, whom Madonna alleged abused her during their marriage. He denied ever being arrested for assaulting her through his lawyers, and Madonna later retracted the claims.
Many powerful men who have faced claims of sexual misconduct are celebrated, revered, and winning the most prestigious awards in their industries. One is even our current president, despite bragging, on tape, about "grabbing women by the pussy."
"Celebrity culture caters almost entirely to men, from the objectification of women to the fetishization of male wealth and power," Zeba Blay wrote in The Huffington Post. "The power of the male celebrity, then, lies in a culture designed to applaud and protect these men, to keep their power intact but silencing those who threaten it."
This scenario spills over from celebrity culture into the rest of our society, and is supported, and enforced, by both men and women. When I was a freshmen in high school, one of my friends was raped at a party, and she suffered the horrible fallout of whispers, blame, and despair that is all too common among assault victims.
Many years later we encountered the man responsible at a party, and one of the girls in our company said, "Well, so and so is not like that anymore. He's really a nice guy." Does being a "nice guy" excuse sexual assault?
In similar fashion, Cosby's TV daughter Keshia Knight Pulliam, who played Rudy Huxtable on The Cosby Show, has stood by his side — even accompanying him to court — and said that she believes Cosby is innocent until proven guilty.
The Victims Are Not On Trial
Would it be easier to believe Cosby's accusers if he had spent the '80s playing a nefarious character instead of everyone's favorite dad, the voice of Fat Albert, and the man who millions of children spent their mornings with while watching Picture Pages? Why is time being spent dragging the victims through the mud instead of entertaining the idea that Cliff Huxtable and Bill Cosby are not the same person?
Here's the thing; acting is not real. Just because Cosby, and the other aforementioned celebrities, made you feel a certain way through their performances, doesn't mean they're not capable of assault. Dozens of women have accused Cosby of drugging and assaulting them (he denies all such claims). Model Janice Dickinson even has a Polaroid photo from moments before the alleged assault occurred. Marty Singer, Cosby's attorney at the time, called the allegations "a complete lie," E! News reported.
When these women came forward publicly, they knew they would be subjected to harassment. They knew they would not be believed. They knew the process would be long and painful. Much like the women in the Netflix documentary The Keepers, who pursued justice for alleged serial rapes they experienced at the hands of a Baltimore priest, they knew that society would rise up to rally around Cosby just as the church rallies around priests. But they came forward anyway.
"The experiences of these women are always put under far more scrutiny than the men they accuse, even when making these accusations gets them nothing in return," Blay noted. "It took Cosby implicating himself in using drugs during sex for people to consider that he might have actually assaulted his alleged victims."
When we allow priests, celebrities, and politicians to evade accountability for alleged crimes against women it sends a dangerous message that violence against women is allowed. That it won't be prosecuted. That you can get away with it. It's time to let them know that they can't.
"Round two may be just around the corner," Allred said during the press conference. "And this time, justice may prevail."
Let's not give up until it does.
Read more about the Bill Cosby mistrial
Andrea Constand Comforted Other Women As The Bill Cosby Mistrial Was Declared
Bill Cosby's Team Declares "Justice Is Real" After The Mistrial
Gloria Allred Warns Bill Cosby It's "Too Early To Celebrate" The Mistrial
The Bill Cosby Mistrial Is Exactly Why Women Rarely Report Their Sexual Assault
Bill Cosby's First Tweet After The Mistrial Is A Statement From His Wife Camille
Bill Cosby's Accusers Remain Hopeful Despite The Mistrial
Why The Bill Cosby Mistrial Was Not At All Surprising To Women