Britney & Jamie Lynn Spears' Family Photo Will Give You So Many Nostalgic Feels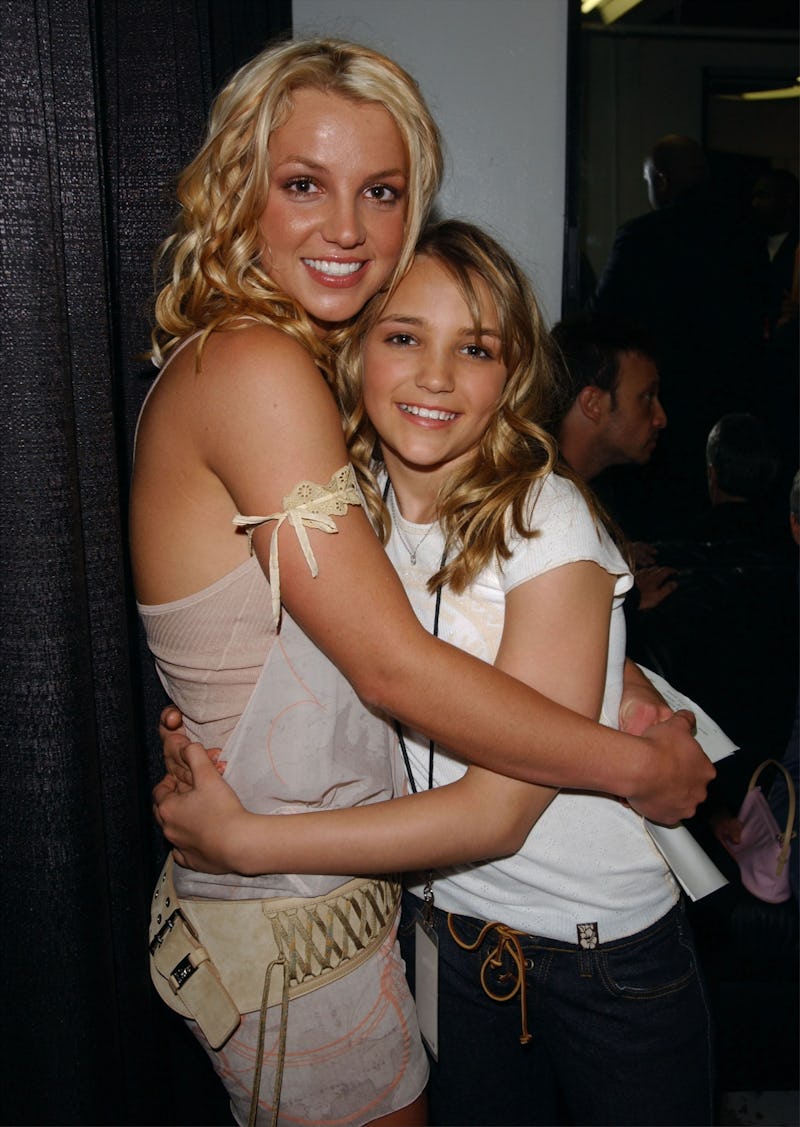 Frank Micelotta/Getty Images Entertainment/Getty Images
It might not be Throwback Thursday anymore, but look out, because the '90s-'00s flashbacks are about to hit you baby, one more time. Britney and Jamie Lynn Spears' family photo will make you so nostalgic. The Spears family: They're just like yours! Except really, really, ridiculously famous. Jamie Lynn, who has a flourishing music career in addition to her mom duties, posted the photo of her siblings, daughters, niece, and nephews on June 15. She captioned it with a simple, all-caps "family," accompanied by two hearts.
E! Online helpfully documented the two generations of Spears family members here. From left to right, there's Jamie Lynn Spears, Sean Preston Federline, Sophia Spears (Bryan's daughter), Maddie Aldridge, newborn Ivey, Jayden James Federline, the unforgettable Ms. Britney Spears, and Bryan Spears. The family resemblance couldn't be stronger. Maddie has always been a doppelgänger for mom Jamie Lynn, and Britney's sons look more like her than ever. There are even shades of the Spears sisters in niece Sophia, whose dark looks favor her father.
This dynasty is about to give the Kardashian family a run for their money in terms of adorable, close-knit cousins who happen to be the children of internationally recognized celebrities.
Look at the beautiful Spears family portrait below.
The three Spears siblings rounded up their kids for a family photo as part of an ongoing celebration for Maddie's birthday, per Jamie Lynn's previous Instagram captions. The older of Jamie Lynn's two children, Maddie turns 10 this year. It seems she lives a regular, low-key life with her family — one vastly different from the life of her mom and aunt, who were famous since their childhood — and has entirely recovered from an accident she was involved in last year. (She and her father, Casey Aldridge, were riding an ATV that crashed into a pool.) By all accounts, Maddie appears happy, healthy, and totally in love with newborn Ivey Joan.
The younger Spears welcomed daughter Ivey Joan Watson just two months earlier, in April 2018, with her husband Jamie Watson. Yes, their names are Jamie Lynn and Jamie, and yes, Jamie also happens to be the singer's father's name. It was all just destiny. Since then, the performer has been out and about. She's promoted her charity work on Instagram, encouraging followers to donate blood to the Red Cross. In between all of the regular celebrity Instagram type of content, it looks like Jamie Lynn is just a regular suburban mom. She posts photos with proud captions about her older daughter's softball team, for instance, and lots of memes about motherhood.
The same goes for older sister Britney. The icon intersperses her intense workout videos, inspirational quotes, and photos of her hunky boyfriend with endless, gushing snapshots of motherhood. It's obvious how much both of the Spears sisters love and adore their children, and their fans can feel that warmth. Britney, for instance, relentlessly stanning her sons' Dragon Ball Z fan art has become something of a meme on Twitter for its sheer purity. The unbridled joy the actors and singers take in motherhood is just so precious. No matter how much fame or fortune they've acquired, at the end of the day, they're just Southern women and amazing moms at their kids' sports practices, just like anyone else.
Much like Trent Olsen, Bryan Spears is a lesser-known sibling of a '90s-'00s family dynasty. The eldest Spears sibling is a more behind-the-scenes guy, working mostly as a film and television producer. Unlike his younger sisters, he hasn't made a name for himself as a performer — at least, not yet.
But no matter what, this talented family looks so happy when they're all together.