Cardi B Spilled More Details About Her Baby Girl, But Don't Expect To See Her On Social Media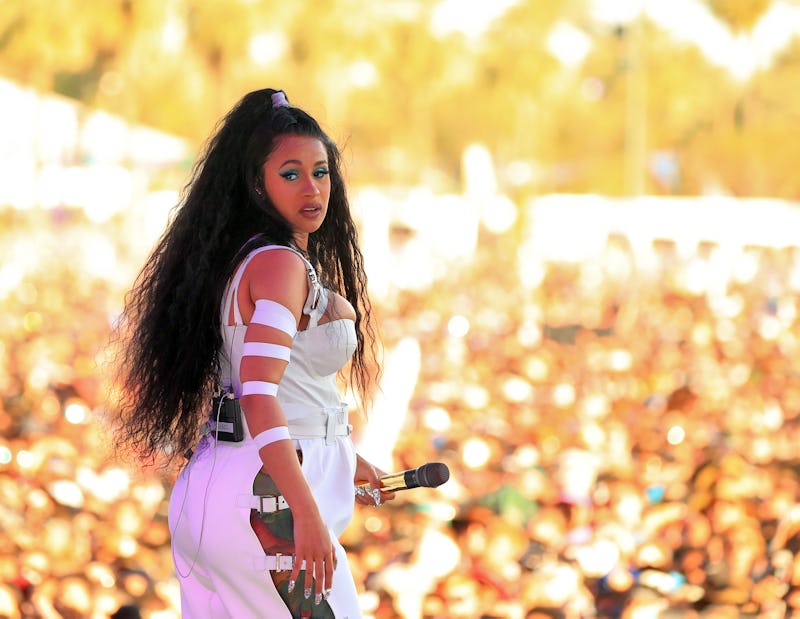 Christopher Polk/Getty Images Entertainment/Getty Images
Bartier Baby is due any day now, and in a recent interview with Rolling Stone, Cardi B revealed new details about her baby girl — she confirmed the child's sex during a May 9 interview on The Howard Stern Show — and how she plans on raising her. Obviously, with parents like Cardi and Migos' Offset, the baby's childhood will be far from ordinary. In fact, Cardi's daughter might even be living the rap star lifestyle as soon as she's sprung from the womb.
Cardi and Offset were both photographed for the cover of the July issue of Rolling Stone, and the soon-to-be married couple opened up about their relationship, their music, and all-things baby. It's no secret that the little girl wasn't exactly planned, and Cardi was considerably concerned about how the pregnancy — which she found out about while in the midst of recording Invasion of Privacy — would affect her burgeoning career. "A lot of successful women have kids, and a lot of successful artists have kids, but not at the peak of their career," she told Rolling Stone.
She soldiered on, though, and her career has continued to flourish. Cardi's set to open for Bruno Mars' tour for seven weeks in September, but that doesn't mean she'll be leaving her little girl at home while she's out on the road. "What I envision is my tour bus has my own personal room, and I just want to be with my baby," the rapper said.
She continued,
"Only time I don't have my baby with me is when I'm getting my hair done, makeup done, performing. I don't want to miss one second. I don't want to miss no smiles, I don't want to miss no new movement, I don't want the baby to confuse me and the babysitter."
It seems like it'd be nearly impossible to confuse the no-holds-barred Cardi with, well, anyone, and fans won't have to worry about the rapper changing her wild ways after she gives birth. "Just because I'm a mom, my street credibility's not gone, my sex appeal's not gone," she explained.
Speaking of street credibility, Bartier Baby will have it in spades. "I don't want my kid to get picked on and she don't know how to defend herself," Cardi told Rolling Stone. "I have a little brother and I always put in his head, since he was two years old, 'Somebody hit you, you kick, you kick, you kick.'"
Teaching her daughter how to defend herself in person is one thing, but Cardi isn't sure if she wants her baby to have to deal with defending herself on social media. The rapper has had her own issues with social media, as of late — she temporarily deleted her Twitter account after some drama with Azealia Banks, Page Six reported — and shared her aversion to the platforms in an April Instagram post that has since been deleted, according to E! News.
"Social Media have been the most disgusting place," she wrote at the time. "It makes me question humanity and not only on celebs, on other people and situations. I see people on here laughing and getting joy of other people misery."
Cardi elaborated on her struggle with social media while speaking to Rolling Stone, and told the publication that she's not really sure if she'll be sharing photos of her daughter after she's born. "I'm iffy about it," she said. "My feelings get hurt when people online talking about family members. I think I'll kill somebody if somebody talking about my child like that."
As long as Cardi and Offset's baby is happy, healthy, and has half of her momma's bright personality, fans will no doubt support her if she decides not to post her pictures on social media. If she ends up changing her mind, though, we'll happily fawn all over anything that's Bartier Baby-related.