Cardi B Responded To Offset's Car Accident With Nothing But Support For Her Fiancé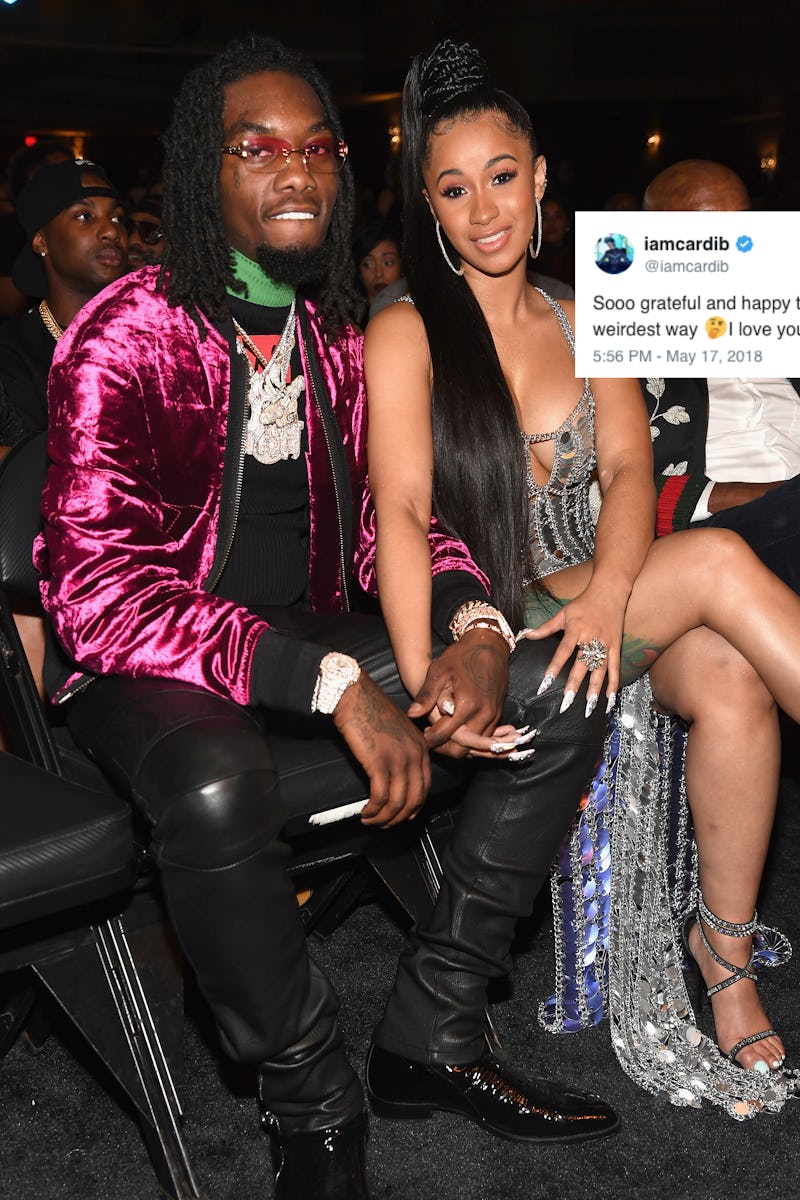 Paras Griffin/Getty Images Entertainment/Getty Images; Cardi B/Twitter
Cardi B has a lot of good things going on right now in both her career and her personal life. But when she tweeted on May 17 that she was "grateful and happy," it appeared that Cardi B was reacting to Offset's car accident earlier this week. According to TMZ, Cardi B's fiancé Offset was in a car accident on May 15, and he was hospitalized for minor injuries. By Thursday morning, TMZ reported that he had already been released. So while Offset's car was reportedly totaled in the accident, Cardi B's fiancé and the father of her baby appears to be fine. (Bustle reached out to the Migos team for comment, but did not receive an immediate response.)
That helps to explain why Cardi B was so thankful in her Thursday night tweet. Along with heart emojis, she wrote,
"Sooo grateful and happy today. God be giving messages in the weirdest way. I love you @OffsetYRN"
The "Bodak Yellow" singer and Offset became engaged in October 2017. And during her performance on Saturday Night Live in April, Cardi B revealed she was pregnant with his child. So while she didn't explicitly mention any car accident in her post, her message of love to Offset seemed to imply her relief that he was OK after the frightening incident.
Offset hasn't posted on his own Twitter account since the reported accident. But according to TMZ, late on Wednesday night, the Migos rapper wrecked his green Dodge Challenger while in Atlanta, Georgia. TMZ wrote that sources claimed that Cardi B "rushed to be by her fiancé's side after she heard about the accident." TMZ reported that no emergency responders or police officers were called to the scene, and thankfully, his injuries don't weren't too serious since he was already released from the hospital. It also seems that no other people were involved in the accident.
Earlier in May, Cardi B told The New York Times ahead of the Met Gala that she was seven months pregnant, which lined up with TMZ's earlier report that she's due the first week of July. But even if she wasn't well into her pregnancy, it's no wonder that she was feeling grateful that her significant other and the father of her baby wasn't seriously injured after his car accident.
Cardi B also officially confirmed on The Howard Stern Show on May 9 that the couple will be having a baby girl. She told Stern that Offset has already chosen the name of their daughter (which she wouldn't reveal) and that they plan on getting married next spring. "It's more than a relationship," she said about Offset. "We are planning to build a really big future."
While Cardi B and Offset appear to be in a good place now, cheating rumors have plagued their relationship. Following their engagement, iHeartRadio reported that videos of Offset allegedly cheating on her were leaked. (He hasn't addressed those rumors, but did deny claims that he fathered someone else's child.) Complex reported that during a performance in December, Cardi seemingly addressed the infidelity rumors, saying, "You do that sh*t again, you gon' lose your wife." And in the April edition of Cosmopolitan, Cardi B spoke about the subject again and said,
"It's like everybody is coming down my neck like, 'Why are you not leaving him? You have low self-esteem.' I don't have low self-esteem … I know I look good. ... But I want to work out my sh*t with my man, and I don't got to explain why."
Fans believed that Cardi's song "Be Careful" from her debut studio album Invasion of Privacy was about Offset cheating. But through her many comments on the matter — and the fact that she announced her pregnancy while performing "Be Careful" on Saturday Night Live — it's clear she's sticking by Offset. And despite any drama from their past, she's relieved that the man that she loves is safe after his car accident.