Cardi B Has Not Just One, But TWO Songs Of The Summer, According To YouTube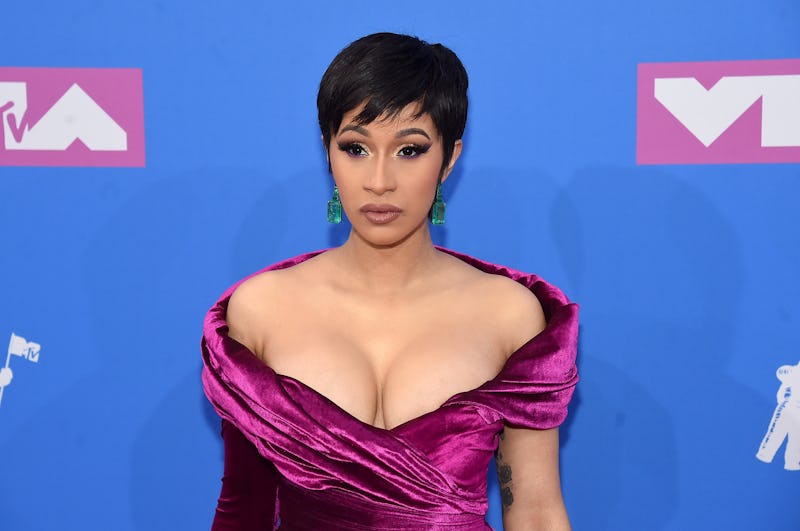 Jamie McCarthy/Getty Images Entertainment/Getty Images
Summer may be coming to an end, but one thing's for sure: your memories from the heat-filled season are bound to get you through those cooler months. And if you find that a lot of those key moments are framed by your favorite Cardi B track, you most likely aren't alone. Especially because Cardi B's "I Like It" is the official song of the summer, according to YouTube's statistics via a press release. Per the announcement, she was also featured on the No. 3 ranked Song of the Summer: "Girls Like You" by Maroon 5.
The folks over at the video platform pulled together a list of the country's most played songs by region, and the results are pretty cool. According to YouTube's statistics, America has been pretty obsessed with 10 Top 100 tracks the entire season — from Ella Mai's "Boo'd Up" to Drake's "In My Feelings." Breaking things down even further, the platform took a look at which tracks dominated which regions, assessing the performance of its top four performing tracks by Ella Mai, Maroon 5, Juice WRLD, and, of course, Cardi B.
Based on views between the dates of May 28 and Aug. 25, Juice WRLD's "Lucid Dreams" was said to take over the Mid-Atlantic and Midwest regions, Ella Mai's "Boo'd Up" owned the South-Eastern region, Maroon 5's "Girls Like You" (which also features Cardi B) was a fan-favorite in the Northwest, while Cardi B's "I Like It," featuring Bad Bunny and J Balvin, held the no. 1 spot across the country.
Appearing on Cardi B's 2018 debut and Billboard chart-topping album Invasion of Privacy, "I Like It" was an instant fan favorite amongst listeners. It could have been the iconic Pete Rodriguez sample, the perfect balance between English and Spanish lyrics, or the catchiness of Cardi B's epic one-liners. But all in all, fans can attest to the fact that once hearing, it's impossible to stop yourself from singing and dancing along to the track.
Oh, and when it came to the music video for "I Like It," released May 29, people couldn't get enough of the fierceness the pregnant rapper delivered within.
Along with a few of Cardi B's other hits off of the certified platinum album, like "Bodak Yellow," "Bartier Cardi," and even "Be Careful," "I Like It" totally found its footing in the Billboard Hot 100 — peaking at no. 1 the week of July 7. And solidifying the song's "Song of the Summer" slot was Cardi B's epic MTV Video Music Award win in the category by the same name.
It's no secret that 2018 has been the year of Cardi B. With the massive amount of success experienced so far, some are probably wondering whether or not she will be able to keep the momentum going with upcoming works.
In an Aug. 15 Instagram post, in which Cardi B sang her version Drake's "In My Feelings" to baby Kulture, the Bronx native confirmed that she's definitely working on new music, writing, "I really don't wanna go to the studio today."
After her amazing 2018 reign in entertainment (filled with multiple award nominations, wins, and Billboard record breaking) however, there's no doubt that she won't bring that same energy to whatever she has coming down the pipeline next.