The Video Of Cardi B Singing "In My Feelings" To Baby Kulture Will Melt Your Heart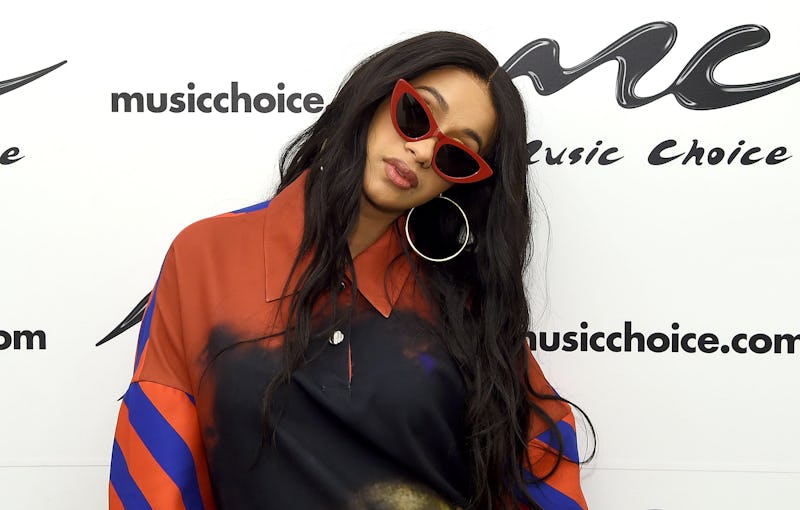 Jamie McCarthy/Getty Images Entertainment/Getty Images
Rapper Cardi B seems to be enjoying motherhood. And after watching this video of Cardi B singing "In My Feelings" to baby Kulture, you'll totally see why. The Wednesday, July 11 post marks one of the few times Cardi B has popped up on social media since becoming a new mom — including her girl's night with Kim Kardashian West and Kris Jenner — and for good reason. Between her booming career and, now, taking care of a newborn, Cardi B seems to have her plate pretty full. But you must admit, not having her hilariousness spill all over your timeline as often is a bit of a bummer.
Cardi B and her husband Offset welcomed their first child, Kulture Kiari Cephus into the world Tuesday, July 10. The "Bodak Yellow" artist announced baby Kulture's birth on Instagram the day following, attached to a sweet note thanking fans for their love and support.
Celebrating Kulture's one-month birthday, the Invasion of Privacy rapper took to Instagram to sing of her daughter's praises. While seemingly slowing down on her social media interactions, Cardi B definitely missed out on all of the hoopla surrounding the popular #InMyFeelings dance challenge. But, this video of Cardi B singing Drake's "In My Feelings" to Baby Kulture is her own spin on the social media craze. And after seeing it for yourself, you'll agree that it was well worth the wait.
Everyone knows that Cardi B isn't one to follow the crowd. The Bronx native is a trendsetter, and so it's only right that she remix Drake's Billboard summer hit to fit her own life and circumstance. Leaning over Kulture's adorable bassinet, Cardi B sang:
"Kulture, do you love me?
I'm your mommy.
I remember when I had you inside me,
and I burp ya,
and I need ya,
and I'd die for ya."
And just when you thought the Cardi B's sing-a-long couldn't pull at heartstrings anymore, the caption underneath the video totally did. Accompanying Cardi B's Wednesday, Aug. 15 post, the rapper wrote, "I really don't wanna go to the studio today," showing the world just how hard it must be to leave Baby Kulture's side, even for just a moment.
With the release of her first album, Invasion of Privacy, at the top of the year, breaking amazing Billboard records, officially announcing her marriage to Migos rapper Offset, and giving birth to her first child, 2018 has been a total whirlwind for the superstar. And it looks like she's only just getting started. According to MTV, Cardi B will be opening the 2018 MTV Video Music Awards with a special performance, and this is especially good news to everyone disappointed about Cardi B not joining Bruno Mars on the road for the American leg of his tour.
In addition to her hitting the VMA stage, Cardi B's recent Instagram caption hints that she's working on music. So her pseudo-hiatus doesn't appear to be lasting too long.
All in all, it looks like Cardi B is enjoying her time with Baby Kulture. Here's to hoping she shares more adorable moments with fans sometime soon.