Cardi B Quickly Shut Down The Notion That She Hasn't Been Working Since Her Baby's Birth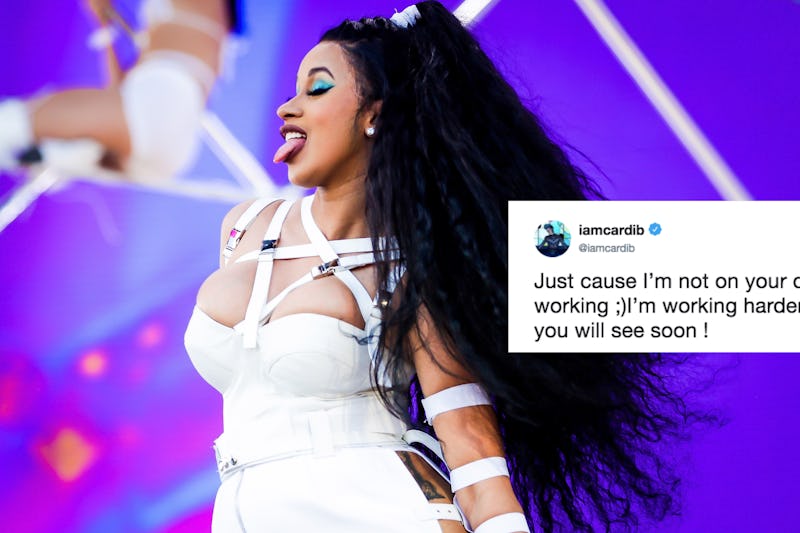 Rich Fury/Getty Images Entertainment/Getty Images; Cardi B/Twitter
Cardi B hustles like nobody else in the industry right now. She hustles so hard that people should start using her name as a synonym like, "Sorry, can't go out tonight. Gotta Cardi 'til payday." The rapper just gave birth on July 10, but it sounds like Cardi B is working on new music already, according to one of her recent tweets.
On Aug. 14, someone on Twitter made an assumption about Cardi's post-pregnancy career that she quickly and happily shot down herself. "Nothing puts in perspective how much women give up being pregnant and having a baby," the person wrote, "more then the fact that Cardi B had to cancel a world tour with the biggest pop artist in the world right now and Offset is still on tour like nothing happened."
For context: Cardi was scheduled to open for Bruno Mars on the last North American leg of his 24K Magic World Tour, starting in September. When Rolling Stone asked the star how she'd handle having a newborn right before going on the road, she said she was planning on bringing the baby along for the ride.
A few weeks after giving birth to little Kulture Kiari Cephus, though, Cardi confessed that she'd "underestimated this whole mommy thing," and had decided to withdraw from Mars' tour. "Not only am I just not ready physically, I'm not ready to leave my baby behind since the doctors explained it's not healthy for her to be on the road," she wrote. (Mars, for his part, was totally supportive of her decision, by the way.)
Cardi's husband Offset had also been booked on a tour before Kulture's birth — he and Migos are on the road with Drake — which just kicked off on Aug. 12 after a series of "production issues," according to Billboard. Since Offset is part of a group, it probably would've been pretty difficult for him to pull out of their tour and stay home. Regardless, Cardi decided to hang back with her baby, but don't think for a minute that means she's stopped hustling.
So, when that fan tweeted about Cardi leaving Mars' tour, the rapper responded with a correction that will definitely get fans pumped. She wrote back:
"Just cause I'm not on your doesnt mean I'm working ;)I'm working harder then ever and you will see soon !"
So cryptic, yet also very exciting. How soon is "soon," girl? What are you working on? A new song? A new song about Kulture? A new album? A new album about Kulture? *Insert praying-hands emoji here*
It seems like a new track could be a definite possibility, especially considering that video she posted to her Instagram stories back in July. A little more than one week before she gave birth, Cardi shared a quick clip that appeared to show her rapping in the studio. There wasn't any sound on the clip sadly, so it was tough to tell for sure.
Now, though, she's confirmed that she's definitely "working." While she could theoretically be working on like, a new hobby like painting or something — would buy, by the way — music is her job, first and foremost. So, she's probably working on new music then, right? Fingers crossed.