Carrie Underwood's Latest Selfie Includes Her Accident Scar In A Colorful Throwback Photo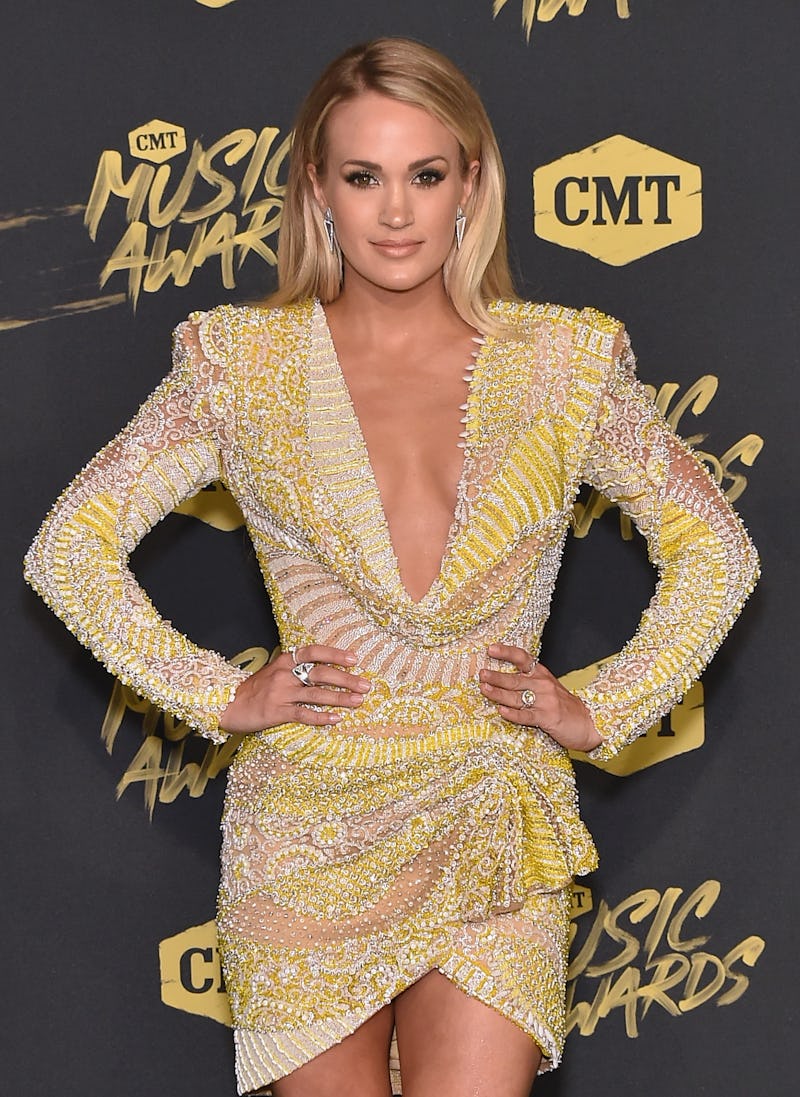 Mike Coppola/Getty Images Entertainment/Getty Images
Nearly a year after enduring a terrifying accident that resulted in her taking some time out of the spotlight, Carrie Underwood is proudly showing off her scars. The country superstar shared a selfie on her Instagram on Friday, in which she gave fans a behind-the-scenes look at the colorful makeup look that she rocked in her "Love Wins" music video, pulling her hair back so that fans could get a glimpse at her facial scar.
"#FBF to filming the Love Wins music video! https://youtu.be/-Py8OWAMkns ❤️❤️❤️," Underwood captioned the close-up snap, which included a link to her most recent music video, which was released in September.
The selfie is one of the first looks that Underwood has given fans at the scars that resulted from her fall in November 2017, though she has been open about her struggle to heal after the incident. In April, the singer began sharing snaps from her rehearsals and studio time, showing off the injured side of her face for the first time. Not long afterwards, Underwood returned to the spotlight with a powerful performance of her single, "Cry Pretty," at the 2018 ACM Awards. And despite taking time away from the spotlight, Underwood seems to be stronger than ever right now, with "Love Wins' blowing up the charts, and her album, Cry Pretty, reaching the No. 1 spot on the Billboard 200.
Despite all of her musical success, Underwood has been incredibly open about how difficult it was for her to return to the spotlight after her fall. In November, the singer tripped on the steps outside of her home in Nashville, suffering "multiple injuries."
In a Twitter statement to fans a few months later, Underwood revealed that "in addition to breaking my wrist, I somehow managed to injure my face as well. I'll spare you the gruesome details, but when I came out of surgery the night of my fall, the doctor told Mike [her husband, Mike Fisher] that he had put in 40-50 stitches in. Now, here we are 7 weeks later, and even though I've had the best people helping me, I'm still healing and not quite looking the same."
In April, she explained a little bit more about the incident in an interview on The Bobby Bones podcast, saying, "I went to catch myself and I just missed a step. If I had fallen anywhere else I would've been perfectly fine. But, there was one step that messed everything up." Underwood also opened up how hard she found it to deal with having an injured arm, explaining that it "can throw off your world, having an appendage that is there, but that you can't use."
In August, however, she spoke for the first time about the facial injury that kept her out of the spotlight for so long, telling Redbook that 2017 was a "soul-searching year" for her. "There were some personal things that happened," she said without elaborating. "And I had the accident and all of that to get through ... and just life. Life is full of ups and downs, and I might have had a few more downs than ups last year."
One of the hardest things for Underwood to deal with while healing were the rumors that her stitches were simply a "cover-up" for a plastic surgery procedure that she was hiding from the public — rumors that Underwood was quick to dispel. "I'm on some magazine every other week for something crazy," she told Redbook. "It's a little sad, because the truth is just as interesting I wish I'd gotten some awesome plastic surgery to make this [scar] look better. But I try not to worry too much about it."
The singer also explained that though some people can't see the scar in photos, she notices it every time she looks in the mirror. "Any time someone gets injured, it looks pretty bad in the beginning, and you're like, 'What is this going to wind up like?' You just don't know," Underwood said.
"It was also a perception thing, because I look at myself [now] and I see it quite a bit, but other people are like, 'I wouldn't have even noticed.' Nobody else looks at you as much as you think they do. Nobody notices as much as you think they will, so that's been nice to learn."
She may have been apprehensive to step back into the spotlight and show off the physical and emotional changes since the fall, by being to be vulnerable and open with her fans, Underwood has really shown that nothing can keep her down for very long.