Chrissy Teigen's 2019 Grammys Tweet Teases John Legend In The Perfect Way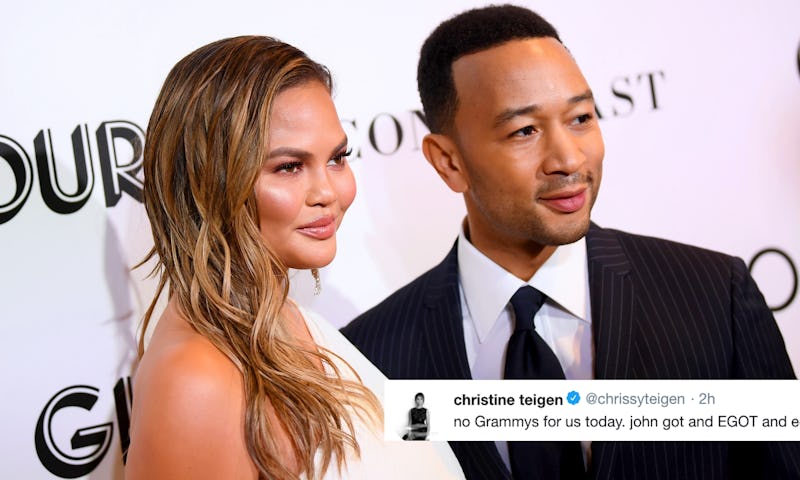 Dimitrios Kambouris/Getty Images Entertainment/Getty Images; Chrissy Teigen/Twitter
Despite inviting Alexandra Ocasio-Cortez over to watch the show with pizza earlier this week, Chrissy Teigen's 2019 Grammys tweet suggests she and John Legend won't actually be partaking in the festivities after all. "No Grammys for us today. john got [an] EGOT and egot lazy," she joked on Twitter, sharing a photo of Legend sleeping on the couch amid a pile of cozy blankets. "I'm so proud of this," she added afterward, referring to her EGOT/"he got" pun.
On Sunday, Teigen also shared a "not-going-to-the-grammys makeup tutorial" on her Instagram Story, in which she advised to "put concealer all over your face" and "make sure to not care too much" while clad in her signature white towel. "thank u so much for asking it's from bed bath and beyond but the tag fell off," she quipped after a fan asked on Twitter "who did [her] towel this year."
Over the years, Teigen and Legend have been regular Grammys attendees: Last year, she dazzled in a cream off-the-shoulder gown with silver embroidery, complete with a proud baby bump (she gave birth to her second child and first son, Miles, in May). Teigen and Legend's so-called "toilet story" also stole the show on the red carpet.
"We were having a transition from a regular toilet to a Japanese toilet that washes your butt and opens itself. And the contractor, they came in and removed the first toilet but didn't replace it immediately, and so we had to wait another day until the next toilet got installed," Legend explained at the time. Apparently, Teigen really had to go, and was taken aback to find their toilet completely gone. Inevitably, she "laughed so hard" that she "peed all over" herself. "I literally was like, of course this would happen to me, and just, I peed," Teigen explained in candid detail, true to form.
Legend has been nominated for multiple Grammys over the years, and has won 10, most recently in 2018 for his Selma collaboration with Common, "Glory," in the Best Song Written for Visual Media category. This year, he was up for Best Musical Theater Album alongside his Jesus Christ Superstar Live in Concert castmates, though they ultimately lost out to The Band's Visit.
For whatever the reason, that nod wasn't enough to get Legend and Teigen to the show, but Teigen's tweet is nevertheless a perfect tribute to their relationship. The two have a long history of (lovingly) trolling each other via social media. When Legend tweeted in 2016, "For those defending the current [national] anthem, do you really truly love that song? I don't and I'm very good at singing it. Like, one of the best," Teigen clapped back, "settle down, you're okay at it."
And while it's usually Teigen doling out the snark, Legend can dish it right back when need be, too. When Teigen tweeted "@johnlegend sometimes i go to your page and get excited it says you follow me then i remember you married me im drunk," Legend wrote back simply, "unfollowing."
Knowing the couple, they're having just as much fun not watching the Grammys at home as they would be if they'd actually gone.