Clara Amfo On Why "It's A Beautiful And Brutal Time To Be A Black Woman" — Exclusive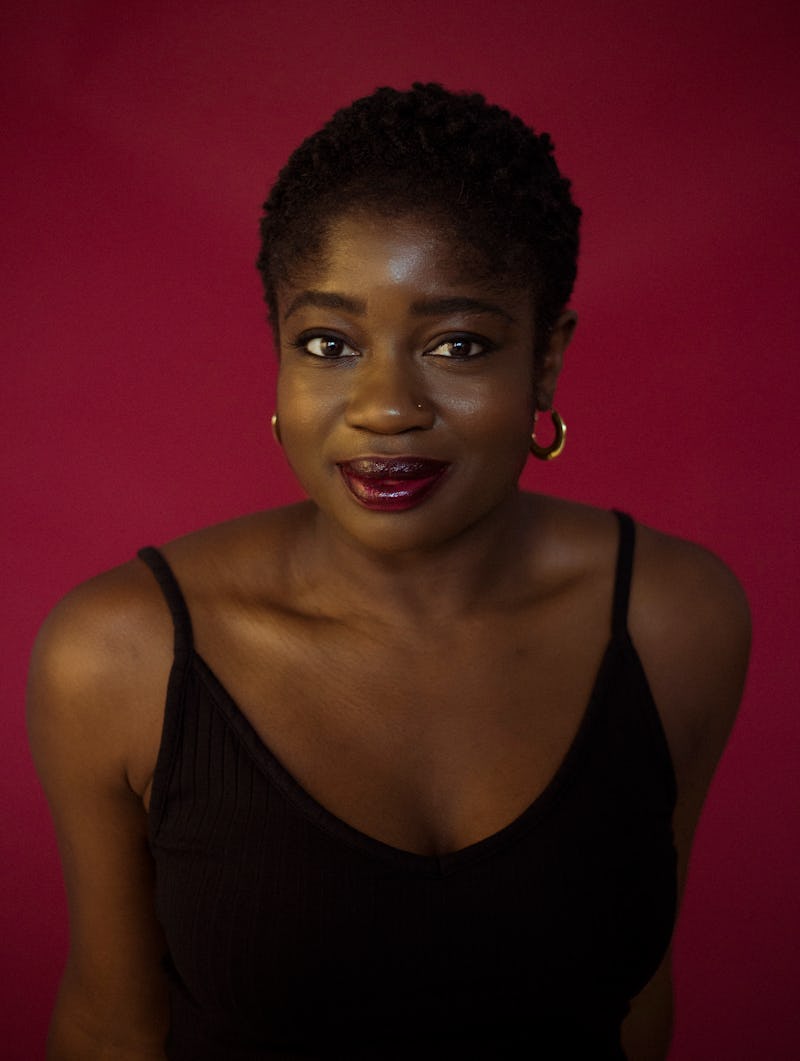 Clara Amfo is one of the media industry's most exciting talents. Yes, she's on your airwaves five days a week hosting Radio 1's Live Lounge slot, arguably the station's most innovative and interesting show. But that's just a small part of Clara Amfo's appeal, as she also works as a TV presenter and scout for songwriting talent. On top of that, she's open, honest, and has a fire in her belly about the issues facing black women today.
Amfo has been presenting her current Radio 1 show for three years, but she was no stranger to broadcasting before that, working her way up from sister station 1Xtra and Kiss FM. But it's in the past few years that Amfo says she feels like she's starting to really hit her stride. "So much has happened in those three years and I think my approach to [my radio show] has changed," she told me as I caught up with her after her sets in the Desperados Clubhouse at Bestival. "Your intention is to always be yourself and I feel like I always have been. But now more than ever I'm the freest I've been with my listeners. They know me better now than they ever did because we've spent three years together playing tunes and chatting s***. They've been with me on those journeys."
"It's like any new job, you hope that people like you. I'm someone who would always rather be respected than liked. But at the same time, it's always nice to be liked isn't it?"
Speaking of like vs respect, it's a duality that Amfo identifies in one of her all-time heroes, Beyoncé, whose American Vogue September cover has just come out when I speak to her. She explains: "I love the Vogue cover. I loved the styling and how it was shot. It was really strong but soft at the same time. And I think that's very much the duality of Beyoncé's existence as a performer. She can be tough on stage and she's got these powerhouse vocals but there's a vulnerability. She's out here being like, 'Look, I might be Beyonce but guess what, my husband cheated too.' And I think that's been a really powerful thing for her to do as an artist because in her earlier incarnations it was always borderline Miss World. She was fierce but there was almost a politeness to it."
And it's not just the depth and complexity to Beyoncé's persona that Amfo admires but her commitment to supporting and speaking out for black people in her own authentic way.
"I loved the Coachella and Super Bowl performances because she was just like 'I'm black, black, blackity black' and I loved that," she explains. "There are different ways to use your voice. Beyoncé doesn't have to be out here everyday writing Black Lives Matter on Twitter or be on the front line picketing, but she knows she's got a global audience. And what she can do is to sing the Black National Anthem and go to the Sports Illustrated awards give Colin Kaepernick that Muhammed Ali award. She's really smart with how she protests. It's never performative."
And like Beyoncé, Amfo's activism isn't just talk. She too is committed to true diversity and using her voice to improve black people's lot in a way that couldn't be further from perfunctory. And for all the positive steps towards diversity, Amfo still has frustrations. She's spoken out about cultural appropriation in the past, and stepped down from L'Oréal's #allworthit diversity campaign last year after the brand dropped Munroe Bergdorf for reportedly writing a Facebook post about the structural inequalities in society that work in white people's favour.
"If you're going to use us as a trend, you need to make sure you commit to everything that comes with diversity," she tells me. "Hence why when I left that very popular beauty brand, I did it because I thought the brand had no integrity. You hire somebody because of all the things that make them diverse, then they speak out about the historic unfair infrastructures and then you fire them. So I was like, 'well, see you later'. If you're gonna be a brand that's all about diversity, you better commit to it on every level."
L'Oreal issued a statement to Bustle at the time saying, "L'Oréal supports diversity and tolerance towards all people irrespective of their race, background, gender and religion... We believe that the recent comments by Munroe Bergdorf are at odds with those values, and as such we have taken the decision to end the partnership with her. L'Oréal remains committed to celebrating diversity and breaking down barriers in beauty."
While Amfo is pleased to see the spate of black women on the cover of September issues for major magazines including British Vogue, American Vogue, Elle, and Marie Claire, she's clear that they represent just a fraction of what it means to be a modern black woman.
"In 2018 it's a beautiful and brutal time to be a black woman," she says. "It's fantastic that all these women are on these covers but at the same time you have that young lady Nia Wilson having her throat slashed. And it's not that you can't celebrate one without being sad about the other, but there's absolutely more to be done with our representation in the diaspora and the black community at large."
"It's great that these women are getting covers but let's look at the intricacies within our community, because it's a lot of mainly lighter skinned black women getting covers and being held up as the more beautiful ones."
She continues: "I want to see someone like Uzo Aduba who plays Crazy Eyes in Orange is the New Black getting that same reverence. There are so many different sides to black beauty that aren't just your lighter skin girls with a loose hair curl, and aren't just Lupita who's got type 4c. I want to see all different types of black beauty celebrated with the same level of respect. Because history has shown us that palatable black beauty is your Beyoncés, is your Halle Berrys, your Rihannas, and these are women who I love and respect but I want to see all the other glorious bits of female blackness that I know are out there."
The September issues are proof that diversity is literally in vogue, and while Amfo is pleased to see so many black women shining, she wants it to be more than just a cultural moment. "I have a laugh with my friends, we say 'Diversity is so hot right now.' Media at large will always want to hop on what's hot and what's cool." For Amfo the key to longevity that lasts is representation that's done for the right reasons, and she has short shrift for anyone who believes visibility to be a "box ticking exercise."
"We need to be visible. Not everyone is a size eight, not everyone has perfect (what is perfect anyway?) hair, not everyone has the same physical ability. And they need to be reflected," she explains. "Some people are going to be mad about it, but they can stay mad. Because when you're accustomed to having the privilege of being represented all the time, anything that isn't inside your norm people are like 'oh my god, that's reverse racism.' But it's like no, this is the world. I'm not invisible."
And when it comes to how major corporations and brands can show their commitment to diversity, Amfo has got ideas to spare and share. She desperately wants to see different faces at the top of companies and is all too aware how exclusion can lead to easily avoidable missteps. And while some people would say the route to true diversity and inclusion is tough, for Amfo it's very simple.
"[It] starts at the top. A lot of major companies and corporations are run by older middle class men. And yes of course they make up a big part of society but they aren't all of society. It's very telling when there are crises around diversity or racial or gender faux pas. You can always tell there's no diversity on that team, because it would never happen. I think it's really about giving chances to and encouraging marginalised people to put themselves forwards and be trained for these jobs because they are out there."
The need for black women and girls to see themselves represented was what led Amfo to be a part of Elizabeth Uviebinené and Yomi Adegoke's inspirational guide Slay In Your Lane, which profiles prominent black British women. She says she hopes to be a "big sister" figure to young black girls who lack mentors.
"These young girls coming up I think they needs some navigation. We need to be their big sisters in that sense. There could be a black girl growing up in a tiny suburb in the North of England who doesn't have that. In theory I shouldn't be doing what I'm doing."
"None of [my network] was born with silver spoons in our mouths. None of us was born with super-connected parents. We all came through. I am proud of the fact that all of us weren't born into media dynasties and we've all carved out a route for ourselves."
And speaking of carving out her own path, Amfo has no intention of dialling back her busyness or ambition. "I want to broadcast until I get bored of it which I feel is going to be never. I want to find great songwriting talent. And do my own production. It's all about being your own boss. I work for the BBC which is amazing and I'm so happy about my achievements. But I've had enough experience, I've learnt enough and I'm continuing to learn enough so I want to be producing my own bits. Watch this space."
This summer, audiences got the chance to #ReclaimTheParty by getting their hands dirty alongside experimental DJs from the hottest club nights from across the UK, all housed under one roof at the DESPERADOS CLUBHOUSE.