Fans Want Colin Farrell To Play Grindelwald In 'Fantastic Beasts 2' Now, Now, *Now*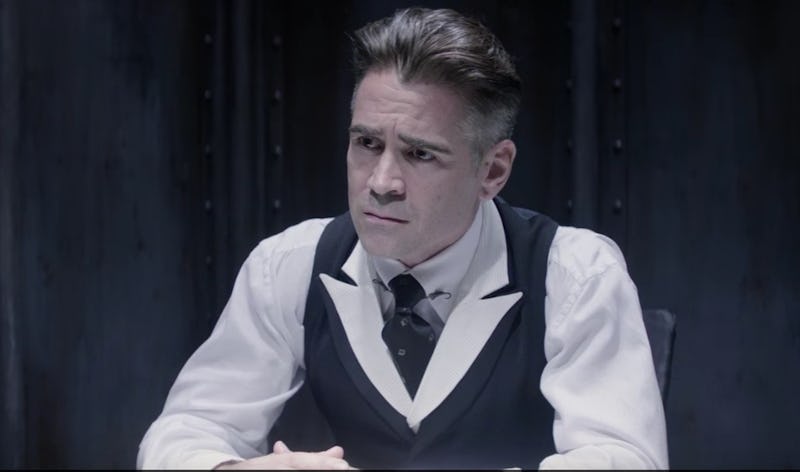 Warner Bros. Pictures
Potterheads the world round got new information about the Fantastic Beasts sequel on Thursday, but not all of it was good. Warner Bros. released plot details and first cast photo from the upcoming film, which the studio revealed will be called Fantastic Beasts: The Crimes Of Grindelwald. The announcement threw last year's casting controversy back into light: Johnny Depp is playing Grindelwald in Fantastic Beasts again, and many fans wish that Colin Farrell could play Grindelwald instead. Could Farrell possibly replace Depp and return for the The Crimes Of Grindelwald, which comes out in 2018? It would take something close to magic to bring him back, but that doesn't mean Depp couldn't be replaced by someone else. And it seems like fans would be very happy if he were.
If you haven't seen Fantastic Beasts yet, spoilers ahead. Throughout the movie, Colin Farrell plays Percival Graves, an Auror for the MACUSA (the American version of the Ministry of Magic). In the end, though, he's exposed as his true self, Gellert Grindelwald, and physically transforms into a jarring, bleach blond Johnny Depp. Fans were not at all happy with Depp's inclusion in the film, and, when the news broke of Depp's casting last year before the film's November release, Potterheads took to Twitter in outrage.
Fans are condemning the decision to bring Depp back because the allegations that came out during his divorce from Amber Heard, who accused him of abuse. Heard got a restraining order against Depp last year, claiming that he was physically and verbally abusive to her during their entire relationship, which Depp denied. The couple settled their divorce in August of last year, and Heard withdrew her petition for a domestic violence restraining order. The couple then released a joint statement to TMZ saying,
"Our relationship was intensely passionate and at times volatile, but always bound by love. Neither party has made false accusations for financial gains. There was never an intent of physical or emotional harm. Amber wishes the best for Johnny in the future. Amber will be donating financial proceeds from the divorce to a charity."
In light of that, fans were disappointed in the decision to include the actor in the original Fantastic Beasts movie, though those involved with production stood by the decision.
Director David Yates, for example, said at the movie premiere, "What you have to remember about Johnny is that extraordinary talent and that talent never goes away. Hollywood is such a fickle place. People go up and go down." But now, with the release of details from Fantastic Beasts 2, fans are outraged all over again. (The studio declined to comment on the backlash.)
Unfortunately, even if the fans are passionately demanding it, there's nearly no chance Farrell will return to the wizarding world as Grindelwald. In an interview with the fan site Snitch Seeker shortly after Fantastic Beasts was released last fall, producer David Heyman said "there's no plans to bring Colin back for the sequel." But, at this point, though Farrell is everyone's first choice, fans will settle for anyone but Depp.
Many are pointing to the fact that, after different allegations of unlawful conduct came out about actor Kevin Spacey, director Ridley Scott replaced him with Christopher Plummer in the upcoming film All The Money In The World, which comes out in just a few weeks December 22. This happened despite the fact that the film's release date is in a month — and Fantastic Beasts 2 has an entire year before its release date for the studio to potentially edit out Depp and reshoot Grindelwald scenes, fans say.
Now, more than ever, fans believe that it's the responsibility of Warner Bros. and author J.K. Rowling to stand up against abusers. Replacing Depp — especially with Colin Farrell — would be easy, and, clearly, it's what many fans want.