Colin Farrell Hypothesizes About His 'Fantastic Beasts' Future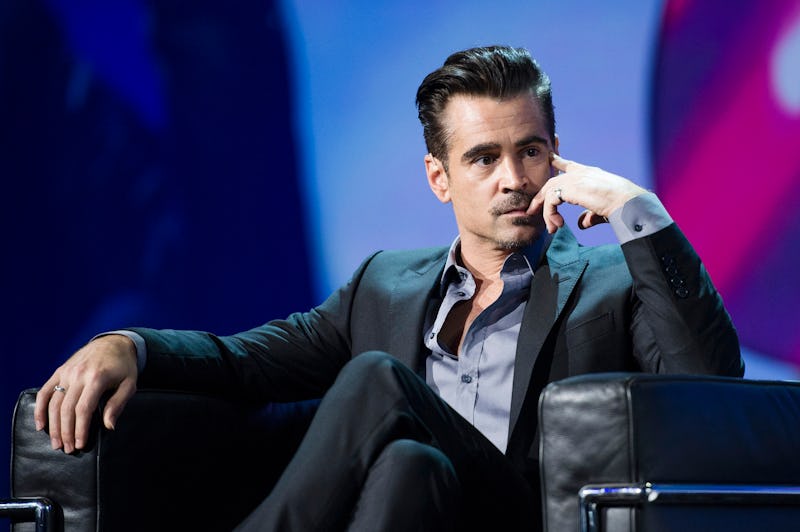 Jeff Spicer/Getty Images Entertainment/Getty Images
While on the carpet at CinemaCon 2017, Colin Farrell tackled a variety of topics during an interview with MTV News. And boy, did The Lobster star have a lot to say. In his fast-paced Irish accent, he discussed everything from Logan ("God, it was good") to emojis. But the most exciting gossip was related to Farrell's Fantastic Beasts and Where to Find Them character and his potential future in the franchise.
Spoilers ahead: In the Harry Potter universe film, Farrell played Percival Graves, a powerful Auror and Director of Magical Security for MACUSA with a tendency for the macabre. However, the character we get to know as Graves is, in fact, someone else entirely, as the evil Gellert Grindelwald played by Johnny Depp has been using Polyjuice Potion to impersonate the Auror. In light of this end-of-the-film development, Farrell has a dark, but probably accurate, view of what happened to the real Percival Graves (please stand up!) and why although he would "love to" appear in the film, "it was always written that that was it."
When MTV News correspondent, Joshua Horowitz, asked Farrell if this was the end of his character in the franchise, the Golden Globe award winner joked, "Where's Ezra? Let's get Ezra on this one. Let's get Ezra on the case." which seems like not only an attempt at misdirection, but also a reference to his Fantastic Beasts co-star Ezra Miller.
Then, he got a little more serious and logical, going into what he actually thought happened to the impersonated-by-Gellert Grindelwald character. He explained,
"I don't know what happened. I mean, look, you have to, for Polyjuice to work, you have to be alive. The person who's being replicated has to be alive and somewhere. So I would say, that would tell me, that Graves is alive somewhere but maybe he's buried in a shallow grave and he's going to die of starvation like 17 hours after the film ends."
When Horowitz tried to ask whether Farrell could confirm if the producers of Fantastic Beasts had contacted the actor to appear in future films, Farrell slyly responded, "Not if they asked me not to." So, while he seems pretty sincere about the imminent death of his character, there's always a chance he's simply keeping a secret as requested.
Sure, Farrell's reasoning behind Graves' demise sounds probable. But what if the Auror is actually still kicking it, and this is all just a ruse to blow us off the scent? Unfortunately, we have a long time until the Fantastic Beasts sequel premiere date, Nov. 16, 2018, to find out. Until then, be sure to enjoy Farrell getting a hug out of his new BFF Gary Oldman at the end of the MTV video — I know I will.