Here Are The Weirdest Job Titles Of Colton's 'Bachelor' Season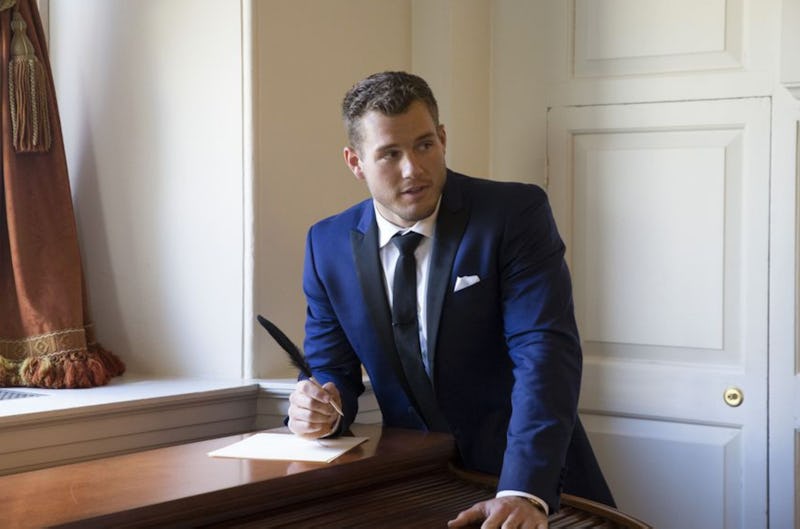 Paul Hebert/ABC
We saw some of their faces in the first trailer. We saw some names on Reality Steve's roster of rumored contestants. And now, the time has come: We know who will be on Colton Underwood's season of The Bachelor. And we know the weird jobs titles of Colton's The Bachelor season. And while there are not a ton of weird job titles this season, the few bonkers ones sure do pack quite the bonkers punch.
On Thursday, Dec. 6. Chris Harrison hopped on Facebook Live to unveil the list of humans who will appear on Season 23 of the renowned dating competition series, as well as offer up some information about each of the contestants vying for Colton's affections. He shared the contestants' ages, their hometowns, and, of course, their job titles. There will be realtors. There will be people who work in sales. There will be people who work in the medical field. All in all, there are a lot of traditional jobs this round.
There will not be any professional free spirits. There will not be any professional hipsters. There will not be any professional chicken enthusiasts. There will not be any professional tickle monsters.
But do you know what there will be? A professional sloth. And for that, Bachelor Nation should be grateful. Because what is a season of The Bachelor/ette without a few job titles that leave you scratching your head with your sloth-like talons?
Alex D. — Sloth
Wait, have you heard? I am not sure if it has come up yet, but there is a sloth this season. Not a sloth enthusiast. A sloth.
What does being a sloth entail, exactly? Does she snooze a lot? Does she enjoy hanging upside down from trees? Does she have extremely long claws? Will she sleep in one of the trees out in the backyard of the Bachelor Mansion instead of one of the bunkbeds? Can't wait to find out.
Careful to not spoil too much, Chris Harrison teased, "Let's just say she has a slow roll into night one. And it has to do with how she comes out of the limo." And yes, she did wear sloth costume on night one.
When she isn't busy sloth-ing, Alex D. works at an IT staffing agency as an account manager.
Erin — Cinderella
At first, you may be like, "She could work as Cinderella at Disneyland, Disney World, or kids' birthday parties. That's not a weird job, calm down."
Here's where things do get weird: Erin lives in Plano, which is nowhere near Disneyland or Disney World, and according to her ABC cast profile, she "works full time for her stepmother's home improvement business."
So uh, why didn't she say she works in home improvement with her stepmom? Where does the Cinderella thing come in? And was her night one dress stitched together by mice and birds?
Heather — Never Been Kissed
A professional sloth. A professional Cinderella. A professional never been kissed. Thank you, The Bachelor, for continuing to shine a light on some truly unconventional job titles.