Woah, Is This A Photo Of Dean In The 'Bachelor Winter Games'?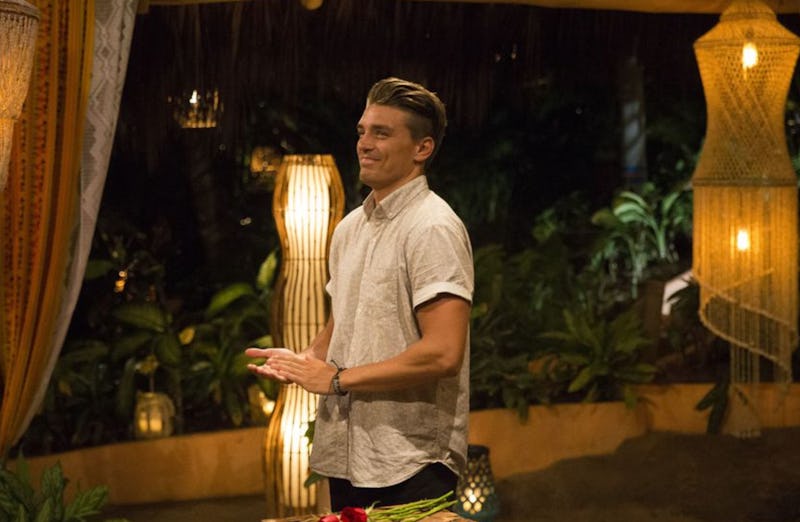 Paul Hebert/ABC
Brace yourselves, Deanie Baby fans, because your guy is going back to Bachelor Nation. On Tuesday, The Bachelor spoiler maestro Reality Steve tweeted a photo of Dean Unglert filming The Bachelor Winter Games. In the pic, Dean is standing next to fellow Bachelor Nation member Ben Higgins at the taping of the show's opening ceremony. They're smiling, wearing matching knit hats, looking precious, et cetera. No word on whether or not Dean put his jockstrap on underneath his uniform this time around.
This is not the only Winter Games spoiler Reality Steve offered up to Bachelor fans. He shared some more pics of the opening ceremony, as well as a list of The Bachelor/ette alums that are "confirmed" for the spin-off. According to Reality Steve, Bachelor contestants Dean, Higgins, Michael Garofola, Josiah Graham, Luke Pell, Eric Bigger, Lesley Murphy, Clare Crawley, Ashley Iaconetti, Bibiana Julian, and Lauren Griffin will all be on Bachelor Team USA. Lauren and Bibiana, as Reality Steve kindly points out, are from Arie Luyendyk's season of The Bachelor. Oh, and he also says Peter Kraus won't be there after all. What a bummer.
A quick digression: Man, it's going to be wonderful to finally see Clare on TV again. Yes, yes, it'll be nice to see those other alums, too, but a Clare comeback? Wow. What a gift. She really is one of the greats. It's been way too long since Clare was on a Bachelor program. OK, digression over. Back to your regularly scheduled Dean programming.
Dean made his Bachelor Nation debut on Rachel Lindsay's season of The Bachelorette. He did not win the season, but thanks to his charming personality and overall delightful vibe, he did win over many viewers' hearts. A star was born.
Dean's performance on Bachelor in Paradise, on the other hand, wasn't exactly an endearing follow-up. No, he didn't turn out to be a villainous goblin like some other contestants (thank goodness), but the way he handled his romantic relationships was... not the best. His love triangle with Danielle Lombard and Kristina Schulman was a mess, that half-birthday cake he presented to Danielle L. in front of Kristina was a mess, that log roll that happened when he wanted to get out of having a serious conversation with Kristina was a mess — the list of mess could go on and on and on. Fans expected more from Dean, and Danielle L. and Kristina deserved better.
Dean has since apologized for his behavior, stating that he wants to learn and grow from this experience. Well, Deanie Baby. Looks like you will get a chance to redeem yourself. Oh, and you'll also get several more chances to get creative with how you put on your athletic gear. Can't wait to see what you do with a pair of ski suspenders.
The Bachelor Winter Games will premiere in February 2018, and it sounds like the perfect companion to the Olympics. Back in September, ABC reality chief Rob Mills summarized the series for The Hollywood Reporter, and the description is quite intriguing. He said,
"At the end of the day, it's going to be about finding love again. It will have some of the Bachelor Pad DNA, in that there is going to be a competition element. And the other thing we're excited about is having contestants form the international formats of The Bachelor. So you have somebody from Bachelor Japan, Bachelor Australia, Bachelor Canada and Bachelor U.K. We're really excited to see if we can have some international romances as well as the competition in U.S. vs. the world."
Sports, snow, love, and an opportunity for Dean to make up for Bachelor in Paradise? Sounds like must-see Olympics-themed TV.