Dick Van Dyke Honors His Beloved Co-Star & Friend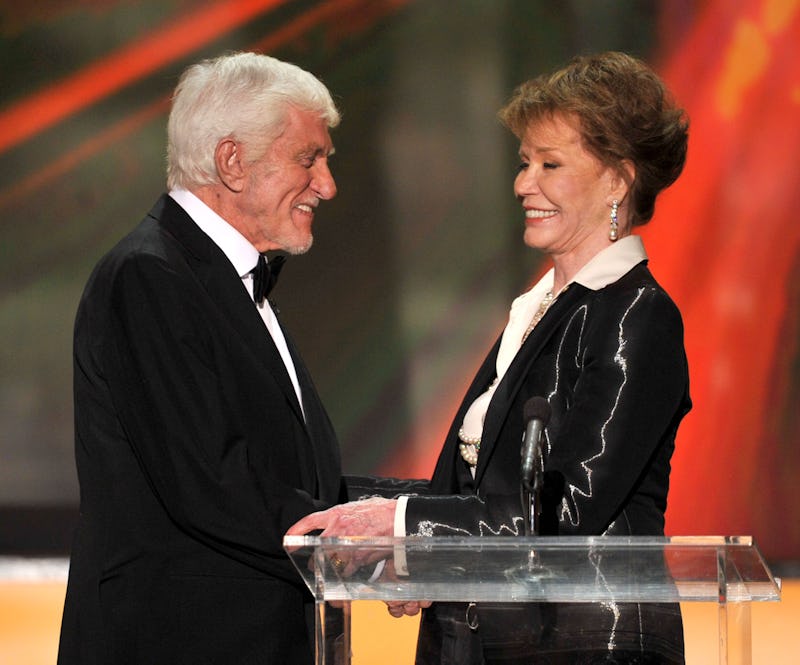 Kevin Winter/Getty Images Entertainment/Getty Images
Since the sad news broke that Mary Tyler Moore has died at the age of 80, her co-stars have been honoring her in all different ways. Cloris Leachman, who played Phyllis Lindstrom, the neighbor and friend of Moore's character on The Mary Tyler Moore Show, shared her last memory of her late friend. Now, Dick Van Dyke is paying tribute to his onscreen wife with a sweet essay for The Hollywood Reporter, detailing how much Moore meant to television comedy
Moore got her start on The Dick Van Dyke Show playing Laura Petrie, a headstrong housewife who wasn't afraid to give her opinion or show off her dancing moves in a pair of capri pants and flats at a time when women were wearing skirts and heels. Yes, Moore wasn't afraid to break antiquated fashion rules. She also knew her way around a joke, which is what made her such a star.
In his as-told-to essay for The Hollywood Reporter, Van Dyke recalled the first time he met Moore, a 23-year-old who "sounded a little bit like Katharine Hepburn," admitting he wasn't sure if she was right for the part of his wife. "My first question was, 'Can this girl do comedy?' After that I said, 'She's a little young for me,'" he explained of Moore, who was 12 years his junior. "I got to be on hand and watch her grow into the talent she became. She was just the best."
Even now, he's not sure how she was so funny. Or, how she picked it up so fast being that she was more of a serious actor at the time. "She just grabbed onto the character and literally turned us into an improv group," Van Dyke said in his THR tribute. "It was so well-oiled. That show was the best five years of my life."
After Van Dyke stopped working with Moore, he never stopped being a fan. In his essay, he even paid tribute to her performance in the legendary Mary Tyler Moore Show episode "Chuckles Bites The Dust," which focuses on the death of a clown. "She was at the funeral and she was crying and suddenly, as she recalled him, she began to laugh. It was a performance that had me on the floor!" he said. "It was just masterful comedy."
While The Dick Van Dyke Show made Moore a star, it was The Mary Tyler Moore Show that made her a true TV legend. "It was a milestone, that show," Van Dyke wrote. "It kicked off an awful lot of enthusiasm in a lot of women." This included Oprah, who would later say it was Moore who inspired her to go into TV journalism with her performance as the spunky career-driven reporter.
Van Dyke has never been shy about his feelings for Moore, admitting throughout his life that he had a crush on his co-star, but he told The Hollywood Reporter that the best moment he ever had with her was at the 2012 SAG Awards. He was there to honor Moore who was receiving the Life Achievement Award and hadn't seen her in a while, due to complications with her diabetes that made it hard for her to see. Of that night, he said,
"For me, it was a payoff moment. A culmination. Outside of her family, I don't think there was anyone more proud of her than I was. Just to watch her grow was such a thrill for me. She left an imprint on television comedy."
Van Dyke is right. From 30 Rock's Liz Lemon to Rachel Green on Friends, Moore's presence is felt on any TV comedy that lets its female characters be fierce, funny, and feminist.