Dina Manzo Tweeted About Kylie Jenner's Baby & It Did Not Go Over Well At All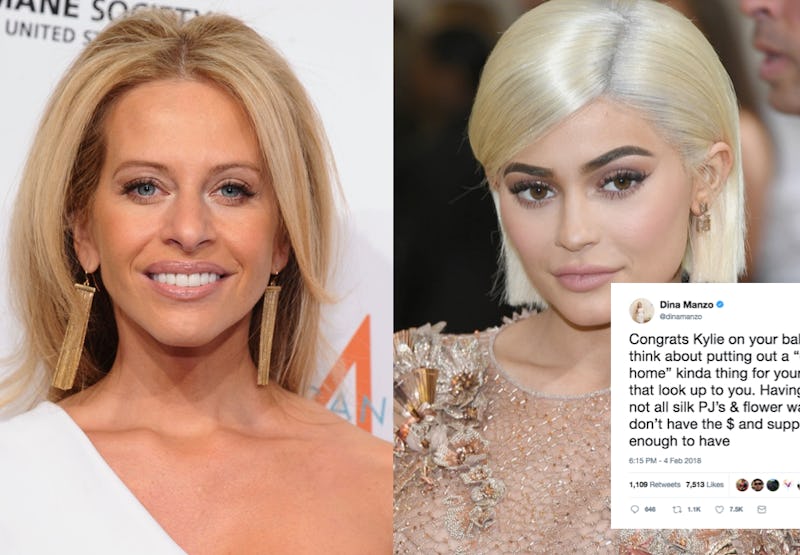 Ilya S. Savenok/Getty Images Entertainment/Getty Images; Dia Dipasupil/Getty Images Entertainment/Getty Images
When Kylie Jenner finally confirmed the birth of her daughter on Sunday, Feb. 4, her announcement received quite the response. Even former Real Housewives of New Jersey star Dina Manzo reacted to the birth of Jenner's baby. However, her tweets aren't being welcomed with open arms. "Congrats Kylie on your baby girl...but maybe think about putting out a 'don't try this at home' kinda thing for your very young fans that look up to you." She continued, "Having a baby at 20 is not all silk PJ's & flower walls~Most kids don't have the $ and support you're fortunate enough to have."
The "silk PJ's and flower walls" Manzo is referring to have to do with the Life of Kylie (senior story producer: Janelle Couture) star's baby shower, which included guests wearing silk pajamas and a gorgeous flower wall for people to stand in front of to take pictures. The baby shower was featured in the 20-year-old's video announcement about the arrival of her daughter with Travis Scott that she posted to her official YouTube page Sunday.
Jenner, obviously, comes from a family of famous individuals who make a ton of money. It's also no secret that the Keeping Up With the Kardashians (executive producer: Kris Jenner) star is a young mom, something she's been dreaming about for awhile now. But Manzo seems to wish Jenner would be more responsible in the way she's presenting motherhood at such a young age and as someone who is well-off financially, which isn't the case for most 20 year olds.
Soon after the Bravolebrity's first tweet regarding Jenner, she posted, "Sorry that's very judge'e of me but fame like that comes with responsibility to young fans." Manzo then tweeted, "For the very few people that are being negative A) I really meant my congratulations, a birth is always special and B) Talk to me when you're a parent lol." She even tried to change the topic of conversation by diverting focus to Animal Planet's Kitten Bowl. She tweeted, "On a lighter note this #KittenBowl is amazing!! The one with his tongue out!!!"
As you can imagine, there are many reacting to Manzo's tweets. For example, one person tweeted, "Correct me if I'm wrong but Kylie isn't responsible for parenting these children. It's up to THEIR parents to establish this, not Kylie." To that, Manzo replied, "Absolutely, but it's hard enough to raise children these days. All she needed to do was acknowledge 20 is young and how fortunate she is to be in the position she's in. She's very blessed."
She also tried to clear up any confusion some may be having about what she said. Another Twitter user wrote Manzo, "I also don't think it would be appropriate for Kylie to tell other young women to not have a child because they aren't wealthy like her, I think she would get criticized for that as well." Manzo answered, "Not about wealth, more about established career or financial security."
Even with that, many people aren't happy with Manzo and her opinions. Here just a few of the responses.
Kylie Doesn't Owe Anyone Anything
Kylie Shouldn't Have To Censor Herself
Dina Needs To Worry About Herself
"Congratulations" Would've Been Enough
A Simple Gif Does The Trick
This Is Exactly Why Kylie Kept It Private
Kylie Is An Adult
Dina Isn't Giving People Enough Credit
This isn't the first time Manzo has commented on Jenner. In January, she reacted to the Kardashian-Jenner's Calvin Klein ad by posting, "What's the point of Kylie being so obvious about her pregnancy and still not announcing it?" She then tweeted, "That @CalvinKlein ad could have been so much prettier & unique with her pregnant belly exposed. Not that I'm losing sleep over it but it's just silly at this point."
As soon as Manzo tweeted "congratulations" to Jenner on the birth of her first child, there were many fans quick to call her out for her above tweets. One person even called Manzo a hypocrite and another person tweeted, "She must've forgot those tweets! LOL". To that, Manzo replied Monday, "Nope didn't forget them, hoping they have a version of the Calvin ad with her belly too!"
It doesn't seem like Manzo is letting the negativity get her down, but when it comes to fans of the entire Kardashian-Jenner family, well, they don't usually walk away quietly when it comes to defending the family they adore immensely.