Disney's New Line Of Glittery Desserts Are A '90s Kid Daydream Come To Life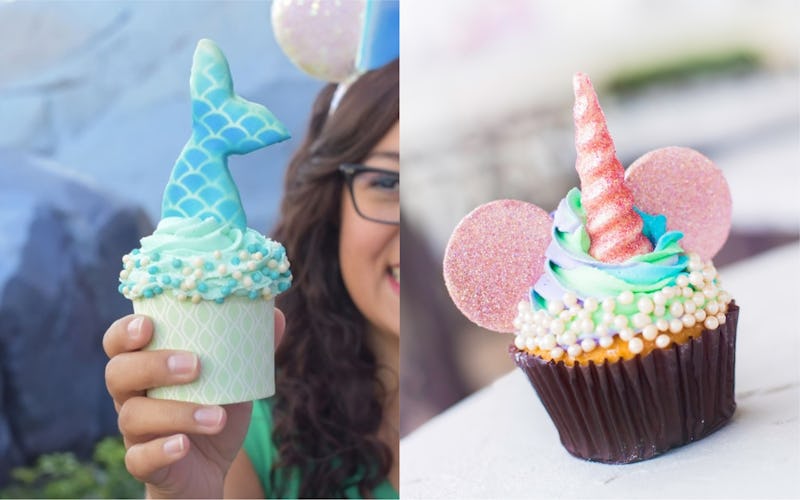 Disney Parks Blog
I feel like I'm oozing over a new Disney dessert practically every day, but I'm not even made about it; they're just so pretty that there's no way could get fed up with them. Case in point: A huge number of "iridescent" desserts at the Disney parks have just made their debut — and each and every one is absolutely beautiful. It pleaseth mine eye to look upon them, so I will continue to do so for as long as I do desire. So there.
It's interesting to me that Disney has chosen to use the word "iridescent" to describe these treats, which were highlighted on the Disney Parks Blog on Tuesday; most of them are what many would probably refer to as "sparkly" or "glittery," but "iridescent" just sounds so much more… magical, somehow (which, I would imagine, is the point). They're also a little subtler than some of the more in-your-face glittery options we've seen from Disney lately, from desserts to accessories, which I actually kind of appreciate. Also, they sound as delicious as they look, so, hey, way to win both the Form and Function awards, Disney pastry team.
Fair warning: Most of these sweets are located at various locations around Disney World, so by and large, you'll only be able to try these suckers out if you have a trip to Florida planned in the near future. There is, however, one that's available at a few different spots at Disneyland — that is, the resort in Anaheim, Calif. It's a pretty spectacular one, too, so, y'know, no regrets.
Here's what's on the menu now, along with where, specifically, you can find each treat: