11 Signs Of Anxiety That Can Be Mistaken For Everyday Problems, According To Experts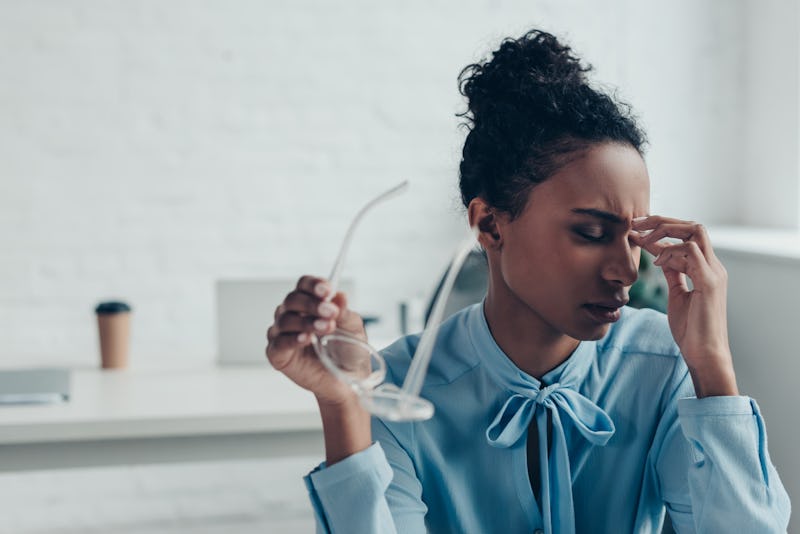 Shutterstock
Even if you don't immediately recognize them as signs of anxiety, you might notice that you have a few ongoing, everyday problems that just don't feel quite right. While you may be able to go to work, see friends, and get through the day, these symptoms could still be taking a toll. And may even be a sign you're more anxious than you realize.
After all, "it can be possible to have anxiety and not realize the impact," Stacy M. Stefaniak Luther, PsyD, LPC, a doctor of psychology and licensed professional counselor, tells Bustle. "For some, it is a baseline level of functioning that has been normalized over time."
Whether you're struggling to make decisions, worrying what others think, or lying awake at night, it may not feel like a big deal. But it may be helpful to consider what's going on, and seek out the help of a therapist, if necessary.
"Low grade or 'hidden' anxiety might not significantly interfere with your ability to function," Dr. Jamie Long, a licensed clinical psychologist at The Psychology Group Fort Lauderdale, tells Bustle. "Nonetheless, it's still important to recognize the signs because living in a heightened state of tension is harmful to your health in the long run. It's also helpful to recognize the early warning signs of anxiety before it worsens and eventually does interfere with daily functioning."
Read on below for some everyday problems that can may actually be a sign something more is going on, according to experts.