Why Colton Won't Tell "Bachelor' Fans If He's Engaged Or Not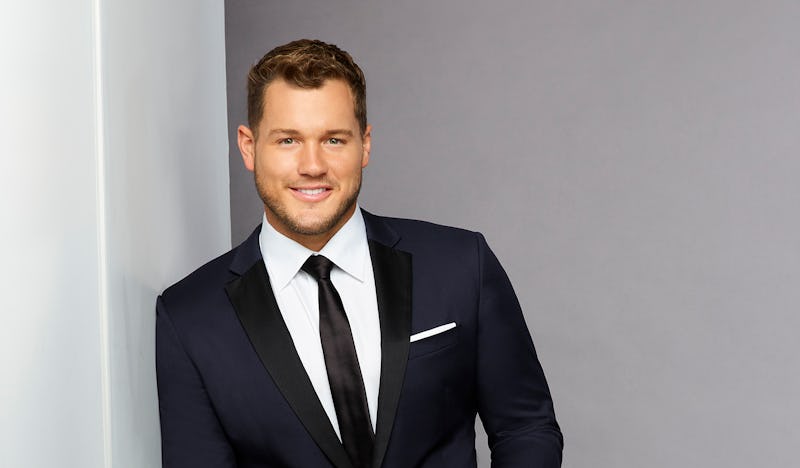 Craig Sjodin/ABC
Chris Harrison claims every season of The Bachelor and The Bachelorette is the most dramatic. While that's disputable, Colton Underwood is leaving Bachelor Nation on the edge of their seats this season, given that the world doesn't know if Colton is engaged after The Bachelor yet. And that seems to be exactly how he wants it. Recent Bachelors and Bachelorettes have revealed their relationship statuses before their seasons were over, or even aired. But Colton has been intentionally secretive about whether or not he gets engaged and that choice actually will make the finale refreshingly dramatic.
If you're one of those people who reads the last line of a book before they start reading it, maybe you want to know how a Bachelor or Bachelorette season ends before it starts. But for the rest of the world, it's far more fun to be in suspense about what's going to happen. Yet, some stars of the franchise prefer to give the audience the promise of a happy ending. While no Bachelor or Bachelorette has revealed the identity of who they end up with, recent contestants like Ben Higgins, Rachel Lindsay, and Becca Kufrin shared that they end up engaged ahead of time. Likewise, while the Bachelor before Colton didn't confirm a proposal, Arie Luyendyk Jr. said he fell in love with multiple women — which was a pretty major spoiler considering how his season ended.
But Colton isn't giving any clues about how his season ends because he wants viewers to go along for the wild ride with him.
"I want everybody to go on this ride and this journey with me, so I don't want to spoil anything and I don't want to give anything away," Colton told The Hollywood Reporter the day after his season premiered. In a separate interview with THR published just a few days earlier, Colton also teased a pretty exciting ending that might just be worth the wait. "I did things differently. I sort of changed the game in a unique way," Colton said. "I think it's going to be unexpected for some people, but it's also something that people are going to have an interest in and really find out more toward the end. I don't want to ruin or spoil too much. But I'm really looking forward to this being the best season ever."
Colton discussed this idea that he's doing things on the show that no one has done before on Access Live as well. "I think that there's a lot of things that have always been done in the past when it comes to The Bachelor and, like I said before, I don't like labels and I don't like doing things just because everybody else does them," Colton said. "I'm a trailblazer, I like to set my own ways, I like to be unique and stand out — and that's what I feel like I did."
That might make you think that Colton doesn't get engaged since The Bachelor is all about the marriage proposal. But when one of the Access hosts directly said to Colton, "Sounds like you're not getting engaged at the end," earlier in the interview, his reply was quite ambiguous. "As far as that goes, I will say I know exactly what I want going into it. Things happen and we'll see," he said.
Whatever his relationship status, Colton has confirmed that he's happy though. He told THR, "I'm exactly where I need to be in my life right now." And he repeated a similar line on Live with Kelly and Ryan when Ryan Seacrest admirably tried and failed to get Colton to reveal his relationship status. "I'm exactly where I need to be in my life right now," Colton said. And when Seacrest kept pushing for answers, he added, "I will say this, I'm the happiest I've ever been in my life."
It's not just Colton that's staying mum about the outcome. In an interview with Variety, ABC executive Rob Mills respected the Bachelor's wishes. But he did promise a shocking finale. "It ends very different. You think it's going to be going one way, and then it goes in a completely different direction," Mills said.
After Week 5, Colton spoke to Glamour and again he teased how the finale will be quite unexpected. "As far as the finale, when you think you've seen it all, you haven't. It's unlike anything you've ever seen. I'm interested to see what people think. I really am," he said. "You're in for a good one. [Actually], you're in for a great one. Dare I say it will be the most dramatic finale of all time?"
Colton also confirmed how it was all his decision not to reveal his relationship status before the season ends. "I wanted it that way," Colton said. "I think, for me, especially for how everything ends and goes down, it's important that the audience goes on this roller coaster with me. There were a lot of ups and downs throughout all of this, but especially toward the end. I think keeping that as raw and true and organic and vulnerable to everybody is really important." But along with that, he's clearly simply having a blast messing with Bachelor fans.
Throughout the promotion of his Bachelor season, Colton has stayed quiet about whether or not he's engaged, dating someone, or single. He even called it "the best-kept secret" on Anna Faris' Unqualified podcast. And he's right. After seasons of already having some sort of idea how the show will wrap up, Colton knows exactly what he's doing by upping the intrigue. While people will always tune into The Bachelor even if they already know the ending, it's a smart move — especially if his final weeks will have all those crazy twists and turns as he has promised. So heed the Bachelor's wishes and just sit back and relax while you watch Colton's spoiler-free season play out.