4,000 People Ages 19 -36 Just Ranked This Sex Position As Their Favorite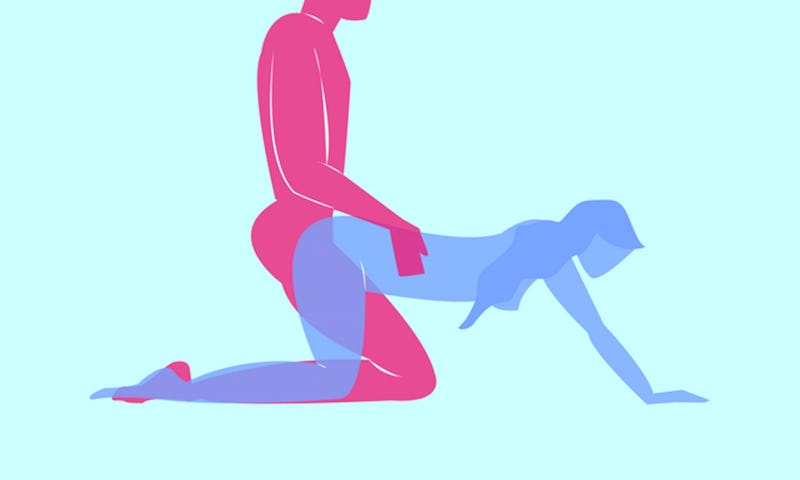 Caroline Wurtzel/Bustle
We might catch a lot of flak from other generations, but personally, I'm not ashamed to be classified as a millennial: we're a generation that's embraced the sex-positive movement, talked openly about the importance of consent, and shown that we accept everyone, no matter what their sex life looks like. But just because we're more open about sex doesn't necessarily mean the average millennial's sex life is that far outside what most other generations would consider the norm.
If you need evidence, take the recent ranking of millennials' favorite sex positions, courtesy of the 2018 Millennial Sex Survey by SKYN Condoms. According to their survey of more than 4,000 sexually active individuals ages 19-36, the go-to positions aren't anything out-of-the-box. In fact, the top three sex positions — doggy style, missionary, and cowgirl — haven't changed at all since last year. But why is it that a generation that's so sexually open still tends to fall back on the more classic sex positions?
"These sex positions are classics for a reason — they feel good!" Dr. Emily Morse, sex and relationship expert, Doctor of Human Sexuality, and host of top-rated podcast Sex With Emily, tells Bustle. "Plus, when you're not as sexually experienced, trying out something new isn't always going to be the most comfortable to execute. When you think about sex positions, there are really only six basic ones with everything else being a variation of that. So while the most popular may be doggy style, missionary, and cowgirl, that doesn't mean that people are all doing it in the same exact way every time."
As nice as it is to get creative and experiment in bed from time to time, it's normal to have certain go-to sex positions that remain your faves — even if they're what some might call "boring." If you ask me, though, there's no such thing as a boring sex position: as long as it works for you, it shouldn't matter whether or not it's ~unique~ by anyone else's standards.
Here's a breakdown of millennials' top three favorite sex positions, and Morse's tips on how to modify and spice up each one — that way, you're even less likely to get tired of your faves.