Elton John & Beyoncé Are Collaborating For The 'Lion King' & That's Not Even The Best Part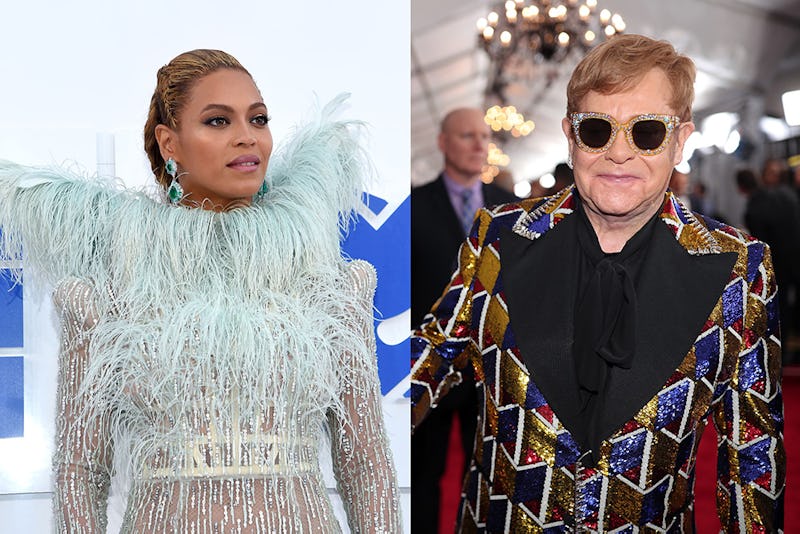 Larry Busacca/Getty Images Entertainment/Getty Images; Christopher Polk/Getty Images Entertainment/Getty Images
With excitement continuing to mount for the live-action adaptation, rumors that Elton John and Beyoncé are recording a song for the Lion King movie suggest that the forthcoming soundtrack may be just as good as — if not better than — the first which was released in 1994.
According to The Sun, Sir Elton John and Beyoncé are reportedly in talks to record an original song for the upcoming Lion King film (due to be released in summer 2019), and the news couldn't be more of a treat for fans who patiently await more details about the movie. While tidbits surrounding the musical project are still relatively scarce, John's reported discussion with The Sun revealed that the comprehensive album will see the return of four songs from the original film's soundtrack. The song featuring John and Beyoncé is rumored to be for the end credits and will reportedly be created in collaboration with lyricist Tim Rice. (Bustle reached out to Elton John's rep for comment, but didn't receive an immediate response.)
John spilled a few details about the forthcoming soundtrack in his recent chat with The Sun. He said,
"They need to have a new end credits song. There's going to be four of our songs in the film, from the original: Can You Feel The Love Tonight? Hakuna Matata, I Just Can't Wait To Be King and Circle of Life. And then there will be an end, closing song, and we've been speaking to Beyonce's people and hopefully Tim and I and her can cook up something."
It seems that the project couldn't be in better hands as John, Rice, and Hans Zimmer — all of whom were responsible for the creation of the hugely successful 1994 Lion King soundtrack — have signed on the helm its second coming. Their initial project notably went 10 times platinum (later certified as diamond) in 1995, making it one of the the biggest selling soundtracks to ever from an animated film, according to Huffington Post. Zimmer, who scored the soundtrack for the first film, won the Best Original Score at the Academy Awards in 1995 and also took home the trophy for Best Original Song at the Golden Globes. He additionally won two Grammys for the project, snagging the Best Musical Album for Children award and Best Instrumental Arrangement Accompanying Vocalist for the composition of "Circle of Life."
As a team, John and Rice won Best Original Song awards for "Can You Feel the Love Tonight" at the Oscars and Golden Globe ceremonies in '95. It's worth noting that John and Rice's nominations were stacked against themselves in their winning categories at both awards presentations.
While Beyoncé's participation on the new soundtrack has yet to be confirmed, getting her to sign on for a musical feature shouldn't be hard to manage. The 36-year-old entertainer is already starring in the role of Nala, Simba's childhood friend turned wife.
As a part of the amazing cast line-up, Beyoncé will notably appear alongside Donald Glover, who will portray Simba, while the legendary James Earl Jones will return to reprise his role as Mufasa from the 1994 animated film.
Alfre Woodard will step into the part of Sarabi, while Chiwetel Ejiofor will play Scar, and John Kani transforms into Rafiki. Comedian Seth Rogen has signed on to play Puumba, while Billy Eichner will portray Timon, and John Oliver will take on the job of playing Zazu.
Positioning itself as a historical moment in entertainment, the Lion King adaptation and its accompanying soundtrack are already shaping up to become a highlight of 2019. Should Elton John and Beyoncé actually team up to create musical magic for the film, it's safe to say that the product is going to be award-winning.