Emilia Clarke Was Almost In 'Set It Up,' But It May Have Worked Out For The Best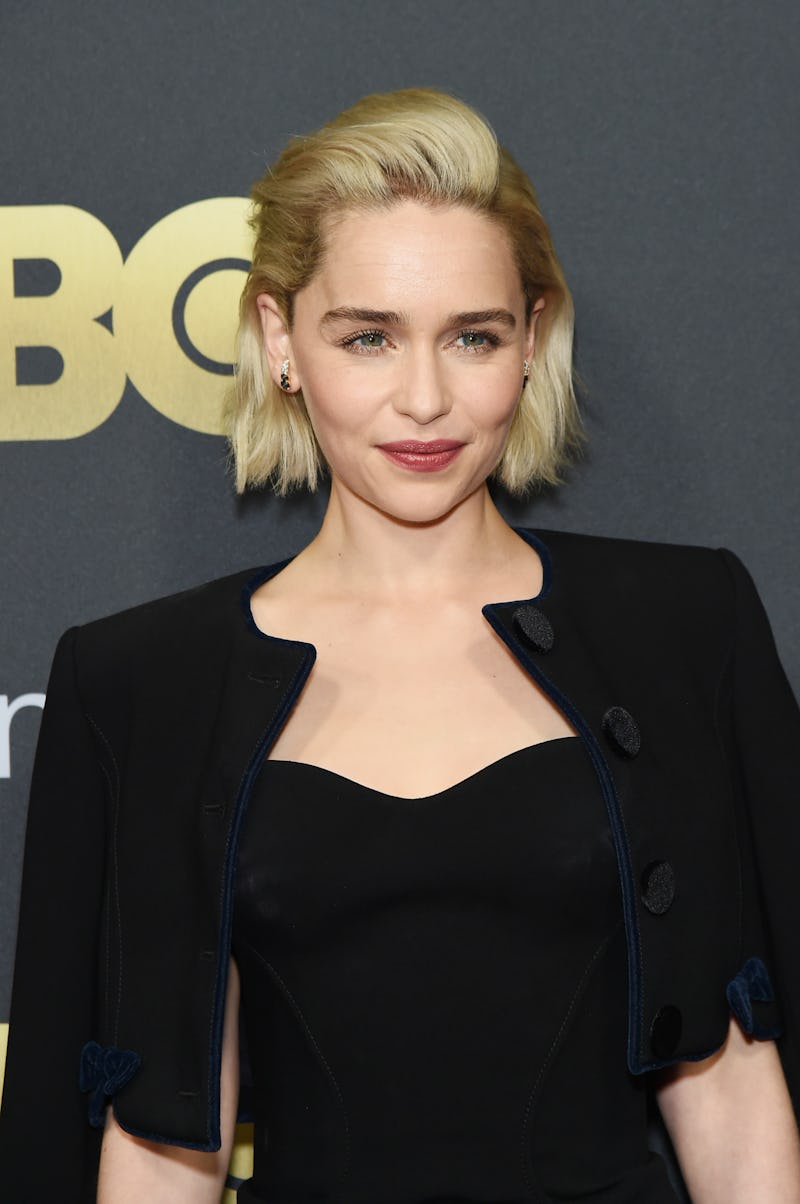 Mike Coppola/Getty Images Entertainment/Getty Images
Everyone's talking about the Netflix romantic comedy Set It Up, and that's largely thanks to the amazing chemistry between leads Glen Powell and Zoey Deutch. What fans may not realize is Emilia Clarke was almost in Set It Up, according to E! News on June 23. The news outlet reported that when the Game of Thrones star was set to play the role of Harper, MGM studios wanted Set It Up to be on the big screen. Can you imagine sitting down to watch Set It Up in theaters, with the Mother of Dragons in the lead role? (Bustle reached out to Clarke's rep for comment on the casting, but did not immediately receive a response.)
Claire Scanlon, the film's director, caught up with E! News and spilled all the juicy, truffle-infused details. It turns out that Clarke was cast in the lead role, and Powell was cast soon after. This aligns with Deadline and Variety's 2016 reports that Clarke was due to star in the movie.
After the film had its leads, the studio began to look for actors to play the assistants' demanding bosses. For whatever reason, it a very long time — E! described the casting search as "a challenge" — and eventually, they ran out of time. Clarke's scheduling conflicts with Game of Thrones drew closer, and eventually she had to drop out of the project altogether. Without Khaleesi as Harper, MGM reportedly wasn't interested in the movie anymore.
Can you believe?
And per Scanlon, it wasn't like the film studio just wanted to move the romantic comedy over to a different production company. They wanted to nix the project all together. So it was up to Scanlon, her co-writers, and the strength of actor Deutch — who reportedly was considered for the role before Clarke — to convince them to make it happen. And everyone knows how that turned out. Set It Up is the perfect Netflix film, a winning rom-com, and the chemistry between Deutch and Powell is out of this world.
But, um, just a suggestion: Can someone make a romantic comedy starring Emilia Clarke, please? Clarke's dramatic intonations and killer command of her eyebrows have anchored films in a diverse range of action franchises. Seriously, think about it: She's appeared in HBO's fantasy series Game of Thrones, Terminator: Genisys, and Solo: A Star Wars Story, among others, and her roles have been mostly serious. And that is great — actors should totally flex their talent muscles in whichever genres they like best. The thing is, though, Clarke is basically tailor-made to be a romantic comedy icon. Off-screen, Clarke has shown that she has got the energy — Clarke seems to be a natural ham, as evidenced by an Omaze video — and expressive face that can sell audiences on just about anything.
Also, after a career made on physically and psychologically grueling performances, it would be fun to see Clarke in a different genre. For real, though, she's hilarious and charming and not afraid to get physical; she's the ideal romantic comedy heroine. As Khaleesi, she professionally holds court over men. Why not have her banter with just one person for a change?
For real, Clarke could be a bona fide romantic comedy icon of a generation, if she wanted to be. Not that she has to! By all means, she should take on the projects she's most excited about; if she doesn't want to do a rom-com, then she obviously should not. But Clarke has already dipped her toe in to the 2016 romantic drama tearjerker Me Before You (co-starring Sam Claflin, aka Finnick from The Hunger Games), so it's not like she's only into action-adventure-fantasy-drama. And it sounds like she was down for tackling a romantic comedy if she was the first person cast for Set It Up. Furthermore, Clarke has done an episode of Robot Chicken, a comedic endeavor.
In the end, of course, Set It Up is purely delightful, and Deutch shined in the role of Harper. It's lovely as is. But please consider Clarke for rom-coms in 2019. If she ate a horse's heart as Dany, she can handle some pizza and romantic gazes, too.