Emilia Clarke Has Brown Hair For The First Time Since 2017 At The Oscars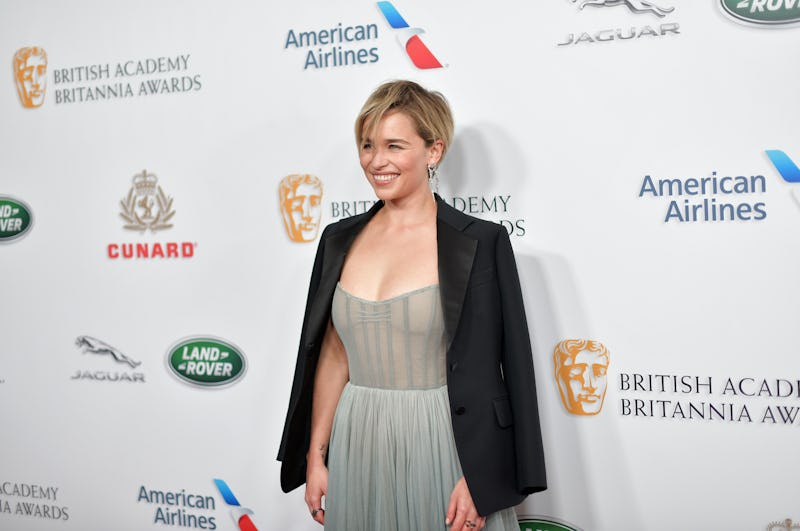 Neilson Barnard/Getty Images Entertainment/Getty Images
If there's a perfect time for Hollywood stars to embrace their love of fashion and beauty, it's the Oscars. On the 2019 Oscars red carpet, Emilia Clarke's brown hair is back proving that this red carpet event never lets style fans down.
If you're a Game of Thrones fan, you know Clarke dyed her hair blonde in 2017 for the show. The actor plays Daenerys Targaryen, the Mother of Dragons, on the hit HBO series, and the character is iconically blonde. Prior to dyeing her hair lighter, Clarke wore wigs for her role. When she chose to commit to the bleached look, fans of the show read into what the blonde locks meant for the future of Clarke's character. In fact, according to Vanity Fair, the actor was on set to film the last season when she revealed her blonde hair. Since the final season of Game of Thrones doesn't air until April 2019, the blonde hair could that there's something major coming for Daenerys Targaryen.
Now, Clarke's brunette hair is back, and it marks the first time she's had dark locks since going blonde back in 2017. Plus, Clarke also seems to have grown her hair out a few inches since getting a pixie cut in Sept. 2018. Given that she's got new, darker and longer locks, where else would she debut the major change than the 2019 Oscars red carpet?
Welcome back, Emilia Clarke's brown hair. The look is all kinds of fabulous.
Clarke's new, longer bob shouldn't be ignored, though. The extra length looks so chic.
As for the rest of her 2019 Oscars look, Clarke wore a lavender, metallic gown with ruching at the waist and an asymmetrical neckline.
While her dress is clearly stunning, the return to brunette for Clarke is kind of major given that it has nearly been two year since fans have seen her hair that color. The brown hair, however, doesn't have nearly as many implications are her blonde dye job in 2017. Game of Thrones has wrapped filming and is set to air in April 2019. For Clarke, this means her job is done, and she can return to whatever hair color she wants.
Obviously, the end of the series is sad for many, but it means Clarke no longer has to deal with bleaching her hair. The actor has been open about how the color process during filming has negatively impacted her locks.
Back in May 2018, Clarke cut her hair into a blunt bob similar to the one she's wearing on the 2019 Oscars red carpet. The reason for the chop was to, "style out some burnt out mother of dragons split ends," according to the star's Instagram.
Then, in an interview with Harper's Bazaar in Sept. 2018, Clarke admitted that the dye job and wigs damaged her hair and explained to the magazine, "Yes, [my hair] is quite short — because my hair was, like, dying. So I've cut it a little bit shorter. It's almost the shortest it's been."
While Clarke's hair is still quite short, it is back to her natural color. Here's hoping that those "burnt out mother of dragons split ends" are no more.