'Feminist Frequency' Founder Anita Sarkeesian Has A Book On The Way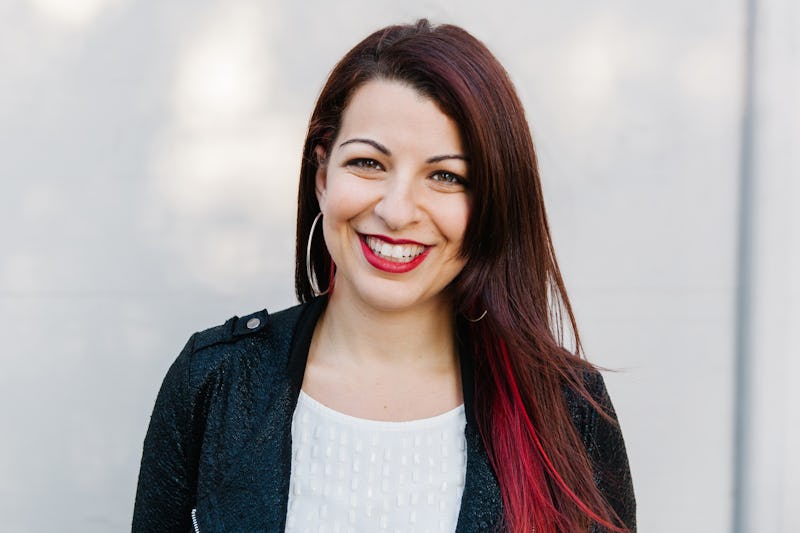 Jessica Zollman
Feminist Frequency founder Anita Sarkeesian and fellow FREQ Ebony Adams, Ph.D. have joined forces to bring us History vs. Women: The Defiant Lives That They Don't Want You To Know. The book profiles 25 women from across world history whose stories have been overlooked by most researchers and educators.
Anita Sarkeesian rose to prominence with her Tropes vs. Women YouTube series, in which she tackled the problematic treatment of women in television, movies, and video games. Her spot-on videos drew the ire of the toxic #GamerGate movement, who launched a harassment campaign against Sarkeesian, among other women. They even went so far as to use death threats against both Sarkeesian and her audience in order to shut down her scheduled appearance at Utah State University in 2014.
But threats of violence haven't stopped Sarkeesian, Adams, and other feminists from staying the course and speaking out against the sexism and bigotry that are ingrained in our culture. History vs. Women is just one part of that mission. Sarkeesian tells Bustle that she and Adams are also working on a new web series.
"We've got a new series called The FREQ Show, which is a wry, fast-paced look at the intersection of pop culture and politics through an intersectional feminist lens," she says. "We look at movies, TV, comics, video games, TV news, YA literature — you name it. We introduce a topic, unpack it, throw in some great video clips to make it exciting, and then boom! You learn something in the amount of time it takes to cook a microwave burrito."
Born out of the Feminist Frequency web series Ordinary Women: Daring to Defy History, History vs. Women required its writers "to be quite mercenary when it came to determining who was going to be in" the book, according to Sarkeesian, who says "[i]t really hurt to leave out the fiery, unapologetic Emma Goldman, who never ceased advocating for complete social revolution." Sarkeesian also laments having to exclude Mary Bowser, an escaped slave-turned-Union spy, whose story has recently been fictionalized by Lois Leveen as The Secrets of Mary Bowser.
In spite of losing so many amazing stories to the book-length, Sarkeesian says she and Adams "got really excited ... about Bessie Stringfield," one of the women profiled in History vs. Women. The Jamaican-born Stringfield was a solo-riding motorcycle enthusiast who journeyed across the United States on her bike in the mid-20th century, at a time when most hotels would not rent rooms to black travelers. "Can you imagine . . . [t]he sheer strength of will it took to continue doing that, night after night?" Sarkeesian asks, and I have to admit that I can't.
When I see books like History vs. Women, I always wonder which women alive today will be included in similar titles published long after we are gone. Sarkeesian emphasizes the importance of "captur[ing those women's] stories now, so that future generations aren't faced with the gaps in the historical record" we have today. She offers a short list of overlooked women doing amazing things right now, which includes:
"And that's a pretty North American-focused list," Sarkeesian says. "When we step back and take in the thrilling tapestry of brilliant women across the globe ... it's truly inspiring." She continues: "To paraphrase the title of a landmark feminist anthology, we're all traversing a bridge built on the backs of women of color. It's important that any work of this nature reckon with that fact."
History vs. Women isn't the only book of its kind on the market, but unlike similar works, which comprise scores of micro-biographies without much evidence of the author(s) behind them, Sarkeesian and Adams' nonfiction title doesn't separate its writers from the work. "[W]e didn't shy away from inserting our authorial voices," Sarkeesian tells me. "We want readers to feel as if they're participating in this discovery with us, in a very immediate and inviting way."
Sarkeesian says they also had no qualms about including complicated and controversial figures in History vs. Women. "There's this unfortunate tendency among folks who want to address stereotypical representations, or lack of representation, by insisting that the answer is focus solely on the positive," she says. "We think that's a mistake. . . . Women are fully human. Sometimes, that means we're terrible. It was important for us to dig into that."
She is quick to point out, however, that the differences between History vs. Women and other female-centric biographies don't make it the be-all, end-all of the genre: "[T]he last thing we'd want to suggest is that people read our book and ignore the rest. We need more books about fascinating women in history, not fewer!"
I'll leave this off with a word from Sarkeesian on why History vs. Women is such an important project. It's a long quote, but worth the wordspace:
We believe that in order to understand where we are in our current global political climate we have to understand where we came from. Feminism continues to be a part of our lives today because women and other marginalized folks still face economic, political, and social barriers to equality all around the world. Learning about the women whose tales survived long enough for us to even know their names and who struggled against oppressive forces against all odds, and sometimes overcame them is inspiring. It's a beautiful reminder that we are a part of a long legacy of courageous women, a legacy that we will pass on.
And let's not assume that a book about women is only for girls, because feminism is also important for boys! Buy this book for your knucklehead cousin, Chad. He needs to learn about some ass-kicking women, too.
History vs. Women ass-kicks its way into a store near you on Oct. 2, 2018.