Pringles Is About To Drop A Fire Roasted Jalapeño Flavor — Here's What It Tastes Like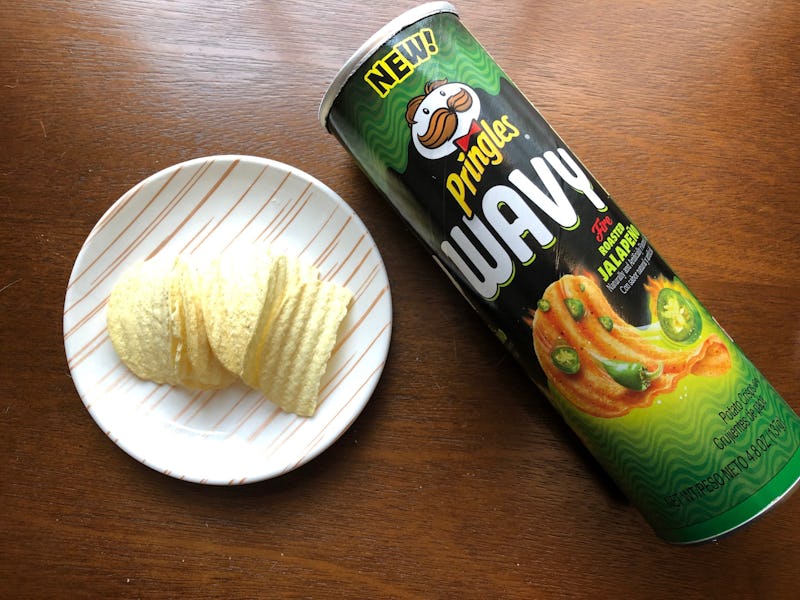 Lucia Peters/Bustle
If you, like myself, are both a potato chip fiend and a spicy food fanatic, excellent news: Pringles Wavy potato chips are on the way in 2019. More specifically, Fire Roasted Jalapeno Pringles Wavy chips are on the way — and hey, guess what? If you're curious about how Fire Roasted Jalapeno Pringles Wavy chips taste, I can tell you. Yes, now. Before they arrive in stores. Hoorah for making informed decisions, am I right?
Described in a press release provided to Bustle as "a new twist on the iconic Pringles Original crisp," these new Pringles boast a "thick, wavy texture" meant to "deliver a bold crunch and big flavor in every bite." Available in four flavors — Classic Salted, Sweet and Tangy BBQ, Applewood Smoked Cheddar, and the aforementioned Fire Roasted Jalapeno — the chips are meant to evoke summertime grilling. A little out of season? Perhaps; then again, though, when is the need for things that make you think of backyard barbecues greater than in the dead of winter when your next grilling bonanza is months away? The chips will be available in grocery stores and other retailers starting in January 2019, selling for about $1.79 for a standard, four-ounce can. (That's a bit more expensive than regular Pringles; a can of the classic variety goes for about $1.50 at Target.com, for example.)
Happily, I was able to taste test the new flavors before they hit stores. As a spicy food lover, nothing is more intriguing to me than jalapeno-flavored snacks; as such, I opted to focus on the Fire Roasted Jalapeno Pringles Wavy chips. So, if you've been wondering exactly what a jalapeno-flavored potato chip tastes like, I have answers.
As soon as I popped open the iconic cylinder in which Pringles are packed, I did what any self-respecting snack food taster would do: I stuck my nose in the can and took a deep breath. My first reaction was to think that they smell kind of like a cross between salt and vinegar chips and sour cream and onion chips — there's a tangy sharpness to the scent that I usually only expect from specific chip flavors.
Visually, the wavy version of Pringles aren't as crinkled as, say, Ruffles, AKA the wavy potato chip of my youth; they're more like Lays Wavy chips, with a looser wave and a little less salt and grease. The Fire Roasted Jalapeno ones are flecked with tiny dots of green, which might be either the actual jalapenos the ingredients list tells me is present in the chips (albeit in a "less than two percent" amount, or possibly the dried parsley used to add a little something to the seasoning.
Once I finally eat one of the chips, the first flavor I taste is, somewhat oddly… barbecue. They taste like barbecue chips. I assume this element is the "fire roasted" part of the flavor name. A moment later, though, the jalapeno makes itself known, giving the chips a spicy kick. The spiciness stays with you, too; my mouth is still tingling a few minutes later. They're not so spicy as to be painful, though, so if you're looking for something really hot, these aren't it. Then again, if you don't do well with spicy food, you may find these a bit, uh, robust for your taste.
Texture-wise, Pringles Wavy chips are quite a bit hardier than regular Pringles. I'm not sure they necessarily up the flavor quotient "in every bite" compared to the OG variety, as the press release suggests they might; however, they do pack a deep and satisfying crunch that contrasts nicely with the lighter, crispier snap of Pringles Original chip. I'm a fan.
Since the Fire Roasted Jalapeno flavor reminded me so much of what I usually expect barbecue chip to taste like, I opted to give the Sweet & Tangy BBQ flavor — the Pringles Wavy chips that are actually meant to taste like barbecue — a shot, as well. Unlike the jalapeno chips, these ones smell exactly like what they are on first whiff. They're also definitely sweeter in terms of taste — they've got that brown sugar mellowness a good barbecue sauce has — although it's worth noting that there's still a bit of spice to them, too. It's true that there's not as much spice as the jalapeno chips have, but there's still a bite to the flavor. Because of the sweetness, I'd have a harder time eating these ones in anything other than small bursts. The jalapeno ones, however, I could see myself wanting to keep going with.
To me, these two flavors ultimately seem like flip sides of the same coin — sweet barbecue versus spicy barbecue. I haven't tested out the Applewood Smoked Cheddar chips yet — there are only so many potato chips I can stomach before noon on a weekday — but I'd be curious to know whether they, too, might fall somewhere on the barbecue-flavored spectrum.
Pringles Wavy will hit stores in January of 2019. Happy snacking!