Lay's Just Dropped A Record-Breaking 8 New Chip Flavors — Including Fried Pickles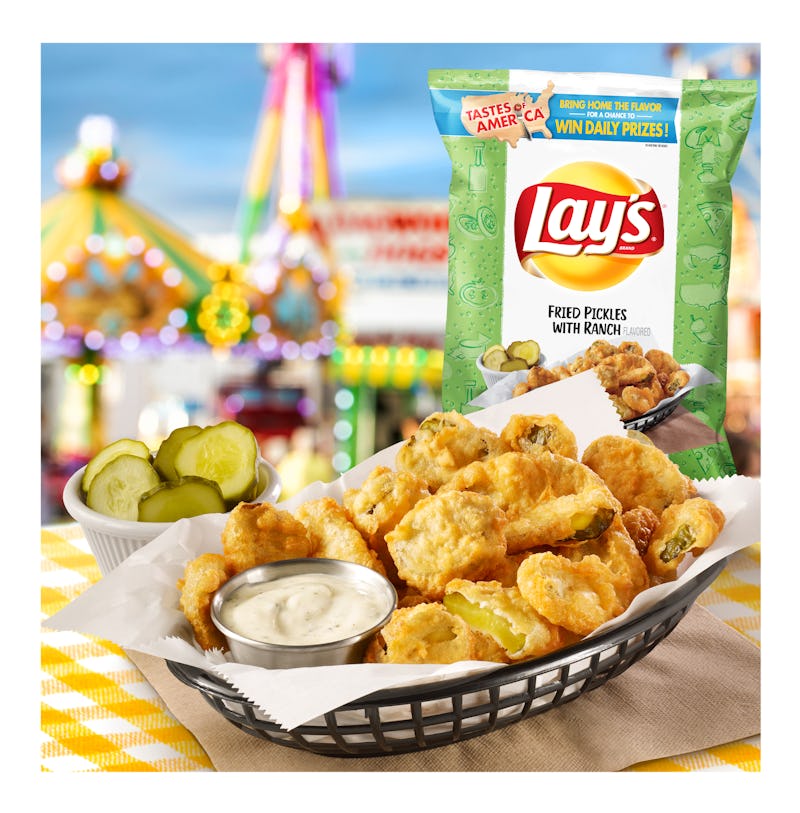 Courtesy of Lay's
Popcorn? I'll pass. Doritos? Not really my thing. Potato chips, however? Those are my kryptonite — so you can probably imagine what my reaction was to finding out that Lay's Tastes Of America potato chips will feature eight brand new, never-before-seen flavors, each inspired by the unique delicacies of the United States' many diverse regions. I just about started drooling all over my keyboard — and then I found out that one of those eight flavors was a fried pickle-flavored potato chip, and, well… let's just say that I am a little bit in need of a napkin right now.
Funny story: Even though Lay's is known today for their creative, often customer-suggested flavor options, that wasn't always the case; indeed, from 1932, when Herman W. Lay first created Lay's, until the '70s, the only two flavors available were Original and Barbecue. The '70s were when Sour Cream & Onion arrived. Heck, Barbecue wasn't even introduced until 1958, which means that for over 30 years, the only potato chip Lay's made was, y'know, actually potato-flavored.
Starting in 2012, however, all that began to change. That was when Lay's launched the very first Do Us A Flavor contest, which asked fans to submit their ideas for unusual flavors they'd like to see the brand produce next. In early 2013, the finalists were announced — Cheesy Garlic Bread, Sriracha, and Chicken & Waffles — at which point consumers voted for their favorite among the three. The creator of the winning flavor won $1 million or one percent of the flavor's net sales for 2013 — whichever number was higher — and saw their creation join the Lay's line on grocery store shelves. Karen Weber-Mendham of Wisconsin ultimately won for her suggestion, Cheesy Garlic Bread.
The contest has returned several times since then, introducing such flavors as Kettle Cooked Wasabi Ginger, Southern Biscuits and Gravy, Indian Tikka Masala, and — perplexingly — Cappuccino… but now, Lay's is pulling out all the stops (and all on their own steam, too): With Lay's Tastes Of America, the company is launching eight brand new flavors inspired by regional specialties from across the United States — the greatest number of new flavors the brand has ever introduced at once.
Starting on July 30, each of the eight flavors will be available in their home markets through Sept. 23; or, you can order all eight of 'em no matter where you happen to be, thanks to the beauty of online shopping. Lay's will also be making their way to local food festivals around the country starting July 20 to introduce the flavors to the public — with a little help from Hannah Hart of My Drunk Kitchen and I Hart Food fame. (Heck yes.) AND, a few runners up from Do Us A Flavor contests and other programs gone by will be making their way back to the limelight again, too, including West Coast Truffle Fries, Ketchup, and Fried Green Tomato.
You can check out all eight flavors below — but first, I would like to draw attention to one in particular: Fried Pickles with Ranch. It's not that pickles ever really went out of style, but pickle-flavored everything has certainly been having a moment lately: Canned pickle brine, pickle doughnuts, pickle freeze pops... you name it, it's probably been pickle-fied at some point in the recent past. It was only a matter of time before it hit the world of potato chips, right? My bet is that this flavor is going to be the big hit of the bunch, but I suppose we'll just have to wait and see if that turns out to be true.
In the meantime, though, here are all eight of the Lay's Tastes Of America flavors that will be arriving at the end of July: