Nick Viall Is Very "Curious" To See How Colton Underwood Handles Being The Bachelor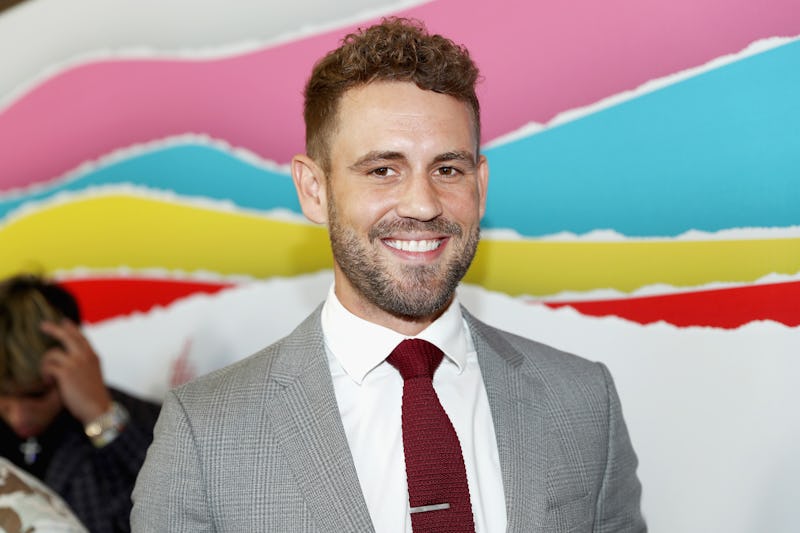 Rich Polk/Getty Images Entertainment/Getty Images
At least one member of Bachelor Nation is marking their calendar for the upcoming season. Former Bachelor Nick Viall can't wait to watch new Bachelor Colton Underwood date on the new season of the reality show. Why? Well, because Viall says it's something Underwood's never done before, which means The Bachelor is going to be a crash course in relationships for him. So, basically, his prediction is fans should grab the popcorn because this is bound to get good.
While on the red carpet for the 2018 Streamy Awards on Monday, Oct. 22, Viall told The Hollywood Reporter that he's "curious" to see what it's like for Underwood in the mansion. Especially since Underwood's past experience is much different than his own. "Honestly, I don't even know if my advice would do any good for him in the sense that I came into my experience very different from him," Viall said when asked if he had any tips for the new guy.
Viall noted that Underwood hasn't done much dating in his life beyond fellow Bachelor contestants, which will make his time on the upcoming season unique. "You know, he's had, like, two girlfriends and I think one of them was [The last Bachelorette] Becca [Kurfin] and he dated Tia [Booth] for a day," Viall told THR of the a three-time contestant on The Bachelorette, Bachelor in Paradise, and now The Bachelor. "So when it comes to looking for someone to settle down with, I'm really curious as to how those conversations are going to go. I think it could be interesting."
Another thing Viall thinks is interesting is all the talk of Underwood being the "virgin Bachelor." When Underwood appeared on Kurfin's season of The Bachelorette he revealed on camera that he was a virgin, which had some fans of the show questioning his honesty. Viall, doesn't, though, telling THR, "It's a weird thing to lie about."
"Listen, I think it's great," Viall added, saying he's met Underwood and "he's a great guy, he's as genuine as anyone in the franchise that I know." It's why he can't imagine Underwood pretending to be a virgin for the cameras. "I don't think he's gotten any awards for [it]," Viall said. "If anything, it's probably gotten him more criticism for it so I take him at his word." Underwood, for his part, has said he doesn't regret discussing his virginity on The Bachelorette — nor should he.
Viall also told THR that the Fantasy Suite, where cameras aren't allowed, is a good place to get to know someone — and it doesn't have to be sexually. "Sometimes it really is about conversations," Viall said. "Not to sound corny, but it's a big deal in that world. You don't get that," he said of one-on-one time that isn't filmed. Though, he did predict there was a 50-50 chance Underwood would lose his virginity in the suite saying "nothing would really surprise" him.
This isn't the first time Viall has given his opinion on the new Bachelor, specifically in regards to Underwood's past dating experience. Last month, he told Entertainment Tonight he felt nervous for Underwood, not to mention "curious to see how Colton handles that with limited dating experience in general."
"Everybody takes it very seriously, in terms of their desire to hopefully meet someone and fall in love," Viall said, "because there's a lot of pressure that comes from [being] the Bachelor. You feel that pressure going through the process, and that part can eat you alive."
For his part, Underwood seems more excited than nervous to hopefully meet the one. Back in August, Underwood told Good Morning America he was looking to end his season with a proposal. "That's what I'm looking forward to the most," he said. "Being engaged."
Knowing that Underwood is looking to give his final rose to a forever love means that Viall's right. This season will definitely be worth watching to see if Underwood can make his dream come true.