Nick Viall & Ben Higgins Gave Colton Underwood Serious Advice About Being 'The Bachelor'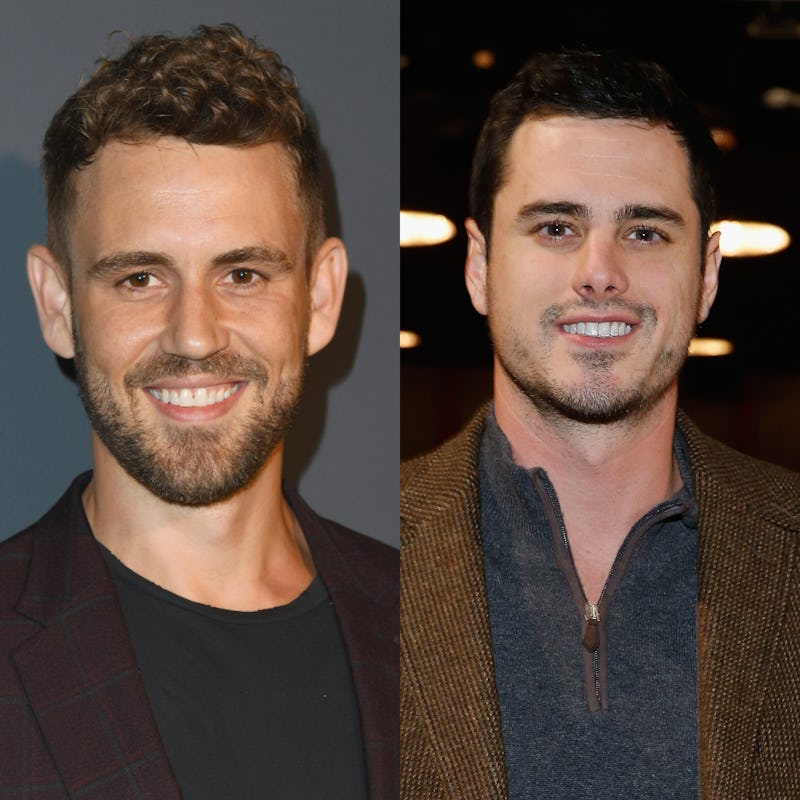 Jon Kopaloff/Getty Images Entertainment/Getty Images/John Lamparski/Getty Images Entertainment/Getty Images
Bachelor Nation had so many feelings when Colton Underwood was announced as the Bachelor for the series' upcoming Season 23 — and it appears they aren't the only ones with ideas about the footballer's upcoming stint on the reality dating series. Amid the casting news, Bachelor alums Nick Viall and Ben Higgins shared some advice for Underwood. Both men revealed to Entertainment Tonight that they're actually pretty nervous for Underwood as he makes his way into the Bach mansion. Speaking with ET during the 2018 iHeartRadio Music Festival on Friday, Sept. 21, Viall and Higgins shared that they think Underwood will be "eaten alive" by the pressure that comes with the highly coveted gig.
In addition to being brutally honest, Viall and Higgins' statements are particularly interesting given the fact that they have both been in Underwood's shoes in recent years. Higgins served as Season 20's Bachelor after competing on Season 11 of The Bachelorette in 2015. He also appeared on The Bachelor Winter Games earlier this year. Meanwhile, Viall headlined Season 21, and also previously competed on Seasons 10 and 11 of The Bachelorette, as well as Season 3 of Bachelor in Paradise.
Sharing his advice on joining Bachelor Nation, Viall revealed: "It's very difficult to be the bachelor and go through that process." He continued,
"It's that much more difficult post filming to try to, you know, protect that relationship and kind of go through some of the trials and tribulations that kind of come with the show, the kind of outside influences and stresses that come with it, and again, it'll be curious to see how Colton handles that with limited dating experience in general."
Viall went on explain the "pressure" that comes along with the territory, adding:
"Everybody takes it very seriously, in terms of their desire to hopefully meet someone and fall in love, because there's a lot of pressure that comes from [being] the Bachelor. You feel that pressure going through the process, and that part can eat you alive."
Higgins seemed to be more straightforward with his thoughts, discussing the emotional toll that the season may take on Underwood, saying:
"I think we're going to see him struggle. I think it's going to be a very authentic journey of, like, struggling, success, failure, lot of tears. The problem is, he's pretty indecisive."
The former Bachelors concluded by revealing that the psychological strain is pretty much inevitable, and they both ultimately agreed that they will "never be the same" after appearing on the show.
Higgins explained,
"It destroyed me... I was always on edge, I was always waiting for something to erupt and occur that caused havoc in the house and I just didn't allow myself to be kind of, like, at peace. I hope he's able to do that, but it is emotionally taxing."
In Season 5 of Bachelor in Paradise, viewers witnessed Underwood mull over his decision to pursue a relationship with Tia Booth, whom ET notes he had previously dated before appearing on Becca Kufrin's season of The Bachelorette. His reactions to those situations left fans conflicted by Underwood's Bachelor announcement.
While there are many who have feelings about the casting — including Booth — who revealed to ET earlier this month that she feels that the Illinois-native is "not ready for a serious relationship," Underwood does seem to have a pretty good idea of what he's looking for in a future wife. During a Sept. 20 appearance on The Ellen DeGeneres Show, he explained,
"I need somebody who's fun, spontaneous, outgoing. Appearance wise, it's sort of all across the board. But I just need somebody who's a good person and somebody who could be a good mother."
Despite the doubts from Bachelor Nation, it sounds as if Underwood knows what he wants and is ready to settle down should he find the perfect match.