Two Wonder Women Reunite On The Red Carpet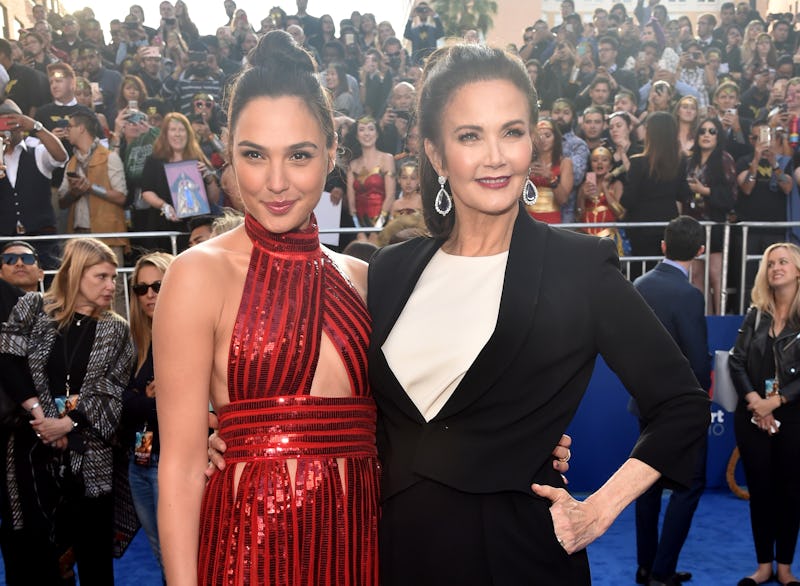 Alberto E. Rodriguez/Getty Images Entertainment/Getty Images
Of all the superheroes out there, few have been as influential and important to women as Wonder Woman. The Amazon warrior princess is a true icon, which made the moment when current Wonder Woman Gal Gadot ran into Lynda Carter on the red carpet at the world premiere of the superhero's first big screen outing all the more special. Carter brought Wonder Woman to the small screen for the generation who grew up in the '70s, and now she has passed her golden lasso on to Gadot.
The two actors had met before when Wonder Woman was honored by the United Nations as an ambassador. Both women were on-hand to accept the honor on behalf of the fictional Diana Prince. However, their unexpected red carpet moment led to Carter and Gadot bowing to each other. It was one of those beautiful moments of mutual female appreciation that makes the world seem like a better place.
Taking on the role of the Amazonian princess is a big deal. Wonder Woman has been representing women in comic books since 1941, but her legacy extends far beyond the page. The character is a symbol of power, hope, and justice. She's a true feminist icon, and both Carter and Gadot seem to understand what an honor it is to portray what is perhaps the most famous female hero of all time.
In many ways, Carter brought Wonder Woman into the mainstream consciousness. Her portrayal is the one people seem to be most familiar with to this day, and despite her numerous other roles, it's hard not to see her as Diana. In a 2016 interview with Variety, Carter explained why she believes Wonder Woman is so enduring. She said,
"Wonder Woman is much more than a cartoon character. She's fighting for truth and justice and the secret self that exists in all women and girls. There's a moral fiber and a goodness about her that all women have."
Now it is Gadot's turn to imbue the hero with her own sense of truth and purpose. She's a new Wonder Woman, for a new generation, but her immense respect for the legacy of the character and her legendary predecessor should reassure fans that Diana is in good hands, as she moves boldly forward into the 21st century.
Fans can rest assured these two wonder women appear to have nothing but admiration for each other and the fearless character that brought them together — and there's nothing cooler than that.