Searches For "Intersectional Feminism" Are Way Up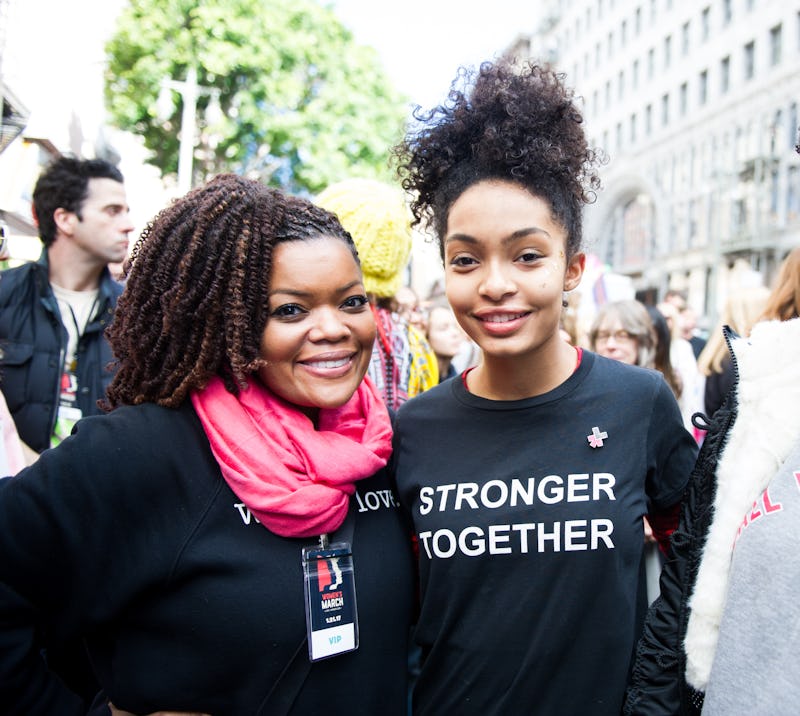 Emma McIntyre/Getty Images Entertainment/Getty Images
Over the weekend, it appears that Google searches for "intersectional feminism" skyrocketed, according to Google Trends data. So, what is intersectional feminism, and why are people talking about it now? The phrase has a long history, but it's become all the more urgent in today's political climate.
Kimberlé Williams Crenshaw first used the term in a 1989 essay called "Demarginalizing the Intersection of Race and Sex: A Black Feminist Critique of Antidiscrimination Doctrine, Feminist Theory and Antiracist Politics." She uses a traffic intersection as an analogy for identity: If an accident takes place there, you can't be sure which road it came from. In the same way, she writes, "if a Black woman is harmed because she is in an intersection, her injury could result from sex discrimination or race discrimination."
So, being an intersectional feminist means not just caring about gender. Crenshaw's original application of the term specifically addressed racial discrimination; in the decades since its coinage, intersectionalism has also grown to include LGBTQ rights, ableism, and other concerns that undermine the equality of all people. The idea is that systems of oppression all intersect; to consider the issue as a whole, we have to consider all the moving parts that belong to it. It's what contemporary feminism absolutely requires to be effective: As Flavia Dzodan now famously wrote in 2011, "My feminism will be intersectional or it will be bullsh*t."
The recent surge in searches may have to do with the Women's March on Washington, which put out a policy platform to ensure it addressed social justice issues beyond simply gender. Although it was also not without its flaws, it was praised for its intersectionality: Its goals included ending racial profiling by police, combatting discrimination against LGBTQ people, and reforming immigration laws.
To get more specific, here are a few other guidelines that any feminist aiming to be intersectional can follow.