Hailey Baldwin's Latest Photo With Justin Bieber Emphasizes How Close They Really Are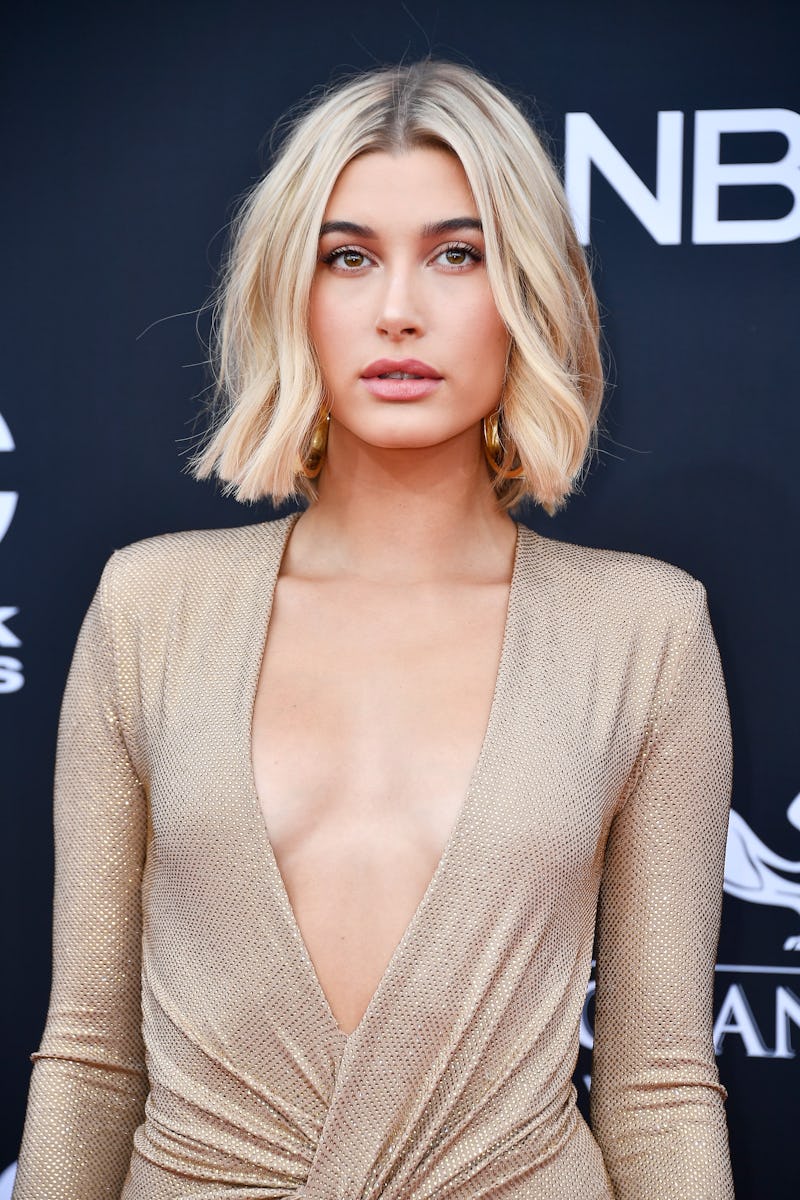 Frazer Harrison/Getty Images Entertainment/Getty Images
It's been more than a month since their surprise engagement, but on Sunday, Hailey Baldwin posted the sweetest Instagram with Justin Bieber, showing how strong their relationship really is. Baldwin shared a picture snuggling with her fiancé on a boat, where they look super happy and her engagement ring is on full display. As if the photo wasn't cute enough, the caption reads: "absolute best friend."
According to E! News, the couple has known each other since they were 13, and they were pals long before their relationship was romantic. Baldwin's photo proves that their relationship is built on friendship, even as they take this next major step forward.
In July, Bieber and Baldwin confirmed their engagement. Bieber proposed in public, popping the question at a resort in the Bahamas, according to People. They have a history together, and were first linked at the end of 2015. However, they went separate ways — until this past June, when the couple was spotted together in Brooklyn and were rumored to have reconnected.
"Right now, Justin is very happy with Hailey," an unnamed source claimed to People. "He always had a lot of love for her." The two have since appeared on each other's social media accounts often, but Baldwin's most recent post is still super adorable nevertheless.
Baldwin and Bieber don't have immediate plans for a wedding, and they're reportedly taking things slow and enjoying their engagement. The announcement might have been a surprise for fans, but the couple's parents were thrilled by the news. Last month, Bieber's father, Jeremy, posted on Instagram about his son's engagement, writing: "Proud is an understatement! Excited for the next chapter!" His mother Pattie Mallette also appeared to be celebrating on social media, and tweeted: "Love Love Love Love Love Love Love."
Meanwhile, Stephen Baldwin offered congratulations to his daughter in a since-deleted tweet, writing:
"Sweet smile on my face! me&wife (Kennya) Always pray 4 Gods will !! He is moving in the hearts of JB&HB Let's all pray for His will to be done Love you 2 so much !!! #Godstiming #bestisyettocome"
Not long after the news broke, Baldwin posted about the relationship on Twitter. On July 9, she wrote, "Not sure what I did in life to deserve such happiness but I am so utterly grateful to God for giving me such an incredible person to share my life with! No words could ever express my gratitude." She has since posted a couple of photos of Biebs to her Instagram, including a shot of the two stars boarding a plane.
Bieber has posted many pictures of his own, and posted a caption-less photo of the two holding hands on Friday. When rumors of the engagement began, he broke the silence with a long message about his fiancée on Instagram. He wrote in part:
Was gonna wait a while to say anything but word travels fast, listen plain and simple Hailey I am soooo in love with everything about you! So committed to spending my life getting to know every single part of you loving you patiently and kindLY. I promise to lead our family with honor and integrity letting Jesus through his Holy Spirit guide us in everything we do and every decision we make. My heart is COMPLETELY and FULLY YOURS and I will ALWAYS put you first! You are the love of my life Hailey Baldwin and I wouldn't want to spend it with anybody else.
The two have not yet announced a wedding date, but it's clear that this is more than a "whirlwind romance." Baldwin's latest photo proves the two are friends first and foremost, suggesting their relationship will last a long time.