These Are The Members of Harry & Meghan's Wedding Party You Need To Know About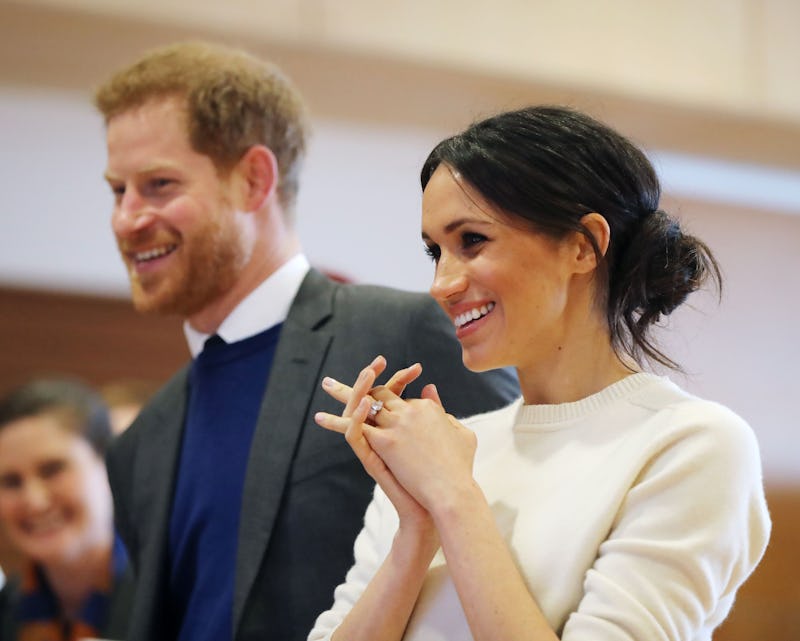 Pool/Getty Images Entertainment/Getty Images
The moment we've been waiting for since Nov. 27, 2017 is almost here. Prince Harry and Meghan Markle will be husband and wife in less than one day, and Harry and Meghan's wedding party members will be there with bells on. (No, not actual bells. It's best leave that to St. George's Chapel.) There has been a great deal of speculation regarding who will or won't be part of the royal wedding ensemble, and over the last few weeks, Kensington Palace has offered up some official royal details.
First things first, Meghan's friends will not be her bridesmaids; the Suits actor is sticking to an age-old custom. Per British tradition, almost all of the members of Harry and Meghan's wedding party are kids. As Kylie Carson of the UK Academy of Wedding & Event Planning told Bustle back in January, "The majority of British wedding parties tend to primarily consist of children … Children bring a dash of whimsy and wonder to the celebration — a joy that really goes unmatched."
Naturally, two of the little ones picked for the big day are Harry's niece and nephew. In December 2017, The Sunday Times reported that Prince William, Duke of Cambridge and Catherine, Duchess of Cambridge's daughter and eldest son were asked to be in Harry and Meghan's wedding party. Kensington Palace waited until May 16 to confirm the official wedding party list, and sure enough, William and Kate's two eldest children are part of the festivities.
The rest of the kids in the wedding party are closely linked to the affianced pair. Princess Charlotte of Cambridge will be joined by Prince Harry's goddaughters Florence van Cutsem and Zalie Warren; Meghan's goddaughters Remi and Rylan Litt; and Jessica Mulroney's daughter, Ivy Mulroney. And as for the page boys, those spots have been assigned to Prince George of Cambridge (of course); Jessica Mulroney's sons Brian and John Mulroney; and Harry's godson, Jasper Dyer.
As far as best man duties go, Harry's choice is far from a surprise. On April 26, Kensington Palace announced that Prince William will be Prince Harry's best man. The royal family said in a statement,
"Prince Harry has asked his brother The Duke of Cambridge to be his Best Man at his wedding to Ms. Meghan Markle. The Duke of Cambridge is honoured to have been asked, and is very much looking forward to supporting his brother at St George's Chapel, Windsor on May 19th. Prince Harry served as best man to The Duke of Cambridge at his wedding to Miss Catherine Middleton in 2011."
As Town & Country pointed out, the "best man" is not a royal wedding tradition. Instead, the role is called "supporter." Back in 2011, CNN reported that Prince William broke protocol when he named Prince Harry his best man instead of calling him his supporter. Harry apparently chose to follow the relatively new tradition that started with William.
Meghan, however, will not have a maid of honor/chief bridesmaid. On May 4, a palace spokesperson revealed that the soon-to-be royal has opted not to select someone for this position. The spokesperson said in a statement to People,
"She has a very close-knit circle of friends and she didn't want to choose one over another. All have been actively involved in helping her prepare for the day and will be there in the days beforehand. She's very happy to have their support."
No, they won't be in the wedding, but Meghan's friends will definitely be at the wedding. Among Meghan's pals who will be there is Jessica Mulroney. Mulroney is one of Meghan's best friends and, as previously mentioned, her daughter is one of the bridesmaids and her two sons are page boys. Additionally, a source told Vanity Fair in April that Mulroney has apparently played a major role in planning the wedding. The source claimed,
"She's the one helping Meghan to make all the key decisions. They are on the phone daily discussing every element of the wedding, from the dress to the flowers to the canapés and the photography."
Meghan's longtime friend Benita Litt will also be in attendance. Meghan is the godmother to both of Litt's daughters, and as previously noted, Litt's kids will be bridesmaids. AndThe Daily Mail reported on Thursday, May 17 that Meghan's friends Lindsay Roth, Sarah Rafferty, Misha Nonoo, Priyanka Chopra, and Heather Dorak have been seen hanging out in London this week.
So there you have it. Harry and Meghan's wedding party includes 10 children under the age of eight, the Duke of Cambridge, and no chief bridesmaid/maid of honor. Now go get some sleep. You've got an early morning ahead of you.