The Easiest Trick To Dealing With Stress When Your Relationship Feels Rocky, According To Science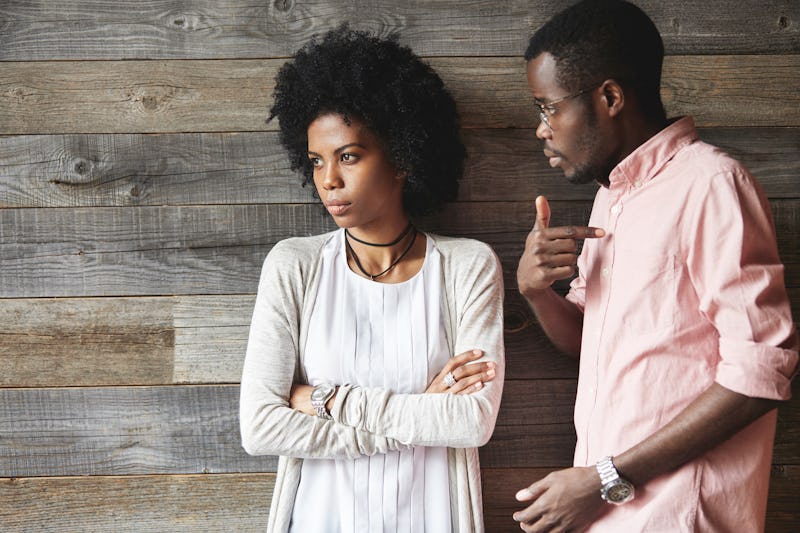 Fotolia
Even the happiest, healthiest relationships aren't always smooth sailing: every long-term couple will go through periods of conflict and experience relationship stress from time to time. It's not always easy, but if you want to make it through the tough times with your relationship intact, you have to learn how to manage relationship stress. The good news? There's more than one way to deal with relationship-induced stress, and a new study has revealed one "trick" that's about as simple as it gets: when your relationship feels rocky, call your BFFs and lean on them for support.
For the study, conducted by researchers at the University of Texas at Austin, 105 newlywed couples reported occurrences of marital conflict in a daily diary and provided morning and evening saliva samples, which researchers tested for cortisol, a measure of the body's physiological stress response. The couples also completed questionnaires about the number, quality and characteristics of their connections with friends and family to see what impact our social networks might have on our ability to navigate relationship strife.
They found that those who reported having close connections with friends and family — people they knew they could depend on during times of relationship conflict — actually experienced their marital conflict as less physiologically stressful. So when you meet your friend for coffee to vent about your relationship woes, you're actually literally, physically de-stressing your body, which might make it easier for you to process and resolve whatever conflict you're going through. Interestingly, newlyweds with large (but not necessarily close-knit) support networks did not experience the same relief of the physiological signs of stress that those with tight-knit crews did — meaning that when it comes to friendship, quality always beats quantity.
"It is essential to have family and friends [you can] lean on and vent to [to] help you in your relationship, as they can provide the love and sensitivity right when you may need it, perspectives that you may not have previously considered, help you balance the intensity of your thoughts, fears, and feelings, support you in honoring and expressing your thoughts and feelings, and even guide you in recognizing the ways that you may be contributing to the challenges," Anahid Lisa Derbabian, Licensed Professional Counselor and Life Coach, tells Bustle.
You probably didn't need an excuse to call your BFF and tell them how much you appreciate them, but now you have one, because they've almost definitely played a part in alleviating your stress at some point. As easy as it is, chatting with friends and family isn't the only thing that can help you feel better when your relationship gets tough. Here are seven other ways to manage relationship stress and deal with conflict when your love life hands you lemons.