What Happens To Your Brain When You Eat Chocolate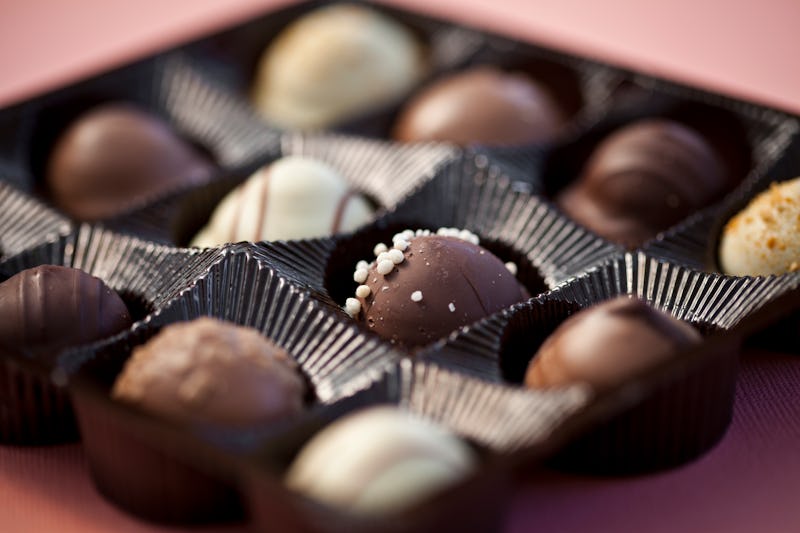 Jenny Dettrick/Moment/Getty Images
Having a bite of something chocolatey can really hit the spot when you're feeling tired, stressed out, or in a bad mood. And that could because, in addition to tasting amazing, chocolate affects the brain in several profound ways. It's why you often hear experts recommending the occasional square or two, along with foods that contain similar ingredients, like antioxidants.
"The best chocolate to consume is dark chocolate for its health benefits," Dr. Krystal L. Culler, DBH, MA, the director and founder of Your Brain Health Matters, LLC and an Atlantic Senior Fellow with the Global Brain Health Institute, tells Bustle. Unlike milk chocolate and other candies, the cocoa in dark chocolate can lower inflammation levels in the body, and help reduce your risk of certain diseases.
In order to get these benefits, experts recommend looking for certain ingredients in your chocolate. "I tell my clients to look for one that is 85% or higher cocoa, organic, and unsweetened, or sweetened with stevia or pure monk fruit," Tess Bredesen, a cognitive health nutritionist and founder of Sia Brain Health, tells Bustle.
With that in mind, read on for ways chocolate impacts the brain, according to experts.