7 Easy Things To Try If Your Brain Fog Is Getting The Better Of You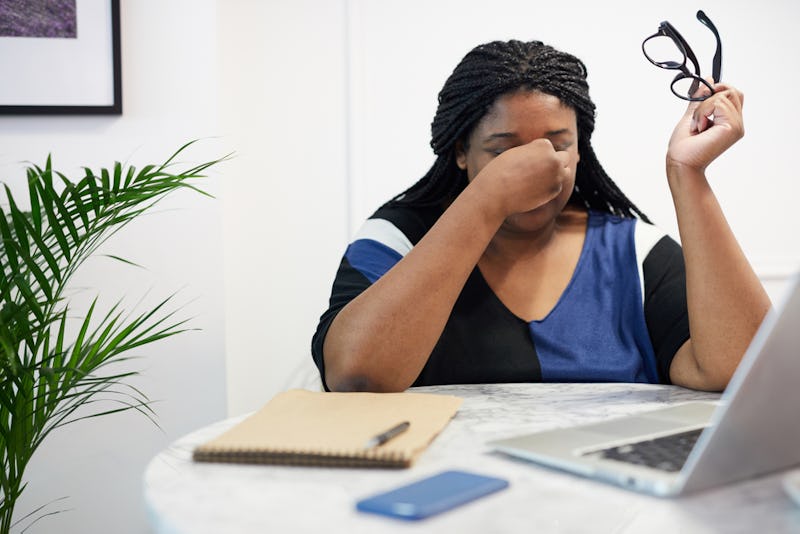 Pressmaster/Shutterstock
Do you ever feel like in the middle of the work day you've expended your usefulness at work? After the caffeine rush has worn off, do you feel like you need a nap before you can do anything else productive? Your afternoon exhaustion or dip in energy isn't just in your head — well, it is — but it's a real issue called brain fog, aka mental fog or clouding of consciousness. The symptoms of brain fog can vary, but it is characterized by fatigue, forgetfulness, poor memory, difficulty focusing, and overall decreased mental performance while working or performing tasks. Though anyone can suffer a bout of brain fog, it is routinely associated with chronic illnesses, such as chronic fatigue syndrome, lupus, or Fibromyalgia (people who live with Fibromyalgia usually refer to brain fog as "Fibro Fog"). Mental illnesses are also linked to more frequent episodes of brain fog.
"Imagine if you have injured a muscle and how sore it is to use. The same thing happens in the brain," Dr. Steven Gundry, MD, a cardiologist, author, and the medical director at The International Heart and Lung Institute Center for Restorative Medicine, tells Bustle.
While there is no official cause of brain fog, experts believe it can be influenced by number of factors, or a combination of things. In addition to chronic illness, your sleep habits, hormones, and digestive health may play a role in worsening brain fog.
Fortunately, if you find yourself experiencing this type of mental exhaustion on the regular, small lifestyle changes can help you overcome this frustratingly fuzzy thinking. Here are seven ways to fight brain fog, according to science.
This article was originally published on