Here's How The New 'Charmed' Connects To The Original Series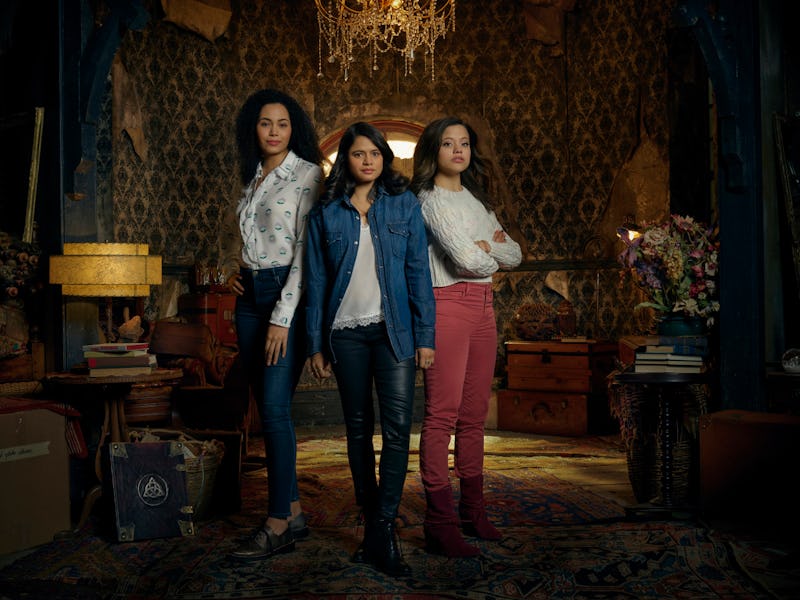 Jordon Nuttall/The CW
Just ahead of Halloween, a new trio of witchy sisters are about to take flight. The rebooted Charmed premieres on Oct. 14 on The CW, 20 years after the original premiered. While the two versions tell different stories, the new Charmed connects to the original on many of the basic plot points. So while not everyone has been overly supportive of the Charmed reboot, these overlaps show that there's still a whole wide world of witches to explore.
TV revivals, like Fuller House, Will & Grace, Arrested Development, and Murphy Brown, have continued the stories (albeit some with a few tweaks) that the original series were telling. But the new Charmed is unlike them in that it is a remake, and not a revival. Although the outline is that three sisters discover they are witches and must use their power of three to fight evil, it doesn't utilize the same characters or actors like other reboots do.
Reboots happen in the movie industry all the time — from Freaky Friday to Batman — and are often widely accepted, as the fourth version of A Star Is Born highlights. But due to the recent onslaught of TV revivals, many fans are incensed that this Charmed isn't really paying homage to the original. And the controversy has only been fueled by the fact that some of the original actors shared their outrage over not being included in the new Charmed very clear on social media. Thankfully though, the original cast has softened its language a bit regarding the new version as time has gone on. And there's a lot to celebrate with this update since it presents a far more diverse cast and will take on current hot topics.
So you shouldn't go into the new Charmed expecting exactly what you got in the first. But here are the main ways that the new version connects to the OG.