Here's EVERYTHING You Need To Know About This Year's VMAs Red Carpet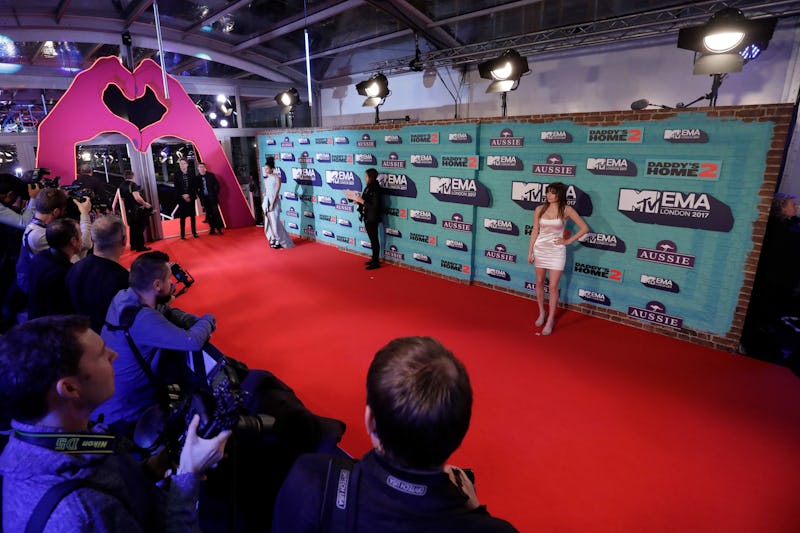 John Phillips/Getty Images Entertainment/Getty Images
While the actual MTV Video Music Awards' ceremony is certainly the highlight of the evening, it's sometimes "the show" before the show that offers some of the most interesting moments of the night. That being said, it may be worthwhile to find out how long the 2018 VMAs red carpet is going to be this year so you won't miss a single second of the night's festivities. The hour-long MTV red carpet pre-show, which will be hosted by TV personalities, Terrence J, Nessa, along with Jersey Shore alum, DJ Pauly D and Vinny Guadagnino, begins at 8 p.m. ET and will feature performances by the Backstreet Boys, Bazzi and Bryce Vine.
In addition to those performances, the 60-minute pre-show will capture the arrival of the many celebs who will be on hand for the event at Radio City Music Hall this Monday, August 20. The red carpet segment of any award show has historically become a celebration of fashion as the stars make their way into the venue while granting impromptu interviews along the way – and this year's VMAs is sure to be no different. There's no way anyone would want to miss a moment such as Lil Kim's 1999 VMA purple pasty debut, Lady Gaga's 2010 meat costume entrance, or Rose McGowan's sequin dress that left little to the imagination in 1998.
That said, the night is definitely going to be something to see with Nicki Minaj, Jennifer Lopez, Travis Scott, Post Malone, Shawn Mendes, Ariana Grande, Panic! At The Disco, Rita Ora, and Logic all set to take the stage. It was also recently announced that Cardi B. will open the show and here's no doubt that she's going to drop jaws as she makes her way down the red carpet for the first time since giving birth this past July.
At the same time, it goes without saying that Minaj, Grande and J.Lo are going to slay their entries into the ceremony. And with the excitement that rappers Travis Scott and Post Malone bring into the fold, there's no telling what's going to happen as the big night kicks off. Fans may even be privy to a sighting from Kylie Jenner amidst the red carpet festivities should she decide to accompany Travis Scott to the awards show this year.
As far as the night's awards presenters go, Tiffany Haddish, who hosted the MTV TV & Movie Awards back in June and Kevin Hart, a past host for the VMAs, are both slated to make hand out awards which should make for an entertaining red carpet moments. Millie Bobby Brown, Amandla Stenberg, Bebe Rexha, Blake Lively, DJ Khaled, Common, G-Eazy, Gucci Mane, Keegan-Michael Key, KYLE Lenny Kravitz, Lil Uzi Vert, Olivia Munn, Shay Mitchell, and Teyana Taylor are all also expected to be presenting awards throughout the evening.
So, it goes without saying that they're all going to be worth checking out as they make their grand entrances into Radio City Music Hall.
As the excitement for the VMAs continues to mount, there's no doubt that this year's red carpet event on Monday is going to be one that will be talked about for many years to come.