How To Use Sagittarius Season's Fun & Flirty Energy To Step Up Your Sex Life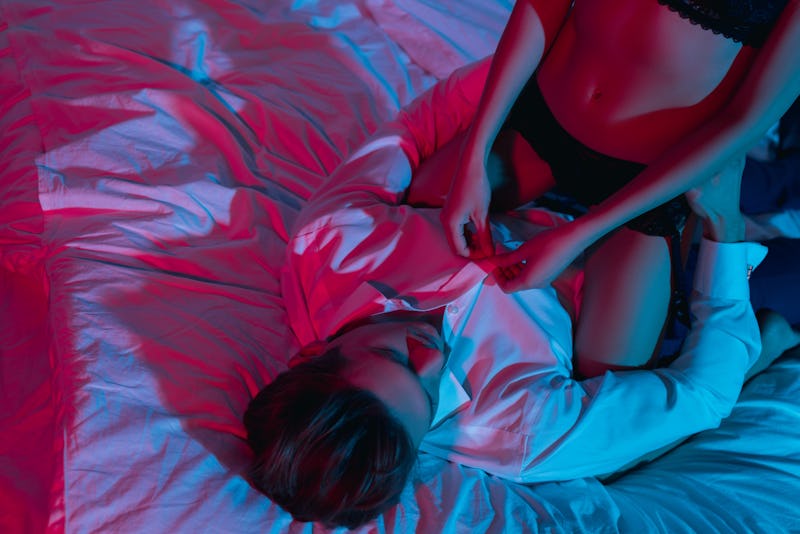 Shutterstock
Time to bust out our sexiest scarves, tights, and puffer jackets, cause it's cuffing season 2019, and many of us are out here lookin' for a cutie to cuff up. The astrological forecast of your sex life is currently being influenced by Sagittarius season — which thankfully is fun, flirty, and up for any adventure. So how will Sagittarius season 2019 affect your sex life? The stars have the answers — and let me just say that even though it's cold outside, your sex life still looks hot. Read on.
Always seeking adventure and new experiences, Sag energy can inspire even the most vanilla among us to embrace their inner wild child — and of course, this fun n' spicy energy is likely to extend into the bedroom. Sagittarius season 2019 began on Nov. 22 and parties on through Dec. 22, so we've got a full month to channel the happy-go-lucky energy of the zodiac's archer. Bustle spoke with astrologer Lisa Stardust, who gave us the scoop on the sexiest vibes we're currently working with. "Sagittarius season will make us all adventurous and take sexual risks," she explains. "It's a time to embrace taboos and desires." No fantasy is off limits, star babies, so talk with your partner about what's on your mind (and theirs!) and see if you can't make it a sultry Sag season reality. Or, of course, indulge your own fantasies with some steamy solo sessions! Sag energy is ultra independent, so yeah, no partner necessary.
And of course, we couldn't write a sex post about Sagittarius season without stealing a peek at what sex drive planet Mars is up to. For the entirety of Sag season, Mars is in Scorpio (one of the signs that it co-rules, as a matter of fact) — and if there's one sign that makes people think of sex, it's this one! When Mars is in Scorpio, sex is way more than just a hopefully-pleasurable physical act. It's an emotionally deep, alarmingly intimate, and incredibly powerful connection and display of trust between partners. Mars in Scorpio can make us feel skeptical, suspicious, and paranoid during the courting process, but once you're in, you're in. Expect sex to feel more like a transcendental act under this transit — and combined with the always-adventurous Sagittarius energy of the season, we're dealing with sexual experiences that are both powerful and fun.
I know you're eager to get to the nitty gritty, so let's hop to it. Here's how Sagittarius season will affect each zodiac sign's sex life so you can plan your holiday schedule accordingly.
Aries (March 21 - April 19)
You're taking on your fire-sister Sagittarius' sense of adventure this season, Aries, so prepare to have some bedroom fun. "You're thinking outside the box," shares Stardust. "This means trying out new positions." Expand your horizons, try some new things, and see if you can't add a few tricks to your repertoire by the time the season's through.
Taurus (April 20 - May 20)
Cuffing season is hitting you hard, Taurus, and all you really want is to connect deeply with someone. Thankfully, with Mars in ever-loyal Scorpio, your sexual intimacy will go deep. "Your need for intimacy is high, which means you're canoodling with your one and only," shares Stardust. Use your sex life to build trust and closeness with your partner in other ways, too.
Gemini (May 21 - June 20)
The free-spirited energy of Sagittarius season has got you ready for fun n' games in the bedroom, Gemini. Your ideal Sag season partner brings a sense of humor and enthusiasm to your exploits and doesn't take things too seriously. "You're in the mood for cuddles and giggles with bae," explains Stardust. Use this time to have some steamy fun and try new things.
Cancer (June 21 - July 22)
No more restrictions for you, Cancer. It's time to embrace the wild-child energy of Sag season and take charge of what you want in the bedroom. "You're feeling free to be with whomever you want and on your terms," explains Stardust. Empower yourself by working to release any sexual shame and being more vocal about exactly what you want from your partners.
Leo (July 23 - Aug. 22)
Sag season is hot, hot, hot for you, Leo — like, seriously, your love and sex life is on fire! "Love making is a 24/7 thing now," says Stardust. "Have fun!" Your sex drive and interest in spicing things up might feel higher than usual, as you're feeling inspired in all different areas of your life. Allow yourself to have fun and enjoy the release that your adventures will bring.
Virgo (Aug. 23 - Sept. 22)
Mars in Scorpio throughout this season is making you want to up the deep intimacy factor in the bedroom — favoring some "Nice & Slow" vibes over a "What's Your Fantasy?" moment. "Tender and romantic love making is the way you're firing up your loins," says Stardust. Don't be afraid to let your passion show! Don't ever settle for less than what you need to enjoy yourself.
Libra (Sept. 23 - Oct. 22)
Your boo can't just get you revved up with a physical touch — this season, they better use their words, brains, and wit to get you off, too. "Dirty talk and sexts will get you heated up this month," shares Stardust. Lead the way by being vocal about your desires and using your words to spice things up in the bedroom — and suggest your partner try the same!
Scorpio (Oct. 23 - Nov. 21)
With power and sex driven Mars in your sign all Sag season long, you're definitely feeling empowered and ready to express yourself through your sex life, Scorpio. "You're using your sexuality as a way to take back your power," explains Stardust. "Go for it!" So long as you've got a trusting partner (or several) who are willing to let you take control, you're golden.
Sagittarius (Nov. 22 - Dec. 21)
As the ultimate free spirit of the zodiac, you're feeling extra free to indulge your desires during the Sun's journey through your sign, Sag, "You're focused on self-pleasure, which means making [sure] your needs are served first," explains Stardust. Whether you explore this as a sexual priority solo or with a partner, put yourself in the top spot.
Capricorn (Dec. 22 - Jan. 19)
Your sexuality can be a true form of self-care and relaxation for you this season, Capricorn, so don't be afraid to let your mind and body's pleasure centers to guide you. "Long baths with bae will get your blood boiling this month," shares Stardust. Do what feels good and express your needs to your partners to make the most of this very-much-needed release.
Aquarius (Jan. 20 - Feb. 18)
Some like to do, others like to watch — and while no one can truly be put in a box (especially not an Aquarius like you!), right now, feel free to sit back and pay attention to what stimulates you mentally. "You're embracing your voyeuristic desires at the moment," shares Stardust. Listen to yourself, take notes, and apply them to your sex life later.
Pisces (Feb. 19 - March 20)
Always a romantic, you're more than willing to express your passion for your lovers this season, Pisces — no matter where you are or who's around. "You'll be sharing more then eggnog with your boo," says Stardust "Think major PDA or more." No shame in this game! Show off your passionate side and embrace your desires all season long.