How To Fall Asleep On A Flight — And Stay Asleep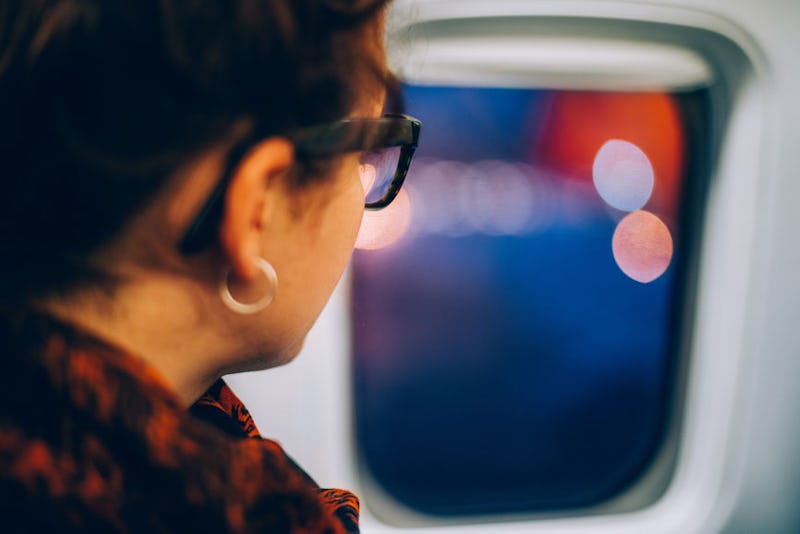 Aila Images, Stocksy
When taking a flight, whether it's across the country or the world, you may want to take a nap so you'll be well-rested when you land. However, when it comes to actually trying to do so, it may be more challenging than you planned. There might be plenty of unwanted distractions: people coughing, babies crying, and your seat mates waking you up every time they need to get past you to use the restroom — not to mention that your seat won't recline like a bed. In trying to figure out the best way to sleep on planes, you may try everything from herbal remedies, like melatonin, to listening to sound frequencies, like binaural beats, or using a device that emits frequencies meant to help you sleep, such as the Philip Stein Sleep Bracelet.
"As someone who's flown over three million miles, sleeping on planes is not one of the easiest tasks," John E. DiScala, founder of JohnnyJet.com, tells Bustle. "But there are ways to do so that I've picked up over the years. Trying to get sleep on a flight is important because it usually means you will be not only well-rested when you land, but it will also help you get on local time so you won't be jet lagged." He adds that sleep-deprived travelers may be more vulnerable to scam artists and thieves, which is another reason to try to be at the top of your well-rested game by the time you land.
Rick Steves, travel teacher, also says that getting some sleep on your flight will be beneficial, especially when it comes to longer flights. "Getting a little sleep on a transcontinental flight is really important," he tells Bustle. "When I get a couple of good hours of sleep on a flight, I do much better on my first day in Europe." Below, Johnny Jet, Steves, and other experts share their best tips for how to sleep on flights, whether they're short or long trips.