Here's When Booking Your Plane Ticket Last-Minute Will Save You Money, According To Experts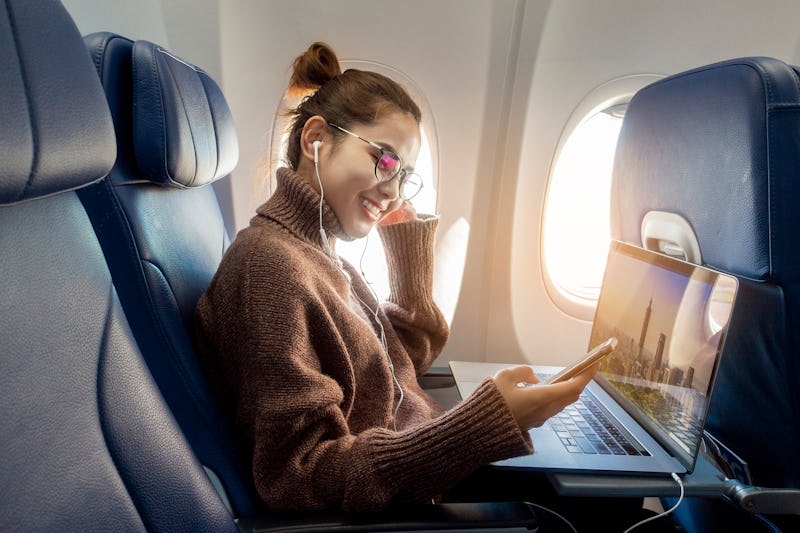 Shutterstock
Although some people book airline tickets several months in advance, others wait until just weeks or days before they want to leave. There are several reasons someone may do the latter, from waiting to see when they can get time off to spontaneously deciding to travel someplace. Even though there are several flight aggregator websites available these days, when is it worth it to book tickets for flights last-minute? Of course, doing so may cost you more money … but sometimes, it can save you money as well. It just depends on how you do it.
"Last-minute travel is becoming more popular overall," Justine McDonald, senior manager at CheapTickets, tells Bustle. "But waiting until the last minute for standalone flights can be a gamble."
She says that if you're looking for a deal, it's best to start with downloading mobile apps and signing up for email travel sites' email lists.
"It sounds old school, but online travel agencies and even the airlines themselves often run limited-time sales that offer great fares," she says. "For instance, CheapTickets has curated pages that pull in last-minute flight deals and flights under $149, both of which are great ways to identify affordable flights within your budget."
First, Define "Last-Minute"
Of course, "last-minute" may be subjective — to one person, it could be a few days in advance; to another, it could be a month (or more). Steve Sintra, regional director of North America at KAYAK, tells Bustle that if you know where you want to travel, KAYAK's "When to Book" section of their 2019 Travel Hacker Guide can help.
"It breaks down our recommendations on how far in advance to book based on the region you're interested in traveling to," he says. "For example, our data shows that if you're planning a trip a bit closer to home — North America, the Caribbean, or even South America — booking one month in advance is the sweet spot."
Mariel Clark, VP of home and travel digital at Discovery Inc., agrees about defining "last-minute." "If you're planning travel around a specific event or are hoping to fly on your preferred airline, you should ideally book two months out for domestic travel and six months out for international travel," she says. "There's no guarantee, but those windows will typically allow you to snag more affordable tickets without the concerns of airfares skyrocketing or selling out."
Below, travel experts reveal their inside knowledge about booking plane tickets at the last minute — and when to do so.