Here's What You Can Do To Help Stray Animals Survive Hurricane Harvey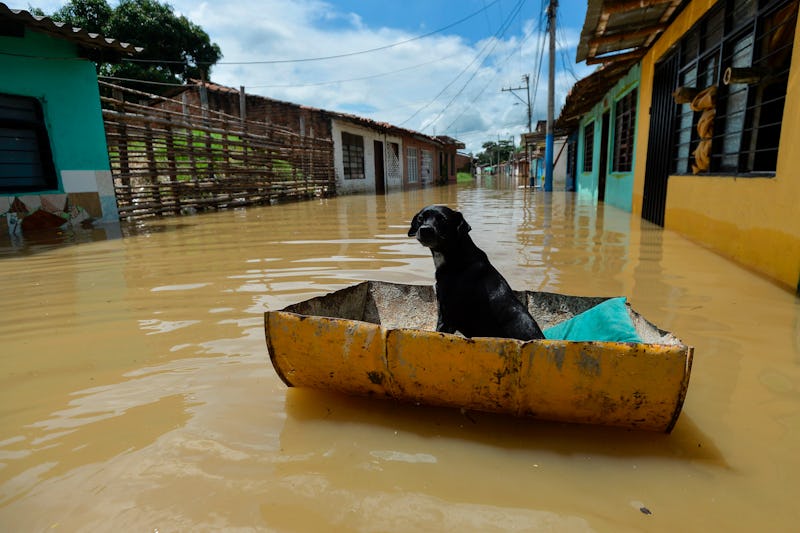 LUIS ROBAYO/AFP/Getty Images
As Hurricane Harvey storms through the Gulf of Mexico, residents in areas along its targeted path are preparing for intense rainfall and flooding. Meteorologists expect the hurricane to strengthen to Category 3 (Hurricane Sandy was a Category 2, for comparison) by the time it hits the South Texas and Louisiana coast. While humans have the option to hunker down indoors or flee, stray animals do not. But there are ways to help stray pets and wild animals survive Hurricane Harvey.
In the aftermath of Hurricane Katrina, abandoned dogs and their offspring roamed New Orleans, a city that already had a high population of wild dogs before the hurricane. Pet owners evacuating in a rush had assumed they would return home soon enough. Hurricane Katrina resulted in more than 600,000 animals dead or stranded in the end. Even the smaller-scale Hurricane Sandy trapped animals on the East Coast, requiring rescue operations and emergency care for hundreds of animals.
Now Hurricane Harvey has the potential to leave the next devastating and permanent mark on homeless animals. If you live in an area where Hurricane Harvey will strike, take precaution by bolstering your home or preparing your escape plan if an evacuation order has been issued in your city or council. If you also want to help stray animals, the sometimes forgotten victim in natural disasters, here's what experts advise.