Instagram Just Made It SUPER Easy To Upload Multiple Photos To Stories At Once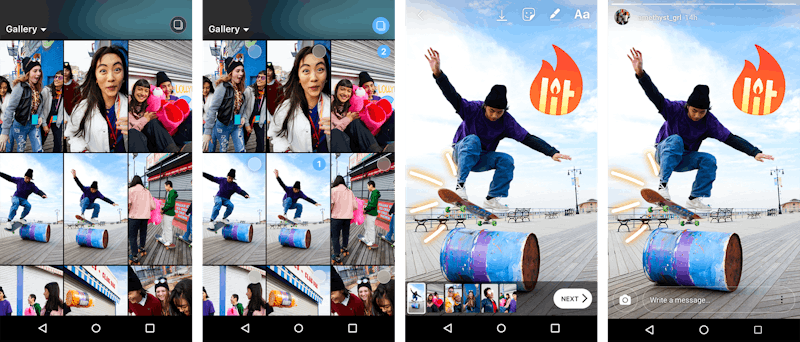 Courtesy of Instagram
Instagram Stories brought life to our feeds, introducing a new way to share special moments in your day; but thus far, if we've wanted to share numerous clips in our Stories, we've had to post them one at a time. No more! In a new update, the app is making things easier on us by making it possible to do sort of a bulk upload. If you're wondering how to upload multiple photos to Instagram Stories at once, I have good news for you: it's super easy, and you probably already know how to do it.
It's quite similar to how you upload multiple photos and videos into a regular post. To start, you'll go to upload media and will see a new icon in the top right corner. When you tap it, it will allow you to choose up to 10 photos or videos from your gallery — similar to how you would select multiple pics or vids for a regular IG post. You will still have the opportunity to edit each one individually by adding stickers, text, or using one of the other available tools to jazz things up a bit. Whatever order your selected your media is the order in which it will ultimately upload. And just like that, your Story is complete.
It's a huge time-saver and makes the entire process smoother. Previously having to add one clip at a time could sometimes get kind of painful, and it also made it harder to know what your entire Story would look like once complete. Instagrammers wanting to sharing a longer Story will now be able to do so more quickly and cohesively.
This new update is already available on Android and will be coming to iOS over the coming weeks.
That's not the only change Instagram is making, either — there's an update coming to location stickers, too. When you're uploading something to your Story from someplace you visited in the past and want to add a location sticker, IG will suggest places that are close to where you took that photo or video. If you can't remember how to spell it or perhaps forgot it entirely, have no fear — IG can help.
The world of social media is ever-changing, with each platform on a mission to be the fastest, easiest, most immediately gratifying. Stories launched back in August of 2016 as an entirely new way for all of us to stay connected, and Instagram continues to shape it into something better and better.
At the time of the launch, Mark Zuckerberg shared in a Facebook post one of the biggest motivators behind Stories: making videos the go-to for social media. "This is the latest step in putting video at the center of all our services," he wrote. "People are already creating and sharing more video, so we're going to make it even easier."
Since its inception, Stories has seen multiple updates and iterations. The latest update was Instagram Focus — a new camera within the app that focuses on the subject featured in the lens and softly blurs everything in the background, making us all look like the professional photographers we aren't. Fun and funny filters give us hours of entertainment and help us take the perfect selfie (and seriously, did you ever think you could look so cute with bunny ears?). Use Type Mode to share whatever thoughts are on your mind. Try Instagram Live to bring your followers along for the journey in the moment as you cook a delicious meal, party with friends, or maybe just have a moment of reflection while waiting in line at the Starbucks drive-thru.
Instagram is a fast-moving app — perhaps the fastest. IGers scroll past posts in fractions of a second. It only makes sense that its functionality reflects this. Enjoy the update, folks, and Instagram responsibly.