Will Beyoncé's Pregnancy Inspire Her Next Album?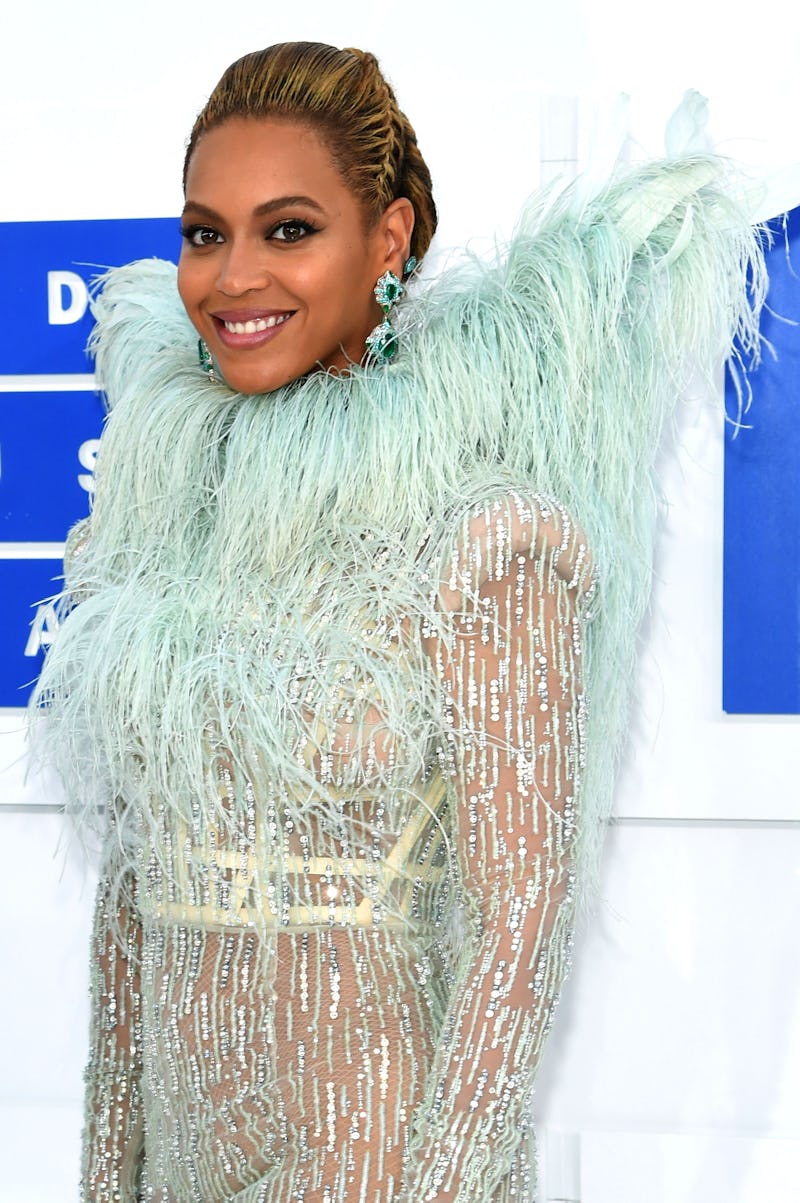 Jamie McCarthy/Getty Images Entertainment/Getty Images
After nearly breaking the internet with the shocking news that she's expecting twins with husband, Jay Z, the next big question is: Will Beyoncé's next album be about her pregnancy? As excited as I may be about Bey's baby announcement, I can't help but to wonder what's up next for the Lemonade singer. Like, I'm almost sure she has some kind of Beyoncé-esque magic trick up her sleeve somewhere. I mean, she and Jay, their relationship, and family are pretty much like marketing magic, so I'm not going to just sit by idly and pretend that the breaking baby news isn't part of some grand plan to drop a mega album, complete with video anthology that blindsides us out of nowhere while we're all tucked away under our covers one night — e.g. Beyoncé in 2013 and Lemonade in 2016.
Perhaps, she's going to wait until the little babes are actually born to hit us with a full on catalogue of songs about her growing family and "three hearts," as she sweetly referred to them in an ethereal photo album posted to her website. So, I took it upon myself to do a little sleuthing and turned up some major signs that point to the likelihood that Bey may be gearing up to hit us with an album influenced by her recently revealed pregnancy.
Since the beginning of her career, the soon-to-be mother of three, has always seemed to sing about real life situations — or so she makes us think. Like, remember the early solo days of "Crazy In Love," "Dangerously In Love," and "'03 Bonnie & Clyde"? I'm going to say that it's no coincidence that all of the songs that helped launch her super successful career were about falling in love with her now husband, Jay Z. And there was B'Day, her second studio album, which featured tunes that kinda-sorta signaled a bump in the road of their relationship, with songs like, "Ring The Alarm," "Irreplaceable," and "Beautiful Liar."
Meanwhile, Jay also dropped an album, with a song entitled "Lost One," that depicted a very similar tale of turmoil in his union with the then budding superstar. I mean, there are seriously far too many clues to name, but "Single Ladies (Put A Ring On It)" dropped just six months after the couple tied the knot back in 2008, "Love On Top" pretty much was Blue Ivy's birth announcement, and then there's the whole "Becky with the good hair" thing and literally just about everything else about the Lemonade album.
You see, this is more or less their M.O., at this point — dropping little hints and albums about life's tales and, quite simply, it works — and it works well. I mean, look at me, I've been sitting here glued to my computer, scouting out clues, trying to figure out what's next, literally ever since the day Bey bared her baby bump to the world.
It's their special formula — and it certainly keeps us all listening, watching and tuning in to see what's next from the Carter clan. I definitely wouldn't be surprised if Bey and Jay dropped a double album together, named each album after the twins, and embarked on a world tour with all three children in tow — simply because she's Beyoncé.
And who's gonna stop her? Certainly not me.